The suspended Greenwood lawyer accused of stealing hundreds of thousands of dollars from disabled and special-needs clients is again facing a warrant for his arrest, this time for failing to appear as ordered at a hearing in one of the multiple felony theft cases he faces.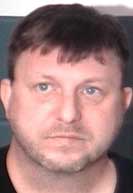 Delaware Circuit Judge Marianne Vorhees on Monday ordered a warrant issued for the arrest of Kenneth Shane Service after he failed to appear for a status conference in his criminal case in Muncie. Service is charged with Class D felony theft in Delaware County, where he is accused of stealing $23,622 from a former client between April 2014 and June 2016. The alleged victim had been the subject of a guardianship established in 2003, when she was a minor, and Service was removed as trustee of the guardianship in December 2016, following allegations he had stolen from multiple special needs trusts he administered.
Service's public defender in the Delaware County matter, Samuel Beasley, did not respond to a message seeking comment. Service could not be reached for comment.
Court records from Delaware and other counties where Service is charged show a series of continuances in his criminal cases, the first of which was filed almost three years ago, in December 2016. Service has yet to plead or stand trial in any of the venues where he has been criminally charged. In addition to the Delaware County charge, he is accused of:
Stealing more than $85,000 from the special needs trusts of two clients in Bedford. He was charged in December 2016 with Level 5 felony theft of more than $50,000. After having been provided at least three continuances, Service's trial date in Lawrence Superior Court is now scheduled to begin Nov. 6.
Stealing more than $102,000 from a Brookville man who was the subject of a guardianship and the beneficiary of a trust that Service administered. In that case in Franklin Circuit Court, Service faces a count of Level 5 felony theft of more than $50,000 and two counts of Level 6 felony theft. His trial date there is set to begin January 15, 2020 following multiple continuances.
A count of Level 5 felony racketeering, and three counts of Level 6 felony theft in Marion Superior Court, for allegedly making unauthorized withdrawals of more than $43,000 from the trust of a person who was subject to a guardianship. No trial dates have yet been set in that matter, which was filed in May. Service also is subject to an active warrant in this case, according to online court records.
The amount of money Service has been criminally charged with stealing from former clients now stands at more than $250,000. Additionally, Service also is accused in civil lawsuits of taking another $100,000 from clients' trust funds in Allen, LaPorte and Wabash counties.
Separately, Service and the company he established, the National Foundation for Special Needs Integrity, Inc., were at the center of a civil case in which the 7th Circuit Court of Appeals last year ordered the payment of more than $200,000 to an estate whose heirs had received nothing, while the balance went to the foundation. In that case, Circuit Judge David Hamilton wrote that Service "testified that he intentionally drafted (a section of Special Needs Integrity's agreement dealing with distributions) to confuse" officials.
The Indiana Supreme Court indefinitely suspended Service in October 2017. An Indiana State Police investigator told Indiana Lawyer in September 2017, as Service's alleged misdeeds were being discovered, that officials were concerned about the prospect of "numerous victims in multiple states" where Service had been active, including Florida and West Virginia.
The warrant issued for Service's arrest Monday is not the first since his alleged thefts from special-needs trusts were charged. He was arrested and held without bond in Johnson County in October 2018 after authorities in two counties issued warrants for his arrest. He was subsequently released.
Please enable JavaScript to view this content.