Like a couple deciding not to marry, Kids' Voice of Indiana and Child Advocates were unable to work out a prenuptial agreement after weeks of negotiations and are now focused on who will take care of the children.
Kids' Voice will become the sole operator of the guardian ad litem and CASA programs for Marion County juvenile courts starting May 1 after Child Advocates, which ran the programs in the courts for nearly 40 years, rejected an offer to be a subcontractor. The two agencies had earlier appeared to be close to reaching an agreement when they announced they had entered into a memorandum of understanding.
However, talks broke down over how to transition the oversight of the program from one agency to the other. Child Advocates walked away and Kids' Voice moved forward with finalizing the contract with the Indianapolis Office of Public Health and Safety.
"While we are disappointed by this outcome, we are ready to focus on the important work of providing children a voice as they navigate the Marion County court system," Kids' Voice president and CEO Lindsay Scott and board president Jon Desalvo said in a joint statement. "We have been planning for multiple scenarios since being awarded the city contract on March 31 to make sure there is minimal disruption in providing GAL/CASA services."
Thousands of Marion County youngsters involved in either a child in need of services or a termination of parent rights case receive support and assistance through the GAL and court appointed special advocates programs.
In preparation for May 1, Scott said her organization is offering conditional employment to Child Advocates' staff who worked directly with the GAL/CASA programs and has been reaching out to trained volunteers to bring them onboard, as well.
She told Indiana Lawyer she had hoped to be able to say with 100% certainty that none of the children would be left without support during the transition, but with the exit of Child Advocates, the landscape is different.
"We are going to do everything possible to ensure that no child goes on the wait list," Scott said.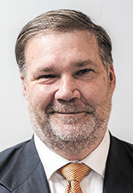 McNeely Law attorney Paul Jefferson, who has been representing Child Advocates in this matter, said his client is maintaining a focus on the best interests of the children.
"I hope Kids' Voice is able to do the best they can do because the consequences if they can't are significant," Jefferson said. "We wish them the best and want them to serve the children well."
Certification
Kids' Voice is working with the Indiana State Office of GAL/CASA to become certified to administer the program in Marion County, according to Scott. The nonprofit will be able to provide services as it continues meeting the requirements for certification, and the funding from the state will resume flowing to Marion County once certification is obtained.
Jefferson again echoed Child Advocates' ongoing concern about Kids' Voice not being a certified GAL/CASA provider.
"We're the only certified entity" in Marion County, Jefferson said. "We didn't feel like it was appropriate to take our certification and hand it to somebody else. I don't think that's the spirit of the certification … to let somebody come in and tell you what to do."
According to the Indiana Supreme Court, the state office does not set a timeline for certifying local programs. Agencies seeking certification must provide documents and infrastructure details regarding volunteer policy and implementation of the Indiana standards and code of ethics.
"As is standard practice, the State Office will work with the court and its selected provider for the benefit of the children who are part of the child welfare system due to allegations of abuse and neglect," the Supreme Court said in a statement.
Marion County courts did administer the contract for GAL/CASA services until 2019, when that responsibility shifted to the Office of Public Health and Safety. The OPHS said it had been following the contract talks between Kids' Voice and Child Advocates.
"Throughout this process, our priority has been, and remains, clear: the children impacted by the critical work GAL/CASA services provide," said Caroline Ellert, OPHS spokeswoman. "OPHS is prepared to ensure minimal disruption to these services as we approach the effect date of the new contract."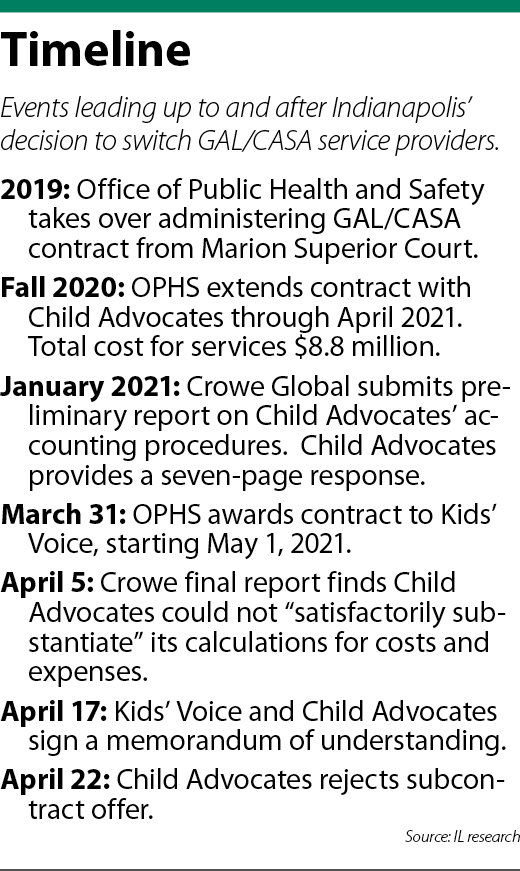 Retired Marion Superior Juvenile Judge James Payne has questions about the entire process to switch providers and is pushing for more answers.
Payne held a press conference April 23 and asserted Mayor Joe Hogsett's office and the Marion County court violated "every premise of governmental responsibility" by issuing the contract without competitive bidding. Also, he recounted his tenure as head of the Department of Child Services, which ended amid scrutiny of his handling of a child custody case involving his own grandchildren.
"There is literally no way that the intended contract to provide guardian ad litem services in Marion County beginning May 1 can be successful," Payne said. "Children will be hurt. Children will not be appropriately served."'Outpouring of support'
The decision to switch the GAL/CASA provider came after the Office of Public Health and Safety conducted an assessment of Child Advocates. A report by Crowe Global raised concerns about the organization's accounting practices.
Kids' Voice was offered the contract. Scott had said previously her agency decided to explore the matter because it has experience working with CASA volunteers and wanted to make sure the program remained affiliated with a qualified organization.
Marion Superior Court issued a statement, saying it is assisting in any way it can to help Kids' Voice with the certification process and is helping to make a smooth transition in services.
"The Marion Superior Court deeply appreciates the work of those appointed to represent the best interest of children," the statement said. "… As the court embarks on a new innovative family division, the court looks forward to a new chapter of GAL/CASA services provided by Kids' Voice in Marion County."
Talks between Kids' Voice and Child Advocates had been ongoing, but April 21, Child Advocates was presented with a "take it or leave it" proposal, according to Jefferson.
A main sticking point was the transition. Child Advocates wanted to keep its employees and continue overseeing the program for a few months, Jefferson said. But Kids' Voice wanted to make "wholesale changes day one."
Scott countered that Kids' Voice viewed its offer as including a transitional period.
Since the city announced Kids' Voice would be taking over the program, Scott said many people have contacted her.
"We have gotten a significant outpouring of support from people in the community as well as from the staff and volunteers who want to continue to do this work," she said. "With that support, we're working right now to stabilize the program, staff and volunteers and take care of the kids."•
Please enable JavaScript to view this content.