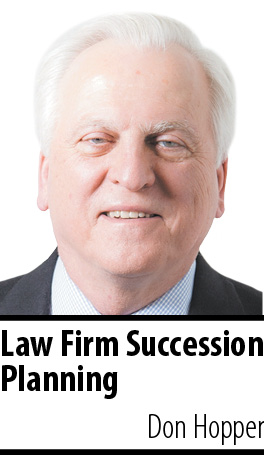 In my last column in 2018 in The Indiana Lawyer on law practice succession planning, I asked this question: who is responsible for law practice succession planning? I suggested that all of us in the Indiana bar have roles to play, especially those of us closer to the end of our legal careers. So far this year, I have met with several senior attorneys who want to develop and implement succession plans for their law practices.
I assisted Elizabeth Justice in developing and implementing a transition plan for her law practice in Crawfordsville. She wanted to transition out of her practice in a few years so she could spend more time with her husband and adult daughters. We explored several possible options, but the option she preferred was to mentor a younger attorney and transition her practice to that attorney. I had met a young attorney, Litany Pyle, who was looking for the right position. It just so happened that she was from Fountain County, a county just west of Crawfordsville, and she was open to consider being closer to her family. I introduced Elizabeth and Litany and they really hit it off. I've learned that chemistry between people is not a given, so it was good to see how they interacted together. After this initial meeting, each wanted to move forward to see if a working relationship was possible.
I met with them in Elizabeth's office to discuss issues for both. Litany was attracted to Elizabeth because she was willing to mentor her. Elizabeth liked that Litany wanted to practice in the areas of law Elizabeth had built her practice on and in counties surrounding Montgomery County. Elizabeth wanted to be sure her clients and their legal needs would be cared for. I had provided Elizabeth with some of Litany's writing samples and she was impressed with her work. I suggested that Litany should have a probationary period to see whether Litany, Elizabeth and her staff would work well together. Elizabeth drafted a job offer setting out the terms of Litany's employment, including compensation. Litany accepted her proposal and has been working with Elizabeth for going on nine months. This has been a successful match for all three of us. This match is special to me because Montgomery County is where my wife and I grew up and where I started in the practice of law 45 years ago.
Elizabeth wrote to me a few months ago, "You helped me think through my succession planning goals. You identified qualified attorneys and obtained background information about attorneys who would be interested in my proposal. You worked closely with me to understand the nature of my practice and the requirements for an associate who would become a partner in a small practice."
While several senior attorneys are moving forward with implementing their plans, I have met with others who are hesitant to "pull the trigger" on developing a transition plan. The reasons for not moving forward vary. Some are not quite ready to hang it up. They think they can continue to practice for a few more years. Some have tried to implement a transition plan, but it has not worked out, and so they are hesitant to try again. Some don't want to do anything because being an attorney is all they know. Their identity is wrapped up in being a lawyer.
In my last column in 2018, I also suggested that state and local bar associations and the Indiana Supreme Court have roles to play in being more proactive in providing training and services for attorneys throughout the state in law practice succession planning. The Indiana State Bar Association and the Indiana Continuing Legal Education Forum have been active in providing training in this critical area of need. City and county bar associations have been largely absent. The Indiana Supreme Court has been mostly silent. I was part of a reception for speakers and panel members at the ISBA's Solo and Small Firm Conference in French Lick in June. All Supreme Court justices were at the reception and I talked with most of them. While I commend them for their participation in that conference, no one mentioned my column. Maybe they hadn't read it. I respect them and realize they have important duties to attend to for our state, but law practice succession planning is a significant issue facing many Indiana lawyers, and we need leadership from our Supreme Court. To be fair, I did talk with one of the justices on a prior occasion who did believe the Supreme Court should be more proactive in assisting attorneys in this area.
I suggested in my final 2018 column that law firms should be part of the solution in the area of transition planning. I have had several conversations with small law firms that are interested in expanding their legal footprint into other Indiana communities. They are using different strategies to accomplish their visions. I met with one attorney who expanded his firm based in Indianapolis into four other communities in central Indiana. His Indianapolis office provides IT and accounting services for all the offices. He is interested in acquiring other law practices in selected Indiana communities. I have talked with another law firm that is interested in helping senior attorneys who have probate, trust and estate planning practices transition into retirement by moving into an of counsel role with their firm for a year or so. Another law firm in a larger community has expressed interest in acquiring law practices in contiguous counties. I met with a solo practitioner who has a practice assisting businesses to form and acquire other businesses. He wants to acquire a similar practice of a senior attorney who wants to retire in a couple of years. I commend these visionary and entrepreneurial attorneys and law firms, but we need many more of them.
We are making slow and steady progress in helping attorneys with transition planning, but our concerted efforts need to increase in the coming years if we are going to continue to provide high quality legal services to Indiana residents and businesses.•
• Don Hopper is founder of Hopper Legal Consulting Services and a partner at Harrison & Moberly LLP. His focus is serving solo and small law firms in developing law practice succession plans that will continue their legal legacies in their Indiana communities. Opinions expressed are those of the author.
Please enable JavaScript to view this content.