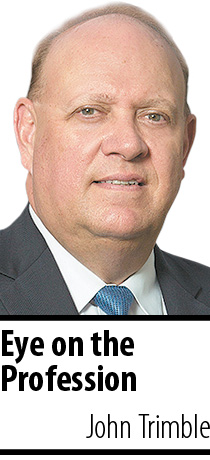 It is an understatement to say 2020 was an interesting year. However, from the perspective of a baby boomer, it was interesting on far more levels than I imagined. I am at the age in which I have friends who are retiring and others who have gotten sick and died. Some have lost spouses and have lost interest in law. Working all year from home enabled me to realize that I could use technology more fully, and that I could work from anywhere. More importantly, being home every day and living at a slower pace has given me a glimpse of what retirement might look like. We have spent less money, stayed well and managed to be happy despite the pandemic. More importantly, I have figured out that after nearly 40 years of marriage to my best friend, we really are as compatible as we believed we were. In other words, COVID has been a test drive of how retirement might look.
I am not alone in such realizations. Dozens of my contemporaries have had the same experience. They have worked from remote locations, and they have seen how well they could do it. They and their spouses have had a glimpse of a different, slower lifestyle, and it has appealed to them. Retirement, which was previously just a distant concept, has grown more realistic. At a minimum, a significant number of my lawyer friends have decided to work fewer hours, and they are confident that they are ready to slow down.
I don't mean to seem alarmist when I say this, but for law firms, there may be a crisis looming. I know unequivocally from lawyer friends across the country that firms of all sizes have been rocked by unexpected COVID deaths of productive partners and unforeseen and sudden retirements of baby boomer-aged lawyers. Locally, I can count at least a dozen contemporaries who have slowed down or who are discussing imminent retirement. These slowdowns and retirements are happening whether the firm is ready or not.
Unfortunately, the legal profession has been slow to awaken to succession planning. Few lawyers actually have planned their retirements. Few firms have studied the impact on the survival of the firm if a high-profile and productive partner dies or retires. There are a number of consequences that can endanger a firm if the firm has not planned for the departure of more senior lawyers.
The following list is representative, but not exhaustive:
• Will the firm have an immediate obligation to pay the departing partner their partner share or capital account? Can the firm do it, or must it borrow?
• Will the obligation to a departing or deceased partner saddle the firm with debt or a cash shortage?
• Will the firm be able to replace the origination of receipts that were produced by the partner and by others who worked with the partner?
• Who will pick up the work of the departing or deceased partner, and who will bear the cost of having someone get up to speed on existing matters?
• Will significant clients (who feed multiple lawyers and staff) stay or go?
• Does the firm even have a full understanding of the client relationships of the departing partner?
• Will the firm have to lay off staff or lawyers because of diminished work or financial burden?
• Will younger lawyers leave the firm because of uncertainty that results from the vacuum left by the departure or due to unwillingness to assume the debt burden?
• Will the departure of the partner change the firm culture or result in factionalism or rivalry among remaining partners?
These questions are real. Since the beginning of the pandemic in mid-March 2020, firms have already struggled or collapsed from unexpected COVID deaths of lawyers or their spouses. Unanticipated retirements and work slowdowns have been rampant.
Under ordinary circumstances, the experts will tell you that a good glide path to retirement and proper business succession should take five to seven years. That means many firms are now going to be struggling to undertake succession activities that are unplanned.
The first step to succession planning is for the firm to take a hard look to find answers to the bullet-point questions above. In particular, partnership agreements must be dusted off and updated so that departing or deceased partners will receive their capital interest over time and not all at once. In some instances, the firm may need to pay down capital obligations over time before the partner retires.
Firms must study the origination of business so that they have a clear understanding of the percentage of the firm revenue that is represented by each lawyer. Client relationships must be scrutinized, and successors to the client relationships must be cultivated. Lastly, firms must engage in dialogue with senior lawyers and ask them their plans on an annual basis so that surprises can be avoided and planning can occur.
Because of the quantity of change that has grown out of COVID, most firms should be thinking about strategic planning. It is through strategic planning that succession planning is an easier topic to address among partners. What firms cannot do is ignore the trend lines. COVID has changed a lot of lawyers, and the change may be permanent. I urge all my law firm friends to do a little succession planning before it is too late. We are a profession of problems solvers, and now we must address and solve our own problems before they become crises. #WillYouBeThere?•
• John Trimble (@indytrims) is a senior partner at the Indianapolis firm of Lewis Wagner LLP. He is a self-described bar association "junkie" who admits he spends an inordinate amount of time on law practice management, judicial independence and legal profession issues. Opinions expressed are those of the author.
Please enable JavaScript to view this content.