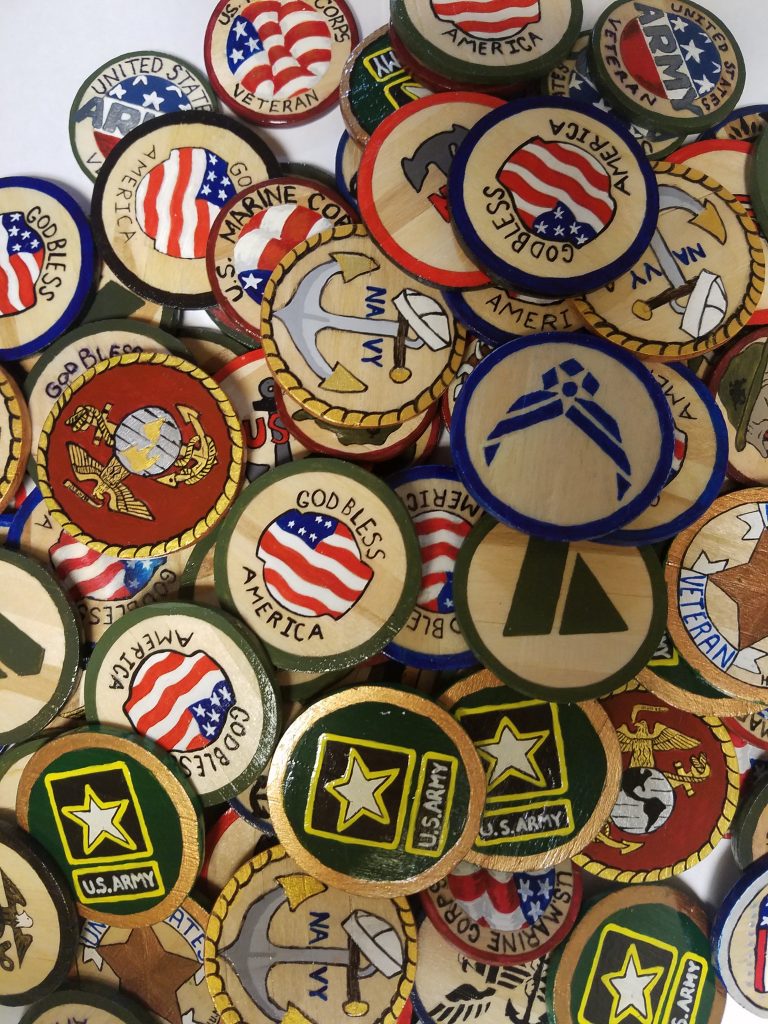 A group of incarcerated veterans dedicated to encouraging their fellow servicemen participating in a veteran's treatment court program have, for the past several years, made an impact by taking up their pencils and paintbrushes.
The inmates at the New Castle Correctional Facility have become known for making thousands of handcrafted challenge coins. Rick Caldwell, a past commander for AmVets of Indiana, opened up an AmVets post at the facility in 2016 and offered up an opportunity for the incarcerated veterans to participate in a community service project.
He pitched the challenge coins idea, something they should already be familiar with from their time in the service.
"I said, 'We can make them. You guys have plenty of time on your hands; you could make them out of popsicle sticks and design them,'" Caldwell said.
The idea took off, and Caldwell provided the paint, sandpaper, popsicle sticks and glue to get the inmates started. Meanwhile, when Caldwell heard about the work being done in veterans courts, he reached out to Bartholomew County Judge James Worton about offering the coins as incentives for veterans going through the Bartholomew County Veteran's Treatment Court.
The court serves as a problem-solving treatment course focused on helping veterans who suffer from post-traumatic stress disorder or substance-abuse disorders. As a reward system for moving to the next phase of the course, the specially made wooden coins are presented to participants as they advance through the program's five levels.
Creating opportunity
Presenting a form of challenge coins made by inmates to participants of the veteran's treatment court is a form of encouragement for their hard work in the program, Caldwell explained.
The inmates as part of their community service project began making the coins in 2016 with just 10 people. Since then, more than 100 people have worked on the project.
The two-sided coins are made from sanded-down popsicle sticks, cut down, designed and hand-painted by inmates. One side of the coin typically displays a rippling American flag, while the other side honors a different branch of the U.S. military. The coins, glossy from sealant and smooth from sanding, take time to craft and attention to detail.
For example, one particular coin dedicated to members of the Navy depicts an anchor with a sailor's hat atop it, encircled by gold rope. Another shows a fierce bulldog with an army helmet on its head, and yet another displays the Air Force emblem in vibrant blue and silver.
Since the program has been running, Caldwell said the incarcerated veterans have cranked out at least 5,000 coins. The group makes a batch of 100-150 coins sent to Caldwell each month, though production has slowed due to COVID-19 precautions.
"The incarcerated veterans do it because they want to make sure that those in the court system don't wind up incarcerated like they did," Caldwell said. "So it's a win-win for those going through our court system because it's made by incarcerated veterans and incarcerated veterans love the fact that they are handing them out and saying, 'Hey, do good, don't be like us.'"
Offering encouragement
That's exactly what pushed one man to make the coins until his release from the correctional facility. As a formerly incarcerated veteran and one of the first coin makers for the program, Bill Hodapp said he simply wanted to give back to other veterans working to better themselves.
"I didn't want them to have to do what I am doing," he said.
At first, Hodapp said it initially took some convincing for his fellow inmates to join him in making coins for Caldwell. By the time he had made 15 coins, however, curiosity of others turned into commitment.
"I started spreading out the whole procession on the table — the cutting, the sanding, making the coins, making sure they were just under two inches," Hodapp said. "We were busy. They wanted to be a part of it."
For his part, Hodapp says he worked on the coins from 7 a.m. to 7 p.m. every day, paying close attention to detail in his drawings. Looking back, Hodapp said he never imagined he could have created art like that. But he's grateful he did.
"I'm impressed that one person taking the time to sit down and start doing something can be so contagious; that other people see the gratitude and how comfortable it can be to just sit there and do this for someone," he said.
The coins have also been well received by participants in the treatment program, according to the veteran's treatment court coordinator Brad Barnes.
"We have had veterans over the years that served multiple tours and were in our program and when we would do a home visit, you might see all of these challenge coins that they had received," he said. "But right there with all of those was this wooden coin. It held that place with those veterans. It was meant to be something meaningful."•
Please enable JavaScript to view this content.