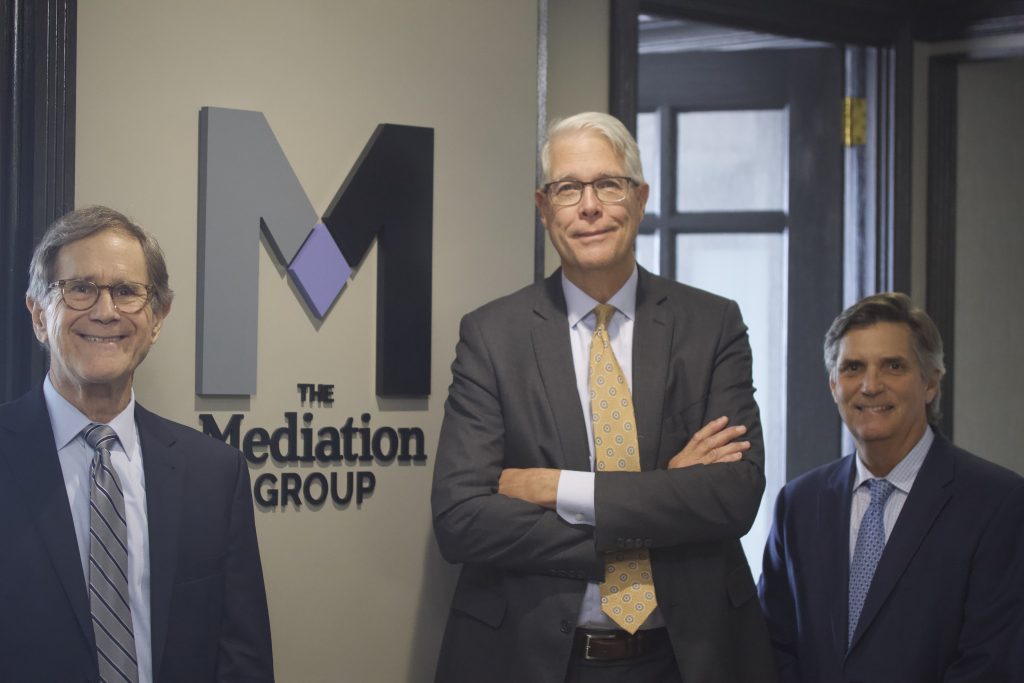 After 20 years, Neil Bemenderfer and Richard Kraege are still some of the Indianapolis area's busiest registered mediators.
Two decades ago, the friends frequently sat down to discuss how the world of mediation was constantly growing. Mediation in Indiana began surfacing in the late 1980s before the Indiana Supreme Court adopted a statewide rule in 1992 instructing courts to order mediation when necessary.
At that time, Bemenderfer, Kraege and two other attorneys agreed that moving to full-time dispute resolution was the route they wanted to take. Thus, The Mediation Group LLC was launched in 2001.
"Neil was the person who led the charge for us to get together to practice," Kraege said.
Kraege left his law firm a year later to join the team. They've all stuck with it since.
The group, located by The Fashion Mall at Keystone on Indianapolis' north side, celebrated its 20th anniversary in March.
When they began 20 years ago, Bemenderfer recalled there being only a handful of full-time mediation groups in the country, let alone in Indiana. The Mediation Group now consists of a dozen mediators and continues to add more to the team.
Looking back on the days when mediation was fresher-faced, Bemenderfer said there weren't any particular challenges that arose that made the journey rough. Rather, he said, it's been quite pleasant. Both men said they have enjoyed the variety of cases they see each day, ranging from family law and property rights to who gets custody of the family dog.
"It's been exciting from that time we talked about (creating the group) through the present day," Bemenderfer said. "That speaks to the value and importance of mediation. I think having a dedicated ADR firm made us attractive as mediators."
The lack of challenges, Kraege noted, was due in part to the Supreme Court's statewide rules and easy access to mediation.
"They made it simple. The only thing a lawyer had to do was choose a mediator or let the court send out a panel of prospective mediators," Kraege said. "In some states there are barriers to mediation and you have to jump through hoops. But not Indiana."
Reaping the harvest
At the end of the day, one thing Bemenderfer has learned is that there is no right or wrong way to mediate a case. That was especially true during the 2020 COVID-19 pandemic, he noted.
The Mediation Group adopted virtual mediations through Zoom last year, which have since stuck around as an option for clients who still prefer to social distance. Today, they conduct about half of their mediations in person and half virtually, Bemenderfer said.
"What may be right on one case may not be right on another," he said.  "You walk in many days and think, 'I have this kind of case,' and you think it's a round peg hole and you realize that every case has little corners, irregularities that make it unique."
The reward of a performing mediation full time is helping companies, families and other parties resolve their disputes without the cost and risk of taking a case to court, Kraege said.
For him, the most important cases he handles are those in which he can assist people out of litigation while they are in the middle of emotional circumstances such as loss and grief.
"It's a wonderful profession because every day is different, and even as you walk in for yet another one of those mediations, you find that they have different individuals involved, and each one is rewarding in its own way," Bemenderfer said.
Mediators have a different skill set than practicing lawyers as an advocate, Kraege said.
"That's very important," Bemenderfer added.
"As lawyers, we are trained to be advocates, and we learned that in law school," Kraege explained. "The most important skills that we (mediators) have are listening, empathy — knowing the law is not the largest part of the skill set."
Thomas Collignon, who joined The Mediation Group in 2013 under Bemenderfer and Kraege's leadership, said the group's reputation in the legal community was significant.
"From the outside looking in, before I joined, it was almost a brand name," Collignon said. "When you were in the litigation community, they knew it as a name and the quality of the mediators there, and it speaks to the legacy there."
Collignon also said it's nice that while The Mediation Group has lived for two decades, it continues to grow.
"We had a lot of people join us in the past few years, and it shows that if we continue, The Mediation Group will be here for another 20 years," he said.
After two decades of mediation and tens of thousands of resolutions, the men took a long pause in thinking about their takeaways from the journey.
Leaned back in his chair with a faint smile, Bemenderfer said, "It was a fledgling industry when we started and a new experience, and it's rewarding to look and have stayed relevant and continue to settle cases."
It has been a life-changing experience for Kraege, who said mediation has simply allowed them to use their skill sets to help people resolve disputes.
"As a group we have been really close with no friction and no arguments," he added. "The years have flown by."•
Please enable JavaScript to view this content.