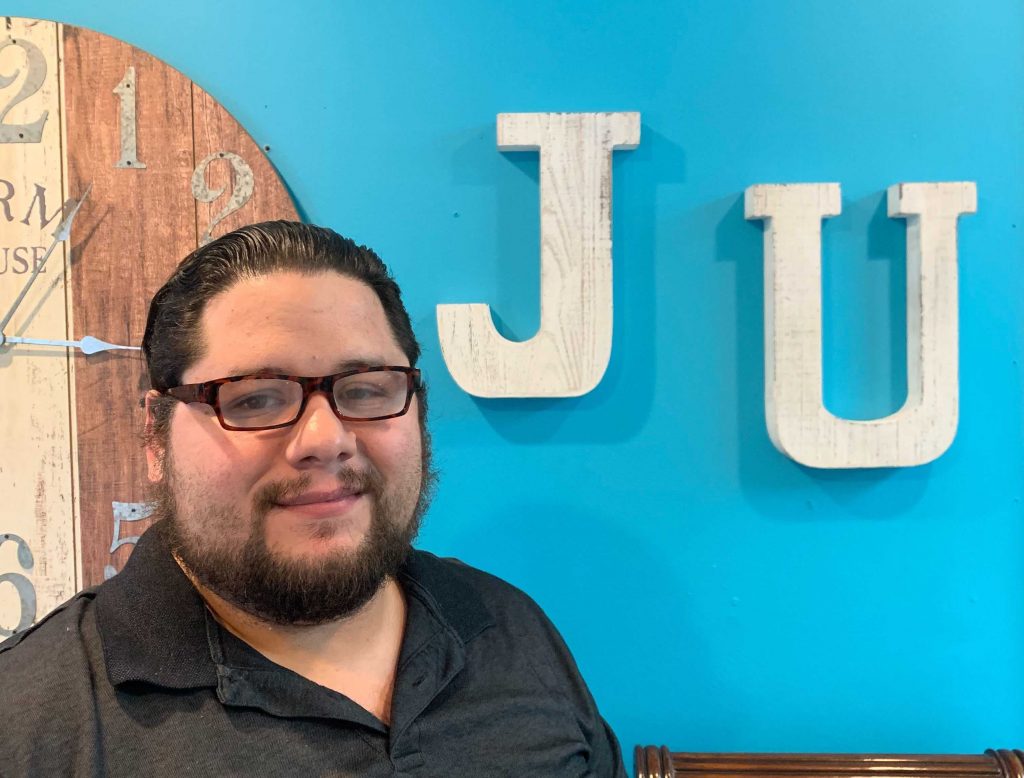 Growing up in a five-person home, Bloomington attorney Jamie Sutton's family had an on-again, off-again relationship with welfare and social assistance programs.
"Our income would get high enough that we would get kicked off, things would get tough, and then we would end up back on it again," he recalled. "Living in that twilight zone isn't great."
Moderate-means individuals similarly straddling the poverty line are left to wander in an access-to-justice gap that Sutton and other attorneys are trying to fill. During law school, Sutton stumbled across Open Legal Services, one of the country's first recognized 501(c)(3) charity law firms. His fascination with the model prompted action that turned into a career of helping others.
"I started doing some market research and realized how many Hoosiers fall within that gap as well, and it seemed to me like there was a need that could be filled there," he said.
Thus, Justice Unlocked was created: a Bloomington-based sliding-scale legal aid clinic that offers Hoosiers "low-bono" services — legal services at a fee that low- to middle-income individuals can afford. Its goal: the ensure all Hoosiers have access to affordable legal assistance.
Not pro bono
Low bono is a lower-than-market fee or reduced rate, said Luz Herrera, Texas A&M University School of Law professor and low bono pioneer. Limitations in pro bono and free models, she said, have stirred a growing awareness of low bono services.
"The need is bigger than the free resources," Herrera said. "We need a model that supplements pro bono, instead of telling people there are no other options."
Justice Unlocked aims to do just that. Its clients fall into the 'donut hole' of making too much money to qualify for free legal aid, but not enough to hire traditional attorneys. That's where more creative low bono alternatives are tested, like unbundled services or sliding-scale fees.
Unbundled, or limited scope services, offer clients a chance to break down which services they would like to perform and which services they would be willing to pay for. That could include drafting pleadings, discovery or filing documents. Sutton said Justice Unlocked tried to offer bundled services its clients but quickly discovered most weren't confident enough to navigate what they considered to be an opaque and adversarial system.
Paying the bill
In order to receive services, Justice Unlocked clients must have an income between 150 and 400 percent of the Federal Poverty Level — essentially those who earn too much to qualify for pro bono services but who live from paycheck to paycheck without much wiggle room.
"Our clients are not super poor people," Sutton explained. "They're making $10 or $15 an hour at retail shops or restaurants, have a car, are paying rent on time, but don't have more to pay for an attorney."
The nonprofit initially functioned on a traditional law firm model with an hourly rate. Clients would pay retainers of 10 hours up front and be billed each month at the hourly rate. However, the unpredictability of that model left many of Sutton's clients unable to keep up.
"We also found that what was happening was they would scrape together the money for the large retainer, but then be unable to replenish it. Once the money was gone, they'd have to ask us to withdraw," he said.
Justice Unlocked thus opted for a more creative option – no upfront retainer and a monthly flat rate fee of either $350, $450 or $550 depending on an individual's annual household income, regardless of the number of billable hours worked. After crunching the numbers, Sutton figured those fees were roughly the same as before, but more predictable and evenly distributed.
Since its introduction, nearly all of Sutton's clients have chosen the low bono-inspired model. The benefits for clients, he said, include predictability, caps on maximum liability and obligation, and the knowledge that Justice Unlocked is not motivated by "churning hours."
Justice Unlocked paralegal and office manager Daisy Lamptey said Sutton's dedication to bridging the gap is what drew her to join his efforts.
"Where else would I meet a single mom of six kids trying to make something of her life?" Lamptey said. "This job just opened the window for me to get in the community and help them reach their goals and make things better for their kids' lives."
Few and far between
Although the clinic is located in Bloomington, Sutton said he receives calls from and consults with clients from Fort Wayne, Terre Haute and Evansville looking for attorneys who will take their case. The need he sees is great.
"We're the only ones they could find," he said.
As far as Sutton is aware, Justice Unlocked is the only clinic in the state that is organized to address this specific access-to-justice gap. He said solo and small firm attorneys could also be offering low-bono services on a more informal basis, but that he hasn't found any other clinics like Justice Unlocked in the state.
Indiana Legal Services executive director John Laramore agreed, noting that while limited-scope services have been embraced by other jurisdictions to address a larger need, Indiana really hasn't. He's not sure why.
"Indiana is sometimes slow in adopting innovative approaches in a variety of ways," Laramore said. "I think it would be great."
One of the biggest challenges to Justice Unlocked's low-bono model is the heavy weight of clients scraping at the bottom of its range. Many who are disqualified from receiving other legal aid services make their way to Sutton.
"We are overwhelmed with requests from people who technically would qualify for ILS or other pro bono services, but have found those services to be stretched far too thin," Sutton said. "They've tried pro bono and been rejected because they didn't have enough attorneys; that's posed some challenges for us.
Financial struggles
Attorneys working under low-bono models face financial challenges of their own, Sutton acknowledged.
On average, Justice Unlocked clients pay between $60 to $100 per hour for services. But client fees alone are not enough to realistically sustain and retain long-term attorneys who may find more competitive salaries and benefits elsewhere.
"We need to look for models where lawyers can offer services to folks with cheaper resources and still make good living," Laramore said. "I think the model Justice Unlocked has is one of a number of possibilities."
Offering clients free services and cheaper rates doesn't leave much room for low-bono attorneys to live with the same comforts as some traditional attorneys. But Sutton said his upbringing helped him see things differently.
"It gave me perspective," he noted. "I have a lot of classmates making double or triple what I'm making. … But compared to how I grew up, I think, 'do I really need more than this?' I can make a decent living helping these people."•
Please enable JavaScript to view this content.