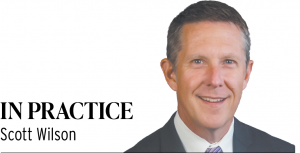 One of the great aspects of practicing law is the wide variety of ways to make it happen. Whether you are in-house counsel, legal services, a big firm associate, prosecutor, public defender, government lawyer, judge or a solo practitioner, the ways we as lawyers ensure access to, and the delivery of, justice are myriad. Although there are many common elements to each form of practice, there are challenges and opportunities that are unique to each, and the solo or small firm lawyer holds a special place in this cohort of practice options.
Solo and small firms are unique
Besides the fact that we typically don't have palatial offices, mahogany furniture or all kinds of staff running around, operating a solo or small firm is its own special brand of fun. Our primary role is often that of small business owner, responsible for all aspects of the firm including finances, billing, marketing, client development, technology … and everything else! That's all before we even take one moment of actually practicing the law. So how do we get it done?
Plan for change and be flexible
Because we are not always able to rely on other staff or attorneys, solo and small firm attorneys need a schedule that allows for interruptions and immediate changes in direction. In 2016, while working as a senior executive at a $2 billion global business process outsourcing firm, I learned the power of flexibility. I was running a project management office, coordinating facilities in 17 countries and serving as the lead nonattorney negotiating the company's contracts, leases and M&A transactions. After a large acquisition, the CEO asked me, "Would you ever consider going to law school?" At age 48, this seemed like a ridiculous proposition. But sometimes when the crazy question comes your way, you have to take a beat and consider what it might be: a signal for change.
A week in the life of a solo and small firm attorney may not have this same level of change at all times, but clients can shift priorities, opposing counsel can throw last-minute curve balls — life can just happen! Each week, we need to plan time to take on priority matters. When a client throws over a fast-moving situation, it's great to be in a position to say, "Yeah, I can do that for you right now." By committing to a block of time each day that allows room for quick changes in direction, we are actually building efficiency into our operating models.
Fast forward four years. I graduated from the evening program at Indiana University Robert H. McKinney School of Law, passed the Indiana bar and sat for the New York bar (later passing). I was planning to serve as in-house counsel for my company. Well, guess what? COVID. No job opening. My boss had left the company. We were in the middle of COVID downsizing, layoffs, salary reductions and unpaid furloughs. I had to change course immediately. Within a week, I hung out my shingle, formed an LLC, secured insurance, got billing and communications systems in place, and registered my firm with the state.
As solo and small firm lawyers, when we recognize that flexibility is our strongest asset, when we accept and actually look forward to those situations when things might go the opposite of what we expected, when we create schedules that invite interruption and the need to pivot, that's when we're at our strongest.
Become an expert at hyper-organization and triage
In order to handle all the competing priorities placed before a solo and small firm lawyer, we can't waste time looking for that important file, email, draft brief or piece of evidence. Having a strong and consistent form of organization is key to being able to locate critical information quickly. It takes real discipline to do this, but the time we can save pays back in dividends.
Managing a full-time career, law school part time and staying engaged with my family during law school was successful (mainly because of my amazingly patient wife) through being hyper-organized. It was critical to plan how I would be spending time every day: work, study, run, eat, sleep, study some more.
How about all those annoying little "red dots" on your phone's main screen, reminding you of all the to-do items waiting for your attention? When I see someone's phone showing 1,279 unread emails, 15 unread texts and nine un-listened-to voicemails, I start to freak a little bit. For solo and small firm lawyers, the unknown and the unaddressed can be huge efficiency killers. While we're working on one thing, we can't help but think about all the undone things. Continually triaging our inboxes, messages, calls and other incoming communication a little bit at a time can allow for intense focus when we need it most.
Over-communicate
As many lawyers know, some of the most common complaints that come before the disciplinary commission are related to a lawyer's lack of communication with a client. As solo and small firm attorneys, this becomes especially important for us — and especially difficult. It is likely that we do not have dedicated support staff to manage calls, emails and requests for legal services. The things competing for our time and ability to stay in front of issues, as well as be responsive to requests, is wild at times. But a simple follow-up can be our best friend.
I've made a commitment that when a client sends a request, that client will hear back from me the same day, or within 24 business hours. Now, I'm not saying I fulfill their request in that time. But I am saying that my client will hear back from me with something like "Got it. On it. I'll have this back to you by (fill in the blank). Let me know if you need it sooner than that, and I might be able to move some priorities around." I consider it a failure if a client has to follow up and ask for a status update. It means either I did not clearly communicate expectations, or I missed a deadline I set. Neither of these are good.
For the small and solo firm lawyer, this may seem like an impossibility. But it actually creates a situation in which the client is not sitting there wondering, "Did my message go through?"; "When will I get that back?"; "Should I call or email again?" By over-communicating to clients, we create time to focus on matters in a methodical way.
The modern mode
After living through a pandemic, I think all of us are very tired of the phrase "new normal." So let's stop saying that. But there is a "modern mode" for how a solo and small firm can operate post-pandemic.
Many of us have found that workplace flexibility can actually increase productivity. When people are not schlepping back and forth to the office, spending perhaps up to two hours each day in an unproductive state, more work can get done in fewer overall hours — especially the unbillable type. As solo and small firm lawyers, we should embrace this modern mode. We can create an environment that balances ways for people to work collaboratively, leveraging technology and getting feedback through internal chat threads or external Listservs.
Another positive outcome from our recent experience is that clients have become more flexible on ways to meet. Zoom, Teams and FaceTime all can serve as a valuable way for lawyers to maintain a positive, face-to-face relationship with clients. It's amazing that when we schedule an in-person client meeting for 30 minutes or an hour, how often that full amount of time is used. But when we schedule these via video, it seems that we rarely use the full time allocated. Maybe it goes back to people being tired of these communication methods, but there is no denying that these flexible meeting mechanisms have provided a way for us to be more efficient.
Closing thoughts
The most important thing we as solo and small firm lawyers need to remember is that we are not alone. The Indiana legal community is abundant with others who have tread this ground before us. State, regional and local bar associations — most importantly, those that have solo and small firm sections — are fantastic ways to be connected within our legal community. Don't be shy about contacting another solo or small firm lawyer and talking about the shared challenges we face. You never know — your solo firm might just end up becoming "small" in the process.•
Scott Wilson is the founder of Wilson Law Associates LLC. Opinions expressed are those of the author.
Please enable JavaScript to view this content.