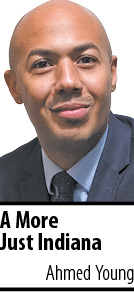 "Southern trees bear a strange fruit
Blood on the leaves and blood at the root"
These lyrics instigated, prodded and captured the essence of a time in American history when Black bodies were being lynched at record numbers with little provocation, justification or reprisals. These sanctioned and unsanctioned killings were documented not by cellphones but by brave journalists, demoralizing photos, countless narratives and of course, a timeless song, "Strange Fruit," popularized by Billie Holiday and recently featured in the film "The United States vs. Billie Holiday" (read a Robert Hammerle review, Page 12).
"Strange Fruit" was originally penned by a Jewish teacher and activist who was inspired by a photo depicting a lynching that took place in Indiana back in 1930. The emotional and mental toll led Abel Meeropol to draft "Strange Fruit," originally a poem which he passed on to others, eventually landing in the hands of Billie Holiday, whose unique voice and national fame brought more attention, wanted and unwanted, to the issue of lynching in America.
Nearly 600 miles northwest of Indiana, a crime was committed, followed by weeks of voir dire, several more weeks of the state and defense putting on their respective cases, then a jury of citizens from Hennepin County, Minnesota, deliberating for 10 hours. After that relatively brief deliberation, given the volume of evidence and testimony, the jury found Minneapolis police officer Derek Chauvin guilty on all three counts, the first and most serious charge being second-degree murder, then third-degree murder and, finally, second-degree manslaughter.
Sentencing will commence in several weeks, though the saga continues because, as the Chauvin trial was winding down, another black body was being gunned down by the hands of a law enforcement officer. A few miles away from the Hennepin County courthouse, Daunte Wright was shot and killed by a local police officer.
A bit closer to home, Adam Toledo, a 13-year-old, was shot and killed by a Chicago police officer on March 29. On the day of the Chauvin verdict, Ma'Khia Bryant was gunned down by Columbus, Ohio, police. Ma'Khia was 16 years old. The facts of each situation will be debated. What was a child that young doing out so late? Why did she allegedly have a knife? This type of equivocation is illustrative of a consistent theme that prioritizes the plight of the officer versus the loss of another life.
All the while, during the tumult of the last week, Indiana's General Assembly was putting the final touches on a piece of legislation some felt had only a faint pulse upon its initial introduction. Authored initially by Rep. Greg Steuerwald, then signed on by Reps. Robin Shackleford, Steve Bartels, Wendy McNamara and many others, Public Law 12 sets the stage for a reimagining of police accountability in the Hoosier state. Starting out as House Bill 1006, this law begins to chip away at systemic issues with law enforcement, beginning with training.
For an extended period of time, de-escalation was standalone training separate and apart from the comprehensive training that new officers receive. Moving forward, de-escalation tactics are prioritized as a key component of training modules for new recruits and for in-service training.
The law enforcement training board created by PL 12 creates a system of responsibility that pushes the law enforcement community to higher degrees of culpability and awareness when confronting issues of fairness and service to the larger community. This board's power goes beyond simply training. It also has the authority to revoke, suspend, modify or restrict a law enforcement officer's certification to serve for a number of justifications, including a demonstrated propensity to violate the law.
This far-reaching law goes on to regulate the use of chokeholds, requires a hiring law enforcement agency to request a law enforcement officer's employment record while mandating the disclosure of the employee's file to the requesting agency, and criminalizes the deactivation of a law enforcement recording device (though the specifics of this provision may be too narrow). These steps are essential to building a more transparent and accountable law enforcement regime. Even with these positive steps supported by the governor's office, the work must continue and be enhanced at the local level.
Across the country, local agencies are tasked with the daily interaction with citizens confronting mental health challenges, addressing domestic abuse and the scathing effects of drugs, unemployment, as well as education gaps. Fair questions are whether Indiana's policies on law enforcement are changing fast enough, and do they go far enough?
No matter the pace or scale, this work is needed because of the long and growing list of fatalities and boiling tensions between law enforcement and Black/brown communities. Some have argued that the Chauvin outcome is indicative of shifts in mindset and commitments to justice.
A guilty verdict found against a former law enforcement officer is not a seismic shift in the cultural ethos or foretelling of systemic change. It is a beacon of hope and a sign of progress. James Baldwin once asked, "How much time do you want for your progress?" The clock is ticking while names are being added to the list at an alarming pace. The relevance of "Strange Fruit" today is disconcerting, but signs are popping up pointing us toward justice. Will we follow them?•
• Ahmed Young is general counsel and chief of external affairs for Indianapolis Public Schools. Opinions expressed are those of the author.
Please enable JavaScript to view this content.