AUG. 31-SEPT. 13, 2011
Read about and take a photo tour of the Story Inn, a 1850s-era Brown County get-away restored by attorney Rick Hofstetter. Can a school discipline students for posting information it considers inappropriate or disruptive? The court has ruled. Indiana National Guard members are fighting, with the help of attorney Gabe Hawkins, to be compensated for harm resulting from their exposure to a toxic chemical.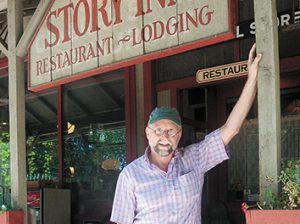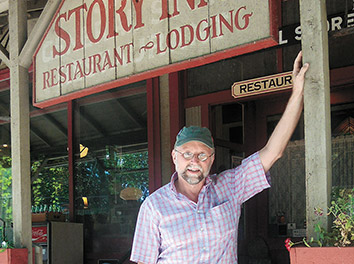 Two thirsty cowboys descend from a winding forest trail and hitch their horses to a post. They saunter about 100 paces to the tavern to grab a beer, where a tattooed bartender is watching the only TV in town, and Patsy Cline's voice drifts from the stereo. An elderly couple enjoys a post-lunch stroll in the garden, and in the distance, the high-pitched whine of a table saw means the handyman is hard at work, as usual. This is life in Story, a tiny patch of paradise that began as a logging town in 1850.
Read More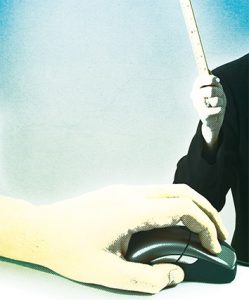 School is back in session, and a new set of court rulings issued during the summer break may make it more difficult for school administrators to decide how to handle inappropriate or potentially disruptive online activities carried out by students off-campus.
Read More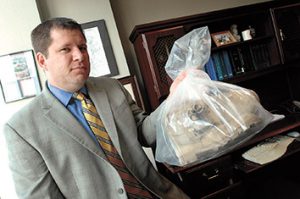 Indianapolis attorney Gabe Hawkins has already attended the funerals of three former clients, and he hopes that he won't have to see a fourth before finally being able to say that the courtroom battle they've been waging for years has paid off.
Read More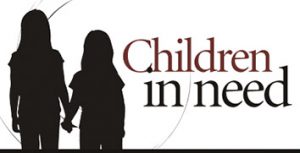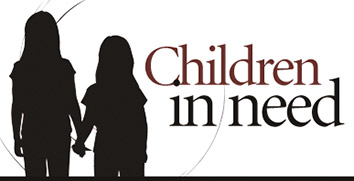 Leslie Dunn, Indiana state director for GAL/CASA, said the number of Child in Need of Services cases over time remains stable, but she's seen some remarkable variations in cases per-county from year to year. In Vanderburgh County, for example, new CHINS cases jumped from 448 in 2008 to 818 in 2010. People who are watching these numbers with concern cite several possible reasons for these variations.
Read More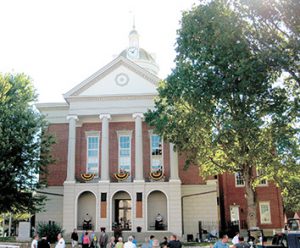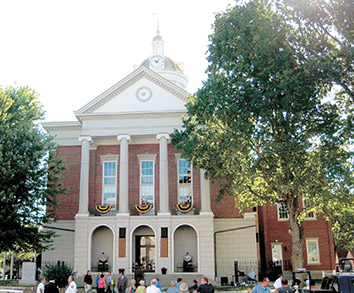 A fire in May 2009 displaced the courts and government offices. After more than two years, they were able to move back into the courthouse.
Read More
The Division of State Court Administration has released figures for 2011-2012, showing how the $1.5 million Civil Legal Aid Fund has been distributed among 11 qualifying agencies.
Read More
Years ago, those working in the Porter County Public Defender Office reported seeing a bright blue Post-it note tagged to their caseload reports that said, "HELP!" in huge hand-written print. That was a common occurrence at a time when the local public defender's office faced a critical overload point because of skyrocketing caseloads and too few attorneys.
Read More
A class-action lawsuit filed by an Indianapolis law firm is the largest legal action to arise so far from the collapse of a concert stage at the Indiana State Fair.
Read More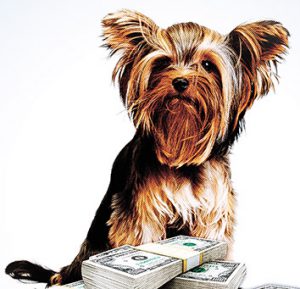 The non-profit American Pet Products Association estimates that this year, Americans will spend $50.84 billion on their pets – not surprising, considering the ever-increasing variety of treats, toys, and services for animals. But what happens to these pampered pets after their owners die? Are they consigned to a life of off-brand food? Forced to take up residence in a cramped kennel?
Read More
A recent Indiana Court of Appeals decision offers guidance to those working in trust and estate matters regarding how long a trustee should wait before turning to a probate court for guidance on distributing money to beneficiaries when a dispute exists over the amount that will be received.
Read More
Marion County Clerk Beth White has started her yVote! program, which we believe to be a wonderful undertaking. She travels to any Marion County high school that will have her in to teach civics.
Read More
Hammond City Judge Jeffrey A. Harkin denies that he did anything wrong in operating what may be a long-established but illegal traffic school deferral program and dismissing cases without assessing required fees. He also contends that he did not try to dissuade one litigant from contesting a seatbelt violation in court.
Read More
Read about the latest news from Indiana's law schools.
Read More
Christ is my Big C, a charitable foundation started by attorney Stephenie Jocham to help cancer patients, is seeking sponsorships, foursomes, and silent auction items for an Oct. 17 golf tournament.
Read More
The Indianapolis Legal Aid Society has scheduled a celebration in honor of its 70th birthday on Sept. 16. The guest speaker is Bobby Knight, former Indiana University basketball coach.
Read More
Longtime prosecutor David N. Powell from Greene County is the newest leader of the Indiana Prosecuting Attorneys Council.
Read More
The Commission on Courts meeting Wednesday contained some familiar elements: Indiana Supreme Court Justice Frank Sullivan testified regarding Odyssey and two trial judges have once again asked for an additional judicial officer.
Read More
How far the Indiana Board of Law Examiners can go in asking potential lawyers about their mental-health history was the subject of a federal court hearing Wednesday, where attorneys explored the scope of the Americans with Disabilities Act and what might be reasonable in determining someone's potential fitness to practice law.
Read More
If he'd had the ability more than three years ago to factor in a jury's deadlocked view on the death penalty, a southern Indiana judge says he would have imposed life without parole rather than the death penalty for a man convicted of triple murder.
Read More
In a blow to the Indiana attorney general's office, the state's tax judge has shot down a legal theory that used jeopardy tax assessments to go after a purported puppy mill in Harrison County.
Read More
Following a lawsuit filed by foster parents after the Indiana Department of Child Services announced in 2009 that it was going to decrease the foster care per diem by 10 percent, the department announced Friday that it has come up with new reimbursement rates beginning Jan. 1, 2012.
Read More
An Indiana summer study committee met for the second time Wednesday to discuss a state Supreme Court ruling from earlier this year involving the right to resist police entry into one's home.
Read More
Read about disciplinary actions issued by the Indiana Supreme Court in recent weeks.
Read More
Read the latest news from bar associations throughout Indiana.
Read More
On Aug. 10, 2011, the Indiana Court of Appeals issued an opinion that addressed for the first time the issue of whether a photograph of vehicle damage is relevant and admissible to assist a jury in determining the extent of bodily injury in a trial arising from a motor vehicle accident.
Read More
View photos from the 2011 IBA Diversity Job Fair.
Read More
As an estate planning attorney, I regularly counsel clients about disability and death planning. If truth be told, however, I'm not always good at following my own advice. Attorneys procrastinate as much as the clients we represent, too often getting caught up in our daily endeavors and failing to make sure our own affairs are in order. As fall approaches, I'm making time to review my estate planning, and I encourage you to do the same.
Read More
This year marks an exciting milestone for IndyBar's Women and Law Division. Twenty-five years ago, a number of visionary lawyers in our community founded WLD to create opportunities for professional growth and personal connections among women lawyers. A quarter of a century later, WLD remains a strong presence in the Indianapolis Bar Association.
Read More
One of the corner stones of our American system of jurisprudence is free and open access to the trial courts and judicial system. The ability of businesses to solve their disputes in an orderly fashion and the predictability of outcomes encourages business to be conducted in our country.
Read More