The former office manager who blew the whistle on an Indianapolis lawyer disbarred recently by the Indiana Supreme Court said he paid a personal and professional price and endured threats from his ex-boss after reporting his egregiously unethical conduct.
Read More
A battle between two tech companies put a key provision of the recent patent reform law on the firing line. But intellectual property attorneys were not surprised the patent holder attempted to knock out the administrative review process or that the attempt failed.
Read More
Monarch Beverage launches another effort to upend limits on liquor wholesalers.
Read More
Indiana Trial Lawyers Association Executive Director Micki Wilson will hand over day-to-day duties running the organization at the end of the year, but she'll continue to lobby on its behalf at the Statehouse.
Read More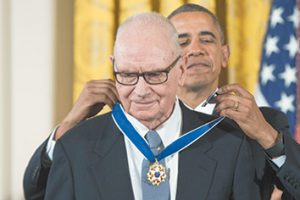 As young men, Lee Hamilton and William Ruckelshaus followed their passion for public life to Washington, D.C., where they left their imprint on the legislative and executive branches at a time the country and its attitudes were changing.
Read More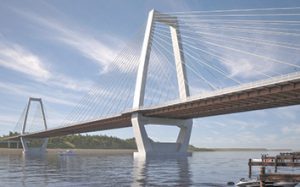 Hoosier attorneys and their Kentucky colleagues had to find ways to write agreements to bring four state highway and financing agencies together to cooperate across state lines in a manner that complied with their own statutes.
Read More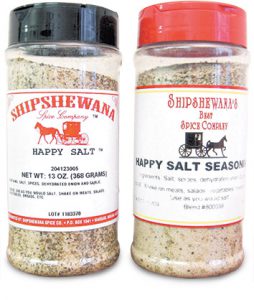 A steel giant's trade name was used to misrepresent business deals with the intent to procure millions of dollars worth of machinery and financing, and an Amish-country spice maker alleges a local rival is ripping off its registered trademark. These two recent cases in the U.S. District Court for the Northern District of Indiana illustrate the difficulties in policing registered marks on intellectual property, but the cases also show the means of recovery at rights holders' disposal when their IP marks are violated.
Read More
Adherence to a few principles will avoid many of the intellectual property potholes on the road of 3-D printing.
Read More
What do startups and high-growth companies have in common? Intellectual property is their most valuable asset, separating one company from the others in a fiercely competitive tech environment.
Read More
When the topic of cybersecurity arises, many companies react by burying their heads in the sand. However, playing an ostrich when it comes to cybersecurity will not save you.
Read More
This year, join me in a different approach: setting goals and developing habits. Neither concept is new and both take effort to be effective. Here are some pointers and tech tools you can use to help support achieving your goals and developing good habits in the new year.
Read More
Bob Hammerle says Sylvester Stallone is magnificent as an aging man searching for meaning in "Creed."
Read More
If I told you there was a way to market your law firm for absolutely no cost and get responses from thousands and thousands of people globally, would you be interested in doing it?
Read More
A recent Indiana Court of Appeals opinion reaffirmed prior Indiana cases holding that settlement agreements, whether reached with or without mediation, are governed by the general principle of contract law and generally not required to be in writing.
Read More
As we complete a long, complicated year, my great judge journey leads me to a wish list. While wish lists are not uncommon for gift-giving season, or the start of a new year, this one is intended for regular rumination.
Read More
At our most recent Pro Bono and Clinical Program awards event, we celebrated – for the second year in a row – the fact that our graduating class had contributed more than 20,000 hours of pro bono service to the community during their law school careers.
Read More
Ex-attorney William Conour claims in a jailhouse motion he filed Thursday that the judge who sentenced him to 10 years in prison for wire fraud appears to be biased in favor of prosecutors and must be removed for preventing him from representing himself.
Read More
Beginning Jan. 4, all three of Indiana's appellate courts will accept electronic filing. Indiana Chief Justice Loretta Rush signed an order Wednesday announcing the Tax Court's addition to the e-filing project.
Read More
A lawyer who claimed his former law firm and its shareholders wrongly withheld fees he was contractually owed lost his appeal of a judgment in the firm's favor Thursday.
Read More
David B. Millard, a lifetime resident of Indiana who enjoyed working with entrepreneurs, died Dec. 3.
Read More
Read recent Indiana appellate decisions.
Read More
Managing partner Tobin McClamroch explained the new office design reflects how the legal profession is changing.
Read More
Read who was recently reinstated and who was disbarred by the Indiana Supreme Court.
Read More
The Defense Trial Counsel of Indiana named its 2016 officers and directors at its 22nd Annual Conference and Annual Meeting Nov. 19-20. The officers and directors will take office Jan. 1, 2016.
Read More
A couple of days ago, I was rummaging through some old papers when I found my 2008 New Year's resolutions. As I read over them, I thought to myself, "Johnny boy, I think you need to dust these off and try again, but let's have a little better effort this time!"
Read More
Read news from around the bar association.
Read More
The Indianapolis Bar Association's Young Lawyers Division (YLD) and Law Student Division are teaming up to form a program called "Suited Up." The concept is simple: provide college-bound seniors, both men and women, from low-income households with dress clothes.
Read More
Getting Along is Not Wrong, an initiative of the IndyBar Standing Committee on Professionalism, is the impressive collection of such positive and compelling behavior.
Read More