FEB. 24-MARCH 8, 2016
Nine judges, four lawyers in private practice, a state lawmaker and a state attorney are semifinalists to replace Justice Brent Dickson on the Indiana Supreme Court. A lawsuit filed by a Virginia-based nonprofit could upend civil forfeiture in Indiana. The American Bar Association passed a resolution supporting the Uniform Bar Exam, which some tout as helpful for attorneys to be able to practice where the work is.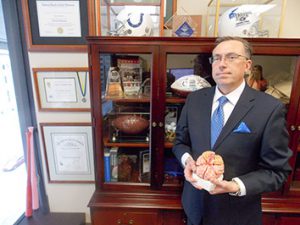 Attorney Dan Chamberlain is betting on a couple of ex-players with tarnished pasts in lawsuits that contend the National Football League failed to adequately compensate retired players who suffer traumatic brain injuries.
Read More
A federal judge had tough questions Friday for the lawyer representing Gov. Mike Pence as he tried to make a case for state sovereignty in attempting to block the resettlement of Syrian refugees in Indiana. Oral arguments came on the heels of the U.S. Justice Department entering the case, claiming Pence's actions discriminated on the basis of national origin.
Read More
Supreme Court of the United States Justice Antonin Scalia was remembered as an intellectual judge who had a profound impact on the nation's highest court, but also as friendly and personable in one-on-one conversations by Indiana judges and attorneys who had interactions with him.
Read More
Roughly 18 months after Indiana's reformed criminal code took effect, emphasizing treatment over incarceration for drug offenses, the General Assembly is considering proposals that would boost certain crimes to a higher level felony, stiffen punishments for possession of controlled substances and make some cold medicine more difficult to purchase.
Read More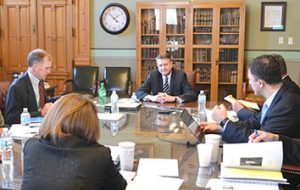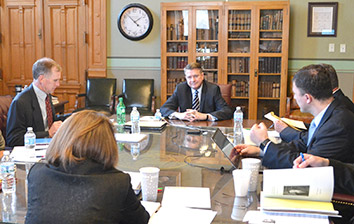 Nine judges, four lawyers in private practice, a state lawmaker and a state attorney are semifinalists to replace Justice Brent Dickson on the Indiana Supreme Court. Thirteen men and two women from every region in the state will return for a second round of interviews next month.
Read More
A new challenge to Indiana's civil forfeiture process does not seek to end the practice altogether but its attempts to stop the flow of money into local law enforcement coffers could, ultimately, halt the seizure of property in the state.
Read More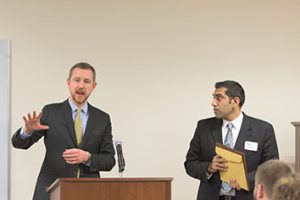 The third annual event in a jury room at the Birch Bayh Federal Building and U.S. Courthouse in Indianapolis was a thank you to all the attorneys who provided pro bono help in 2015 to pro se litigants in either the Civil Trial Assistance Panel or the Mediation Assistance Program.
Read More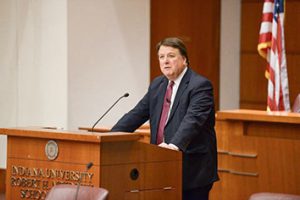 The economic storm of recent years was particularly perilous for the legal industry and law schools, but despite encouraging signs, former Indiana Chief Justice Randall Shepard said the dangers have not passed.
Read More
During the 2016 American Bar Association Midyear Meeting in early February, the House of Delegates passed a resolution encouraging states to adopt the Uniform Bar Examination. The test, administered by the National Conference of Bar Examiners, has already been adopted in 19 states and the District of Columbia.
Read More
I find myself often representing companies that are subject to all sorts of tangential laws that they must know about and adhere to. Many times these laws require certain notice requirements to the clients with whom my clients do business.
Read More
Once again, the Oscars are upon us, and this year the awards are filled with controversy. Diversity is the buzzword, and it is something that Hollywood needs to acknowledge and meaningfully consider.
Read More
Letters to the editor reflect on the Constitution and supreme court vacancies.
Read More
Through daily concerns over billable hours and client meetings, networking events and continuing education, it is easy for those in the legal field to forget our responsibility to serve those in need in the communities where we live and work.
Read More
Migrating to Office 365 is a decision that should be made with careful planning and consideration of the risks and benefits of a cloud-based system. That said, the trend toward using other people's computers to lower your own operating costs will only continue in the future.
Read More
Read who recently resigned from the bar and who was suspended.
Read More
I've had the chance the last few years to think about Internet access to justice, new forms of competition from large global corporations, the possible obsolescence of state-regulated practice of law, commoditized legal services and many other seismic shifts in the legal profession. Lots of other professions have dealt with these changes. You don't have to look far to see the dramatic change in how medical services are delivered today.
Read More
As law firms and companies expand legal teams to pursue new business opportunities, competition is intensifying for job seekers with in-demand skills and niche backgrounds.
Read More
Each year, the Indianapolis Bar Association's Bar Leader Series provides a group of the bar's rising stars with the tools and experiences that will further their growth into future leaders of the association and the Indianapolis community.
Read More
In hospice care, those around the patient often work to ensure the he or she is comfortable during the final days of life–providing palliative care, creating a soothing environment and gathering loved ones close.
Read More