JUNE 29-JULY 12, 2016
Ready or not, the era of e-filing begins July 1 for everyone submitting court documents in Hamilton County and in Indiana's appellate courts. There's evidence that despite the buildup over recent months, many lawyers and filers may be caught off guard. Also happening July 1, many new Indiana laws take effect. Read the list of new laws here. Prosecutors say that ethical rules will prohibit them from releasing video from police body cameras in ongoing criminal investigations.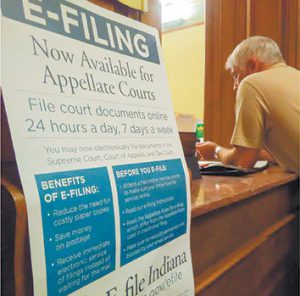 Ready or not, the era of e-filing begins July 1 for everyone submitting court documents in Hamilton County and in Indiana's appellate courts. There's evidence that despite the buildup over recent months, many lawyers and filers may be caught off guard.
Read More
Judges in four Indiana counties soon will have some help with complex motions thanks to a bill passed by the Indiana Legislature.
Read More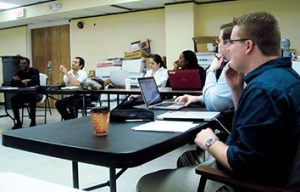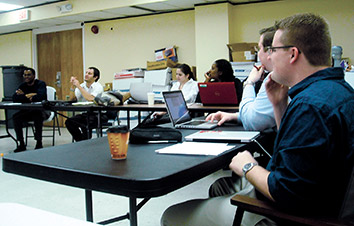 Valparaiso Law School is hardly the first to feel the pain of falling student applications, but as the subject of a recent profile in the New York Times, its troubles may be the most well-known.
Read More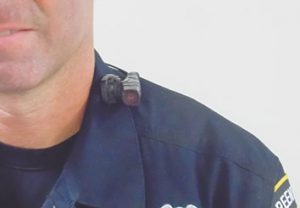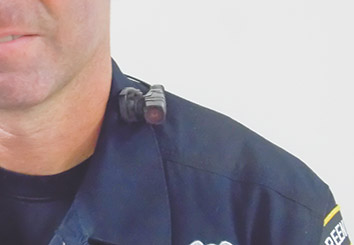 While it was being considered in the Statehouse, Indiana's police body camera law brought a lot of public interest and at times public outcry. But as the new measure gets ready for action, prosecutors say the Rules of Professional Conduct restrict them from releasing the recordings.
Read More
Read a complete list of the laws that will become effective July 1.
Read More
The lawsuits against Cook Medical began four years ago with a trickle but have since turned into a gusher, now surpassing 500.
Read More
At the third meeting of the Senate Select Committee on Immigration Issues, business professionals and attorneys told committee members the measures Indiana has adopted in recent years have actually hurt the state's economy and public safety.
Read More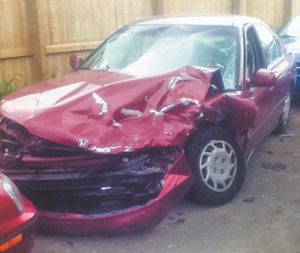 A man who admitted fault and negligence for a Lake County drunken-driving crash is appealing damages of $2 million awarded in the case, claiming the jury was wrongly provided evidence of his prior alcohol-related driving convictions that were 17 and 30 years old.
Read More
The recent death of an Indianapolis attorney who helped blaze the trail for female attorneys in the city has prompted other attorneys to take a look how far women have come in the legal profession.
Read More
Adult Protective Services has only 28 investigators to look into reports of mistreatment of endangered Hoosiers, along with 18 district directors. The Indiana Family and Social Services Administration has pledged to release funds July 1 to hire 18 more investigators. 
Read More
After about a year of thinking and planning, two Indianapolis attorneys launched Scout Guardianship Services Inc. in December 2015. This for-profit business can function as either a guardian, attorney in fact or health care representative for adults who want and have the financial assets to pay for these services.
Read More
A popular topic in the media lately is the "silver tsunami" — the huge wave of baby boomers who will leave the workforce in the coming years and become eligible for the senior discount. The legal system needs to prepare today for the influx of issues that will wash ashore.
Read More
Six years have passed since Indiana sued IBM over the failed $1 billion contract for the computer giant to modernize a punch-card-era system for determining welfare eligibility. After the contract was famously canceled, IBM blamed the state, the state blamed IBM, and they've been fighting in court since.
Read More
The situation: a single mother is killed in a crash leaving behind a young daughter. The defense attorney refuses to consider paying any damages to the young daughter beyond her 18th birthday, including for the loss of love, care and affection of her deceased mother. Can that be right?
Read More
Unfortunately, leaving emails unprocessed in your inbox waiting for you drains your energy, causes you to procrastinate, and takes up mental capacity. Thankfully, there's a better way to deal with email. It's called getting to "Inbox Zero."
Read More
Indiana's judiciary has been added to the long list of what makes Indiana so favorable a place to do business.
Read More
Abandoned by my two grandchildren and Saudi foreign exchange student, I was forced to bite the bullet and go alone to see "Finding Dory."
Read More
A tie vote by the Supreme Court of the United States is blocking President Barack Obama's immigration plan that sought to shield millions living in the U.S. illegally from deportation.
Read More
The U.S. Supreme Court is making it tougher for federal prosecutors to seek longer prison terms for people convicted of repeated violent crimes.
Read More
In a major victory for affirmative action, a divided U.S. Supreme Court on Thursday upheld the University of Texas admissions program that takes account of race.
Read More
A new state law that takes effect July 1 lifts the ban on carryout sales for artisan distilleries, putting the businesses on par with wineries and craft breweries, which already sell alcohol on Sundays.
Read More
The U.S. Supreme Court on Thursday placed new limits on state laws that make it a crime for motorists suspected of drunken driving to refuse alcohol tests.
Read More
The U.S. Supreme Court has struck down Texas' widely replicated regulation of abortion clinics in the court's biggest abortion case in nearly a quarter century.
Read More
An Indiana attorney has won what he claims is a record amount from a wrongful death lawsuit as a Lake County jury Friday awarded the family of a man who died in a rehabilitation hospital $9.5 million.
Read More
Indiana is one of 26 states to receive a failing grade on the diversity of its judiciary in a new study released Wednesday by the American Constitution Society for Law and Policy.
Read More
Read recent Indiana appellate decisions.
Read More
What civil litigators should know before a client "takes the Fifth."
Read More
Attorneys and sponsors joined with about 25 other attorneys at McCormick & Schmick's in Indianapolis for a networking mixer on June 8.
Read More
For attorneys, the courtroom is often rife with conflict and anxiety. But for some hopeful individuals, the courtroom is where their dreams of becoming United States citizens officially become reality.
Read More
Your law practice will not dissolve if you leave it for a week or two. I'm always happy to see that a lawyer needs a continuance to take a family vacation. You probably won't have plenty of time and money for a vacation until you're retired and your kids are too busy with their own lives. So don't wait.
Read More
In the mood for meaningful pro bono service without the long-term commitment? Volunteer just a couple hours at Ask a Lawyer on Oct. 11 and you'll provide guidance that can make a world of difference to our neighbors in need.
Read More
Congratulations to Melissa Haulcomb, a second-year law student at Indiana University Robert H. McKinney School of Law, and to Derek Hamilton, a second-year law student at Indiana University Maurer School of Law! These IndyBar law student members are the recipients of the IndyBar Intellectual Property Section's 2016 Patent Bar Scholarships.
Read More