NOV. 4-17, 2015
Figuring out how to balance the demands of practicing law with the needs of a family is a struggle that female attorneys have long faced, but increasingly male attorneys also want to be able to take time for their families. A recent ethics opinion from the Indiana State Bar Association on flat fees has some attorneys debating as to whether its advice is practical. There's been a small uptick in the number of J.D. advantage jobs, which reflects changes in the economy and legal profession.
Well-documented changes in the legal profession since the economic recession are sending a small but growing number of law school graduates down a new career path toward companies that want employees with juris doctorates but do not involve the practice of law.
Read More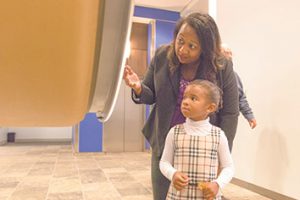 Figuring out how to balance the demands of practicing law with the needs of a family is a struggle that female attorneys have long faced, but increasingly male attorneys also want to be able to take time for their families.
Read More
Organizations are working hard to welcome, attract and retain the young professionals because this new group shows little inclination to joining. Bar associations, like associations in different industries, are seeing millennials shy away from being part of an organized group.
Read More
A recent Indiana State Bar Association Legal Ethics Committee opinion says lawyers who charge clients flat fees considered earned on receipt shouldn't deposit the fees in their Interest on Lawyer Trust Account, but should put the money in the firm's operating account. Some lawyers aren't convinced this makes sense.
Read More
Sarah Wilding wanted her church in Anderson to receive the bulk of her estate when she died in April 2012. The church is still waiting, and so are other beneficiaries who lost hundreds of thousands of dollars to a lawyer accused of plundering their estates.
Read More
The Indiana Department of Correction has begun disbursing $5 million in new state funding meant to help local communities provide treatment and rehabilitation programs for low-risk offenders.
Read More
A legislative study committee Tuesday recommended opening records to thousands of Hoosiers born before 1994 who cannot access their own birth certificates.
Read More
With medical errors on the rise in Indiana and many states ruling caps on malpractice damages unconstitutional, plaintiff and defense lawyers and state officials continued to negotiate behind the scenes toward compromise legislation that could increase Indiana's $1.25 million cap on medical malpractice awards.
Read More
Condo conflicts and HOA hostilities can often result in lawsuits and sometimes incredulous headlines. Lawyers have seen disputes arise over everything from where bikes can be stored to whether a condo owner could install hardwood floors.
Read More
As the state of Indiana continues to search for new and innovative ways to recruit businesses to the area and create more jobs, the use of creative financing incentives such as tax increment financing and public-private partnerships, or P3s, has continued to be essential to development.
Read More
When the enforceability of a no-damage-for-delay clause is litigated in Indiana, practitioners commonly rely on the treatment of certain exceptions in other jurisdictions, while conceding that Indiana's courts have not definitively weighed in. But is that position entirely accurate?
Read More
By Keenan M. Jones Jones The election is over, and for many of us, that is cause for a great sigh of relief. No more TV ads paid for by PACs. No more radio spots smearing the other candidate. And the yard signs that have littered neighborhoods will be coming down, at least until the […]
Read More
After a spirited conversation with colleagues about the opportunity to time travel, I posed the discussion topic, "If you had the opportunity to travel back in time and talk with your younger self as a new attorney, what advice would you share about life as a lawyer?"
Read More
If you're like us, you're a lawyer who enjoys giving advice to others. As attorneys who represent other attorneys in disciplinary matters, we often receive requests to give ethics advice to lawyers. As luck would have it, we like lawyers and generally enjoy giving advice to lawyers when we can.
Read More
Hammerle says "Bridge of Spies" embodies every criminal defense lawyer's motto, "You brought the charge, now prove it!"
Read More
Defense Trial Counsel of Indiana recognizes hard work of young lawyers at Indiana Trial Lawyers Association.
Read More
Recently, a colleague and I were faced with the following issue in a wrongful death action after resolving all claims at mediation: Is an Indiana trial court permitted to seal and/or prevent public access to records required to be filed with the court related to the compromise of a plaintiff's claim that include or otherwise identify confidential terms of the resolution?
Read More
After 27 years in the trenches of civil litigation, most on behalf of injured plaintiffs, it is still shocking to see the blind eye that some judges turn toward even the most egregious violations of the discovery rules.
Read More
Lawyers need help managing the massive amounts of information we process on a daily basis. Wearable devices can help weed through the noise and filter the most important information to you when and where you need it.
Read More
Could a fight over flavoring water mean the end of a court district that's become notorious for its patent litigation? It might, if Heartland Consumer Products Holdings LLC is successful in getting a patent-infringement lawsuit filed against it last year by Kraft Heinz Co. in Delaware moved to a court in its home state of Indiana.
Read More
A group of police officers were "pretty blatant" when they eavesdropped on conversations between a man facing a murder charge and his attorney and later found a gun based on what they had overheard, Indiana Supreme Court Chief Justice Loretta Rush said Wednesday.
Read More
Federal prosecutors have copies of audio recordings a Florida woman says she made of former Subway spokesman Jared Fogle talking about sexual encounters he had with children and say they took those recordings "into account" before charging Fogle.
Read More
A memorial service for trailblazing Indianapolis attorney Sue Shadley is scheduled for Nov. 7 at the Eiteljorg Museum of American Indians and Western Art.
Read More
An ex-Indianapolis Public Schools employee and minister fired after repeated complaints of physical altercations with students lost his federal discrimination lawsuit that claimed in part he was fired for religious reasons, including his request to be allowed off work to observe "Moorish Christmas."
Read More
Bankruptcy cases filed in federal courts for the fiscal year 2015 are down 11 percent as compared to FY 2014, the Administrative Office of the United States Courts announced Wednesday
Read More
Read recent Indiana appellate decisions.
Read More
Read who recently had his suspension terminated by the Indiana Supreme Court.
Read More
In a perfect world, my dream would be for every job seeker to land a full-time position. I would also hope that all of you could find the time to network and mentor our colleagues who cannot find work. In the meantime, I have one question for you: "Have you hired a contract lawyer lately?"
Read More
Would you like to network with your legal community and have fun through the practice of law? Volunteer to serve on an Indianapolis Bar Association committee. Appointments are now being made to the 2016 committees.
Read More
Each year, the IndyBar takes time to honor and celebrate local leaders with innovative ideas through the Recognition Awards.
Read More
Pro Bono Spotlight On: Michael A. Rogers, Quarles & Brady
Read More
Gleaners Food Bank of Indiana works to feed the hungry across the state, and on Oct. 21, Indianapolis Bar Foundation Distinguished Fellows pitched in to help them do just that during the Fellows service event.
Read More
This is the sixth installment in the Solo/Small Firm Practice Section's "Getting to Know Your Judicial Officers" series.
Read More