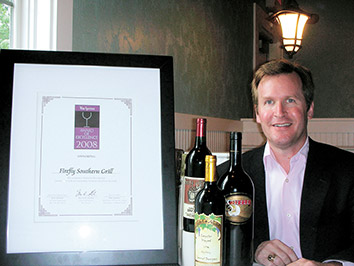 Usually being served by a lawyer is a bad thing. That is, unless the lawyer is offering a cool martini or a warm plate of
shrimp and grits.
Three Indiana attorneys have been or will soon be opening bars and restaurants around the state to serve patrons when they're
not working with clients. All three have different reasons for doing it, yet all three have said their legal experience has
been helpful.
Firefly Southern Grill
R. Scott Wylie doesn't have a typical day. Instead, he's often seen around Evansville greeting patrons
and bussing tables in the Firefly Southern Grill at 6636 Logan Drive, which he owns and operates with his business partner,
Joshua Armstrong; working in the office of the Volunteer Lawyer Program of Southwest Indiana; or preparing and teaching a
course at the University of Southern Indiana.
Wylie said he had hoped to open a restaurant like Firefly when he moved back home to Indiana, partly because of time he spent
at lawyer hangouts in the Los Angeles area.
 
Solo practitioner Doug Ulmer, top, is chief operating officer of Club Soda in Fort Wayne. Attorney
R. Scott Wylie is co-owner of Firefly Southern Grill in Evansville, which has been recognized by Wine Spectator. (Photos submitted)
He and Armstrong knew they wanted to have cuisine that people in Evansville would be comfortable with, but they also wanted
patrons to have a fine dining experience in a casual, comfortable setting.
"That way, someone could get a burger on the way home from work, while sitting a table over from someone enjoying a
$200 bottle of wine," and neither would feel out of place, he said.
With a goal of having authentic Southern cooking – not just fried chicken, mashed potatoes, and green beans –
he and Armstrong traveled around the south, stopping at restaurants along the way.
On one trip, Wylie said they ate at least one meal in Louisville, Henderson, and Lexington, Ky.; Asheville, N.C.; Charleston
and Hilton Head, S.C.; Savannah and Macon, Ga.; and Chattanooga and Nashville, Tenn.
At each stop, they took notes about what they wanted to serve at Firefly. As a result, the menu – available at www.fireflysoutherngrill.com – includes comfort food
that is familiar to Hoosiers. It also features food they tried on the road: gumbo, okra, shrimp and grits, fried green tomatoes,
collard greens, and catfish.
On a separate trip, they participated in a bus tour in Nashville, Tenn., with Jane and Michael Stern, who wrote the "Road
Food" column for Gourmet magazine and host the National Public Radio program, "The Splendid Table."
The Sterns went over Firefly's menu and made suggestions. Wylie said that trip also inspired a few new menu items.
Wylie said he enjoys his legal work and teaching, but he is also happy to see so many members of the legal community support
his restaurant.
"If a bomb went off on a busy night, it would probably take out a third of the bar association," he joked.
The restaurant also donates time and food to charities in the area, which has also helped spread the word about the restaurant.
Club Soda
When Fort Wayne solo attorney Doug Ulmer was first approached by friends in 1999 with the idea to open Club Soda,
a jazz venue, steak restaurant, and cigar and martini bar at the old Indiana Textile Building, 235 E. Superior St., "I
quickly said I had no interest in investing in a restaurant, thank you very much," he said.
But because they were his friends, he agreed to help with legal work for the business.
In April 2002, things went sour. The investors and Ulmer learned about bounced paychecks, unpaid vendors, ignored payroll
taxes, and other issues that restaurant owners dread.
"It became a nightmare very quickly," he said. "We were able to rescue the restaurant by forming a new
corporation. We transferred the assets from the old corporation to the new corporation, and worked out an agreement with the
Internal Revenue Service and creditors of the old corporation. 2003, 2004, and 2005 were very dicey years. But fortunately
we hung on, and Club Soda is thriving right now."
When things were rough, Ulmer said he was waiting tables and helping as a server, which is also what he did while was in
college and law school. He added that while he was working in the restaurant, wearing the same outfit as the other employees,
those who saw him earlier in the day in his suit and tie didn't recognize or acknowledge him.
When the new corporation was formed, Ulmer became the restaurant's chief operating officer. In that role, he creates
the agenda for meetings, follows up on questions the partners have, and periodically works with vendors, "including
an episode a couple years ago where we discovered the walleye we were selling on the menu was really a distant cousin of walleye.
That required some legal intervention."
Club Soda offers a fine dining menu – available online at www.clubsodafortwayne.com – that includes cleverly named cocktails, duck,
filet mignon, and (real) walleye. Ulmer said Club Soda, which offers continuous live jazz and blues from local and touring
regional and national acts, remains a unique destination in Fort Wayne.
Ball & Biscuit
Unlike Wylie and Ulmer, Indianapolis attorney Trevor Belden has yet to have guests experience his bar – it
will open this summer.
The Baker & Daniels partner recently moved to a condo in the same building as the Ball & Biscuit's future home
– 333 Massachusetts Ave. – and has been watching the construction progress since March.
 
Belden
Belden, who had no prior restaurant experience, originally wanted to open a downtown venue as part of his involvement as
co-founder of Indy Hub, a social and professional networking organization. After speaking with an old friend – the restaurant's
co-owner and general manager Zach Wilks – the two decided to start what will be another choice in the city's trendy
downtown neighborhood.
When asked what would distinguish this bar from almost a dozen others within walking distance, Belden said there will be
no TVs, it will be non-smoking, they will serve craft beers and boutique wines, and it will have more of a lounge feel than
other places. It will also have a limited menu in terms of food, with only seven or eight small plates.
As far as managing the restaurant and his legal work for a large Indianapolis firm, Belden said he spends as much time with
it as some people might spend with a hobby, while Wilks is paid to manage the day-to-day issues of the restaurant.
While it's too early to tell, Belden is optimistic about the bar he named after a microphone the BBC used in the 1930s.
He added the location was a key factor in his decision to open a bar, and that he had received a lot of cautious advice.
While Ulmer and Wylie said their legal experience has helped, they wouldn't recommend other attorneys open a restaurant,
at least not without some serious thought.
"I really enjoy working with the staff and the servers, the people in the kitchen," Ulmer said. "It reminds
me of coming up through restaurants. It's also like having a client in terms of making sure the interests of the partners
and restaurant are well served, and it's a business, which is not unlike operating a law practice. There are bills to
pay and financial reports to be aware of and budgeting. So it's a combination of having a hobby, having a client, and
having a business."•
Please enable JavaScript to view this content.