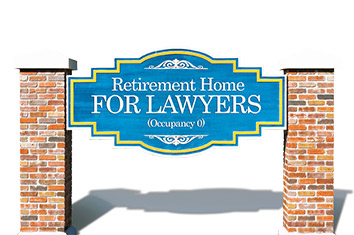 There's an old joke in the legal profession that attorneys never retire.
So the Indiana State Bar Association and Indiana Judges and Lawyers Assistance Program have partnered to present three conferences
in late August about retirement preparation: "What's Next … Planning for the Retirement that YOU Want."
Maryann Williams, director of section services for the ISBA, recalled the retirement party of an attorney she attended when
she was still practicing law. She remembered that no one seemed to know how to plan the retirement party because no one remembered
going to one before.
While that's not to say all attorneys should retire at a certain age or should keep working forever, Terry Harrell,
JLAP executive director, said she has noticed an increase in calls concerning retirement.
More often than not, those calls were from colleagues who thought their fellow attorneys should retire before disciplinary
actions were filed or worse.
In some cases in which an older attorney is having trouble handling his or her workload, it isn't necessarily because
of issues related to age but could be a reaction from medications or depression that can possibly be addressed through treatment,
she said.
But more often than not, she said, the attorney doesn't have treatment options if he or she is past what other professions
consider a normal retirement age of mid-60s to early 70s, she said.
So Harrell spoke with Williams and the ISBA to determine if there was a way to offer help to attorneys in their 40s, 50s,
and early 60s, while they still had ample time to plan for retirement. She considered a program in Oregon to be a model for
the Indiana program.
At first, she and Williams talked about doing a session at the Solo and Small Firm Conference but quickly realized it was
important enough to be its own event.
In late August, those plans will come to fruition with three scheduled all-day seminars that will take place in Evansville,
Indianapolis, and a yet to be decided location in Lake County, making it accessible to many attorneys around the state. Depending
on how these sessions go, Williams said more might be planned in other locations in the future. The sessions will also be
modified based on the evaluation forms and what participants will ask future conferences to include.
Williams said the conferences were planned with help from the General Practice Solo and Small Firm, Senior Lawyers, Business
Law, Litigation, and Probate Trust & Real Property sections.
Final details, as well as the registration forms, will be available on the ISBA's website, www.inbar.org, in mid-June.
Williams said she has already received calls from attorneys who'd like to be added to the list of interested participants.
She said each venue can hold up to 50 participants, and admission will be $100 for ISBA members, and $150 for non-members.
She suggested interested attorneys sign up soon after the registration information is posted.
Included in the price of the seminar is a copy of the book, "Lawyers at Midlife: Laying the Groundwork for the Road
Ahead."
One of the book's authors, Pat Funk, will speak at the seminars. Funk is an independent financial educator who isn't
trying to sell a specific product but helps educate individuals about how best to plan for smooth financial transitions for
retirement.
Financial planning isn't the only goal of the conference.
Harrell said she'd heard from attorneys "who did everything they needed to in terms of financial planning and
retired at an appropriate age, and they got depressed because they did almost nothing but practice law. At the end of their
career, they didn't have hobbies or a social life. Lawyers don't do well after they energetically practiced law
however many hours a week and then have nothing to do."
The conference will address this issue, including why it's important to have something to do, whether that's
golf, fishing, dancing, gardening, or another hobby that if they're already doing it before they retire, they'll
be able to do it more after they retire.
For some people, she said a retirement plan might include doing some legal work – maybe a few hours a week –
even if they're no longer practicing full time. Or if attorneys want to retire completely, there's no need for
them to continue practicing law if they don't want.
The sessions will also address how attorneys can successfully close their practices or hand over their client files to other
attorneys when they retire.
A best practices guide to the surrogate attorney rule, which has recently been revised and was officially made available
at the Solo and Small Firm Conference, will also be discussed at the retirement seminars.
There are other tips when it comes to attorneys and retirement planning, depending on the attorney's preference.
For instance, Harrell recalled a seminar dealing with retirement issues she did a few years ago.
"A lawyer in the room said he would ask three or four of his best friends to promise to tell him when it's time
to retire. He said, 'If one said it, I might not listen to him, but if three or four told me, then I probably would
take it seriously.'"
For more information, visit inbar.org, or contact Maryann Williams at (800) 266-2581 or [email protected].•
Please enable JavaScript to view this content.