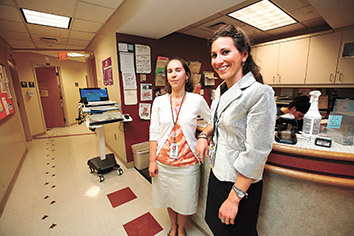 Practitioners involved with the state's first medical-legal partnership are excited about the cases they've taken
on, as they help patients who have unmet legal needs that can make medical conditions persist, if not worsen.
Medical-legal partnerships also have been getting national attention recently. The American Bar Association issued a statement
June 15 in support of the American Medical Association's resolution passed that day by its House of Delegates to support
these kinds of partnerships.
The Indianapolis partnership started in early 2008 with the support of the Indiana Health Advocacy Coalition to provide legal
aid to pediatric patients and their families who receive treatment from Pecar Health Center, part of Wishard Health Services,
on the city's northwest side. Attorneys at Baker & Daniels, Neighborhood Christian Legal Clinic, and Indianapolis
Legal Aid Society supported the partnership early on and continue to do so.
The early goal of the partnership, which continues more than two years later, was to help address medical issues that would
be easier to solve if a legal problem was also resolved. It brought various partners to the table – doctors, lawyers,
caseworkers, and social workers – to determine the best practices to address the patient's issues.
Patients are helped by the partnership by first meeting with a doctor about a health issue, and then the doctor will ask
a series of questions that could have an effect on the health issue such as housing, financial needs, eligibility for benefits,
child-support coverage, guardianship, or if the patient was in a domestic-violence situation.
Lawyers who work with doctors in the partnership said they tend to hear more concerns about housing than any other issue.
At Pecar, housing issues make up about one third of all legal issues referred to lawyers in the partnership. This is also
the case at most of the other locations, including a growing awareness of patients who might need legal help when applying
for benefits and filing for protective orders.
The biggest change the partnership has undergone since early 2008 is how much it has expanded and continues to expand.
In the past year and a half, the partnership has grown to include two more Wishard sites: Tavonna Harris Askew now spends
time helping patients of the North Arlington Health Center, and she will also call on ILAS from time to time for help with
housing and guardianship cases. Indiana Legal Services attorney Jay Chaudhary has been spending part of his time at Midtown
Community Mental Health Center.
Other Wishard sites have also asked to have lawyers readily available to doctors and patients. Wishard's medical-legal
partnership director who started in fall 2009, Anna Obergfell, currently oversees the partnership's work at Pecar. But
as she takes on more responsibilities, NCLC attorneys will likely help fill in as they did before she joined the partnership
as staff.
Obergfell added that another Wishard program, EMBRACE, which helps women with cancer regarding issues that go beyond medical
needs, has begun working with a group of women attorneys at Baker & Daniels. Those attorneys help provide legal services,
such as will preparation and guardianship issues.
While some of the patients are terminal, just knowing they have their affairs in order can help them focus on their treatment
and more of their energy enjoying time with their families, Obergfell said.
Chaudhary said one of his recent cases involved a patient who has a mental illness. He was able to have the doctor testify
at the Medicaid hearing as to why the patient could not work, which is almost unheard of for a Medicaid hearing, he and others
in the partnership said. He is also working closely with the doctors who complete medical reports to make them aware of what
review boards look for and how to connect the illness to why the person can't work instead of just saying the person
has an illness and listing the symptoms. He said most doctors do the best they can, but by explaining the legal side, it should
help everyone.
Priest
Another ILS attorney, Adam Mueller, helps address legal needs of patients at St. Francis Neighborhood Health Center at Garfield
Park, which has intake sessions on a regular basis for patients.
Attorneys from the different nonprofits have also collaborated on various legal issues, especially if one organization has
more experience with a certain issue than another. For instance, NCLC tends to take immigration cases for patients because
it does more immigration work than ILS and ILAS.
Community Hospitals also has been involved with the partnership. A law student intern of ILAS, who was also getting a master's
degree in public health, worked with patients at Community on their legal needs. ILAS will continue to help with legal issues
there on a case-by-case basis, said John Floreancig, executive director of ILAS.
Obergfell said at least one other hospital system in Indianapolis is in the planning stages to join the partnership, and
there has been talk among ILS, which is statewide, and other legal partners regarding more possible medical-legal partnerships
around the state. It is still too early to say when or where that will happen.
Other attorneys also support the program, including Priscilla B. Keith, general counsel of Health & Hospital Corp., Wishard's
parent organization; co-founder Chad Priest, who was previously with Baker & Daniels and is chief executive officer of
Managed Emergency Surge for Healthcare Inc.; and NCLC Executive Director Josh Abel and managing attorney Chris Purnell.
Attorneys said the Indianapolis program is unique because it involves so many partners. In most cases, there is one hospital
or medical program and one legal organization, but Indianapolis is now seen as a national model for other large partnerships,
Priest said.
Askew said it's been interesting to see the different legal aid organizations and law firm supporters come together,
as well as three different hospital systems that usually would be competing for market share.
She and others involved say it's also interesting to see lawyers and doctors collaborate so closely.
One recent case involved a landlord who requested a signed doctor's note to show that the air conditioning needed to
be fixed. Obergfell said the landlord received a note signed by a doctor – and a lawyer in the partnership. The landlord
resolved the matter soon after getting the letter.
Doctors and lawyers and others in the partnership also get together on a quarterly basis for CLE and CME courses that address
legal and medical issues to help those involved in the partnership.
In another example of many partners working together, Askew mentioned a case of a girl who came to a Wishard site as an asthma
patient. When she was younger, she'd been taken from her mother. She had been living with her dad until he was sent
to prison. The father's health plan had covered the girl's asthma care, but because he lost his coverage when
he went to jail, she no longer had health-care coverage. After the girl's doctor shared this information with lawyers
in the partnership, attorneys helped reunite her with her mom through a guardianship case. The girl's mom had changed
enough since the child was taken from her so it was OK for the mom to be back in the girl's life. And, because of the
reunion the girl was again eligible for benefits to cover her asthma care.
"The reason for MLPs is to improve health care," said Dr. Enid Zwirn, chair of the Indiana Health Advocacy Coalition.
"The idea of MLPs is a good idea and will last the test of time. I think in the next 10 to 15 years, there will be more
of an expectation from health-care providers that if they can identify a legal issue, they can contact a lawyer to help their
patient."
Zwirn added she's heard from Dr. Lisa Harris, chief executive officer and medical director of Wishard Health Services,
that even novice doctors have come to her to express how much the partnership has helped them do their jobs and treat patients.•
Please enable JavaScript to view this content.