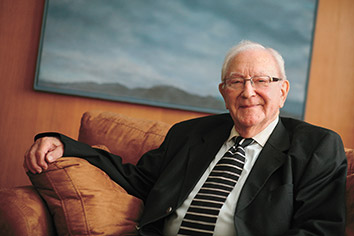 A 90-year-old Indianapolis attorney couldn't have predicted his legal career of more than 60 years would include handling
many controversial clients, including the Ku Klux Klan and conscientious objectors of the Vietnam War, among others.
Irving L. Fink had a hand in helping found two prominent statewide legal organizations – now known as the ACLU of Indiana
and Indiana Legal Services. He continues to practice four days a week and has a clear memory of many of his cases over the
decades.
 
After graduating from Northwestern University in 1941, he served in the Army for four years during World War II. His dad
suggested law school, and Irving attended the University of Michigan with help from the G.I. Bill. He graduated in 1948 and
was admitted to practice in Indiana in 1949.
He landed in Indianapolis thanks to an Army buddy who helped him get a job as a lawyer; he made $50 a week. Most of his career
since has been as a solo or at a small firm, other than about three years at a large firm early on.
As a solo, he said he could take the cases he wanted.
For instance, even before he helped found the ACLU in Indiana in the early 1950s, the ACLU national organization based in
New York offered to help him with a case in which he represented a principal who was a Jehovah's Witness who wouldn't
salute the flag during the pledge of allegiance. He said he appreciated the offer but declined the New York organization's
help.
He would later represent Jehovah's witnesses and others who were conscientious objectors to the Vietnam War. Some of
those cases came to him through the ACLU of Indiana, and some clients found him on their own, but he was fairly sure he had
handled more of those cases than other Indianapolis attorneys.
Other Vietnam War protestors he represented with the ACLU of Indiana included the "Marian 8," a group of Marian
College students who picketed outside the college president's home and were arrested on criminal charges.
Irving filed a motion to dismiss, and the trial went forward without a ruling on the motion. At the close of trial, the judge
stated that although he'd like to send them all to jail, because Irving raised important constitutional issues he felt
compelled to set them free.
"My dad had a lot of respect for the judge who was upholding the Constitution over his own political beliefs,"
said his daughter Elaine Fink, also a lawyer.
 
Elaine Fink
A tougher decision for Irving involved a case in which a head of the Ku Klux Klan asked Irving to represent the organization.
They wanted to march to protest a federal judge's ruling on segregation in Indianapolis Public Schools in the early
1970s.
During the first conversation with the KKK leader, he told him, "There are two things you should know about me: I'm
Jewish, and I hate everything you stand for."
Beatrice Fink, his wife of almost 65 years, remembered telling him she was adamantly opposed to him accepting "Klan
money."
In the end he would defend the KKK's constitutional right to march. The ACLU of Indiana backed him on the case.
Elaine said she remembered vividly when her father was representing the KKK and the effect it had on how others in the community
viewed her family during that time.
"Here we are, a Jewish family, very involved in integration efforts, members of the NAACP, raised to be aware of civil
rights issues," she said.
Another case involving the ACLU of Indiana that he recalled took place in the early 1980s and involved the BMV. At that time,
the governor would make political appointments – generally the county party chair of the governor's party would
be appointed to oversee the license branches. A notary fee for driver's licenses would then go to the political party
overseeing the branch, he said.
Irving and the ACLU challenged that process in federal court in 1983. By the mid-1980s, the state legislature addressed the
issue and changed the statute so it was no longer OK for political parties to receive fees from licenses through these political
appointments.
While Irving was no longer taking ACLU cases when current legal director Ken Falk started there in the mid-1990s, he does
know Irving and thinks highly of him and his work.
"Irv has been a supporter and a cooperating attorney for the ACLU for many years," Falk said. "I know from
talking to him the work he's done for us has been extremely import in many areas. He is a treasure to the ACLU and to
the legal community. … He is just a wonderful person and has a wonderful family."
Outside of the courtroom, Elaine recalled her father's support of constitutional rights from two incidents involving
her family.
In the early 1960s when she was around 10 years old, she remembered the family visited an amusement park in Indianapolis
for the first time after it had been integrated. Shortly after they arrived at the park, Irving saw a "Whites Only"
sign over a water fountain, and he had the family leave right away.
Elaine also remembered going to a movie on Christmas day at a theater in downtown Indianapolis. Because a group of union
members were picketing outside the theater, Irving had his family leave. He represented unions early in his legal career and
he would never cross a picket line.
At the time of both incidents, she was embarrassed and upset, Elaine said, but looking back she now understands why her father
made those decisions.
She also has a better understanding as an adult and as a lawyer what he went through as an attorney in the case involving
creationism in textbooks, which he believed to be a violation of the separation of church and state, and something that wasn't
appropriate in public schools. He won that case in the 1970s.
While Elaine said her parents didn't encourage or discourage any of their five children in their career choices, Irving
said he is very proud of his daughter for the work she does for poor people.
She attended New York University School of Law on a scholarship because she wanted to practice public interest law. After
working for other public interest organizations, she has spent most of her legal career at the Legal Aid Society of Southwest
Ohio in Cincinnati.
This work has also helped her realize why her father was involved in the formation of what is now Indiana Legal Services.
 
Metzger
Norman Metzger, ILS executive director, became executive director of that organization in 1970 and remembered Irving's
involvement in that organization in the 1970s as a board member.
"What I remember of all these guys," referring to Irving and others who were involved in the late 1960s and through
the 1970s, "was how smart they were. They were also unflappable and very dedicated to the cause. We were so controversial
in those days. Virtually every week we were in the newspaper. The city was having a hard time getting used to a legal aid
organization doing things that were very litigious."
For instance, the organization would take cases involving welfare rights and jail conditions, including whether people in
prison were receiving needed medical care or if the conditions were suitable for living.
"I never once had anyone on the board of directors call and say, 'What are you thinking? Why did you take this
case?' I think all those guys were really smart, had good educations … they just thought it was the right thing
to do on behalf of poor people. … These guys were so gracious, professional, soft spoken, and supportive."
Today, Metzger said, there are restrictions on the federal funding the ILS and other organizations supported by the Legal
Services Corporations can receive, and they are no longer allowed to represent prisoners. However, the ACLU of Indiana has
taken these types of cases.
Irving, who celebrated his birthday in March with family, friends, and music – something he has encouraged his children
to also enjoy – is still friendly and soft spoken, but he's not shy or afraid to talk about controversial issues.
He encouraged young attorneys to enjoy their work and not do it just for the money.
"Some of the most meaningful experiences I had as a lawyer," he said, "were the ones where I didn't
earn a dime. … It's important to take cases on principle and not only because of the fees."•
Please enable JavaScript to view this content.