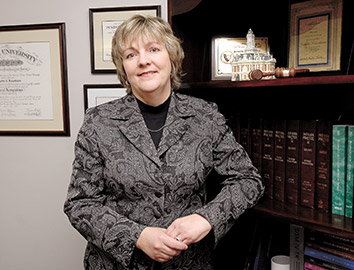 At the 2010 Indiana State Bar Association Solo and Small Firm Conference in June, then-ISBA president Roderick Morgan welcomed those in attendance, particularly those who found themselves to be "suddenly solo."
While he may not be the first to use the phrase, a number of attorneys have found themselves either making that decision or having it made for them in the last couple years.
In fact, an all-day CLE on the topic that was scheduled for early February at the Indiana Continuing Legal Education Forum will be rescheduled to take place later this year. Coordinators for the 2011 ISBA Solo and Small Firm Conference are also expecting a number of suddenly solo practitioners to attend that event June 2-4 in French Lick.
Those who have already gone solo tell others in the same situation not to fear, that there are many resources available, including bar associations and solo practitioners, and that there really is enough work to go around for those who want it.
In a December 2010 Res Gestae article, Fishers attorney Jeanette C. Kassebaum, chair of the ISBA General Practice, Solo and Small Firm Section, offered "Tips for the suddenly solo." In that article, she referenced a September 2010 ABA Journal report that found 419,000 attorneys in the United States are solos, about half of all attorneys.
Kassebaum told Indiana Lawyer there are a variety of reasons why these attorneys are solos, "whether they are solo by choice or solo by chance," she said.
In her case, Kassebaum said that after she was admitted to the bar in October 1991, she struggled to find her ideal job: working at a small firm in Hamilton County or a neighboring county. In the meantime, she started sharing office space with an attorney in Fishers.
"All that time I was still thinking I would get a job somewhere," she said. She continued to share space, then served as of counsel for a firm, and, in 1996, she went out on her own.
As to why so many attorneys are solo now, Kassebaum said, "I think people want to go solo to control their own practices. They want to control their own schedules, they want to control the types of cases they handle, they want to control their office environments, and they want to practice in the way they want to.
"They also want to have some control over their work product. I think that's the driving force behind most attorneys who decide to be solos. They want to take pride in their own work rather than deal with the bureaucracy and social complexities of firms," she added.
Kassebaum said the economic downturn has also led to more attorneys practicing law independently.
When faced with an uncertain economy, she said, "People are forced to rethink how they can practice. A lot of attorneys in big firms have never done this before. … But when they do get downsized, they realize it's not terribly insurmountable to do this on your own with the right support and available information."
She said she has also heard of more recent law school graduates becoming solos because they are having trouble finding work or know there aren't many firm jobs or government jobs available due to budget cuts.
Solo by chance
Granger attorney Jonathan Watson was laid off from a law firm in late 2009. He said the Elkhart firm was experiencing a downturn because its clients – RV companies – were experiencing their own downturns.
He said the firm was "as amicable as it could be" when they informed him he would lose his job.
"I sent out 40 different resumes and applications," he said.
He had two interviews, but neither was for a job that would let him stay in the Elkhart area, which was a deal breaker for him and his family.
Ultimately, his father-in-law encouraged him to start his own firm.
He accepts "whatever comes in the door," including family law, estate planning, small business law, and litigation. He added he will often end up with referrals from other attorneys who do not like to litigate.
He also now has time to be an adjunct professor. He teaches contracts, real estate, and technology in the paralegal studies departments of Indiana University – South Bend and Ivy Tech.
His wife has helped him part-time, and he has been able to do most of the work from his home, he explained, including meetings at a local bank's community room that he can schedule as needed.
As for attorneys looking to start their own firms, Watson suggests they grow into their office space instead of the other way around.
"Do what you can afford now, and get a bigger office as your office grows," he said. He also suggested attorneys network with other solo attorneys in their areas and for attorneys that share office space to consider having separate P.O. boxes and separate phone numbers in case the arrangement dissolves.
Indianapolis attorney Joanne McAnlis also lost her job due to the economic downturn. But being proactive helped her prepare.
When she recognized that Duke, her former employer, was going through workforce reductions, she decided to get her broker's license. She started Counsel Realty LLC and McAnlis Law LLC in 2009.
She said it was the classes she took for her broker's license that made her realize she wanted to combine her legal experience in contracts with real estate brokering.
"I think I've always had an entrepreneurial spirit," she said. "For years I was trying to figure out what I wanted to do. … I knew that even though I would have a broker's license and a legal background, if I went to work for someone else I would not use both of those things. … It was a moment of clarity."
Solo by choice
Indianapolis attorney Maura Hoff, like McAnlis, also credits a moment of clarity about her career with her decision to go solo.
After working for a small firm for four years, she decided she wanted to be "in charge of my own fate."
A client had also suggested she open her own firm, and she felt that the timing was right. She met with small business advisors and opened her firm's doors on Oct. 1, 2010. Her practice includes municipal law, business law, and zoning issues.
At the time she went solo, she was a municipal attorney for the city of Lawrence, and that hasn't changed. When she met with an Indianapolis attorney she knew for advice, that attorney happened to have an extra office, which Hoff now sublets.
She said one of her reasons for opening her own practice was to have a good work-life balance, and it has "worked out better than I expected."
She explained that she does work more hours than she did at a firm, but she enjoys the flexibility of being able to work from home and that she doesn't need to be in an office by at a set time every day.
For young attorneys considering this move, Hoff suggested they get a good mentor, build their networks, and gain the confidence to work with clients.
Jeffersonville attorney Ken Doane also recently left a small firm to go out on his own. For Doane, it was a matter of changing practice areas that helped him decide to become a sole practitioner.
At the small firm, he practiced insurance defense but decided he would rather take on personal injury. He also accepts other cases through referrals.
"It's been a challenging experience," he said. "I don't know how the new attorneys do it. I've been practicing for almost 15 years. I know the lay of the land with judges. Having been a partner, I know how the business end works. But it's still been pretty challenging."
Like many of his peers, Doane said he enjoys the autonomy and learning new things as a solo.
So far, whether solo by chance or by choice, none of these attorneys regret their career change to solo practice.
"I think that it has been more rewarding than I thought it was going to be. I think that people who are on the fence deciding whether or not to do it, should do it. I wasn't going to do it, until I was pushed out of the nest," McAnlis said.
"The worst day working for myself is comparable to the best day working for someone else," she added.•
Please enable JavaScript to view this content.