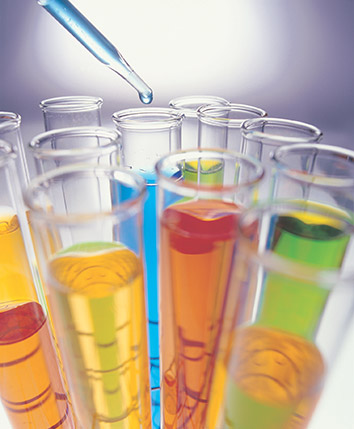 In April, the U.S. Court of Appeals for the Federal Circuit heard arguments in a case that raises fundamental questions about the patentability of human genes. In June, the U.S. Supreme Court agreed to take on a patent case in which the central issue is the patentability of a medical process. Both cases could have far-reaching effects – in medicine, in law, and in academia.
In Indiana, people who study the intricacies of intellectual property law and medicine are now waiting to learn how the courts will rule on some of the most controversial issues in IP law.
Patenting genes
David Orentlicher, co-director of the William S. and Christine S. Hall Center for Law and Health at Indiana University School of Law – Indianapolis, explained why controversy exists about the patent eligibility of genes.
 
"We want to reward you for your inventiveness," he said. "But then when you get to patenting genes, you think, well how much of this is really inventiveness, finding a gene that exists in nature?"
This is the heart of the debate in the case of Association for Molecular Pathology, et. al. v. U.S. Patent and Trademark Office, et. al., No. 10-1406, now under consideration in federal appeals court. In that case, the American Civil Liberties Union and plaintiffs challenged patents on two breast cancer genes, collectively known as BRCA1/2. A judge in the U.S. District Court, Southern District of New York, ruled last year that the defendants – Myriad Genetics and the University of Utah Research Foundation – were not entitled to patent protection for the genes.
Curt Cichowski, associate dean for Valparaiso University School of Law, said the point of contention in this case is not the genes, but rather the method used to reveal them.
Cichowski
"It's the process that's involved – so even though you can't patent a human gene, the process of isolating a human gene is patentable," he said.
Jay Sanders, a partner at Baker & Daniels who specializes in biotechnology patent law, said the U.S. Patent and Trademark Office's Manual of Patenting Procedure offers guidance about what genetic material is patent-eligible.
Sanders
"They have chapters about how you go about certain requirements for patenting genes … so it came as a quite a shock to me that there would be a District Court judge questioning whether genes were patentable," Sanders said. "Some of the caselaw that that judge cited in his opinion was from the 1800s."
Patenting processes
The U.S. Supreme Court granted a writ of certiorari in Mayo Collaborative Services v. Prometheus Laboratories, Inc., No. 10-1150, in June, agreeing to hear the case for a second time.
Cichowski said that Prometheus Laboratories had been conducting blood tests on patients to determine if medication dosing was correct. Mayo Collaborative Services began using a similar method and Prometheus sued Mayo for infringement. Mayo claims that the Prometheus patents didn't pass the "machine-or-transformation" test.
That test – as defined by the USPTO – means that a process is patent-eligible if it is tied to a particular machine or apparatus or if it "transforms a particular article to a different state or thing." Cichowski said that Mayo argues that the human body is the "machine" Prometheus used to gather results, and because the human body is found in nature, the process is not patentable.
"I think we're going to see what is patentable as a medical process, and that's what we really need to get to," Cichowski said.
Mark D. Janis, director of Indiana University Maurer School of Law's Center for Intellectual Property Research, said that in the 1990s, a few cases caused people to wonder whether doctors who used patented medical processes might be sued for infringement.
"The first reaction was, 'We should change patent laws to make surgical processes ineligible for patent protection,'" Janis said. Instead, the Ganske Amendment – enacted by Congress in 1996 as the Medical Procedures Innovation and Affordability Act – placed limits on the enforceability of medical process patents.
Janis
"The compromise was a doctor can still get a patent on that process," Cichowski said. "However, any medical professional who performs that process cannot be held liable for infringement."
Cost v. benefit
"There's no question that advances in medical technology is one of the most important factors in health care cost inflation," Orentlicher said. "A lot of new cancer drugs can cost tens of thousands or hundreds of thousands for a year's worth of therapy."
Companies depend on patents to protect the costly research that's behind medical innovation, Sanders said. If not for the incentive of patent protection, Myriad may have never pursued the work that led to the discovery of the BRCA1/2 genes.
"For every success that they have, there's probably a lot of work that just gets thrown in the garbage can," Sanders said.
The patent office pressures researchers to narrowly define discoveries, he explained, but if the patent claim is too narrowly defined, it won't prevent a competitor from developing a similar technology.
Janis said that in pharmaceutical development in particular, the cost of clinical trials, research, and the lengthy Food and Drug Administration approval process can be prohibitive. Yet, a competitor could replicate a medicine cheaply, if not for patent protection.
This year, Pfizer's patent on its cash cow cholesterol drug Lipitor will expire, Cichowski said, opening up the market to generic versions. "But the price of Lipitor while it was still covered under patent was enormous," he added.
"We do need to have some sort of a system that rewards the inventor for making advancements in medicine that we all want," Cichowski said. But the patent process was designed at a different time, with different ideas in mind, he continued.
"Patenting human genes – I don't think the Founding Fathers ever thought that was gonna happen."•
Please enable JavaScript to view this content.