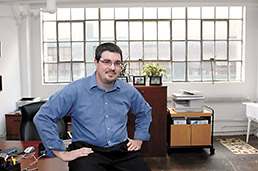 Forming an intellectual property firm can be more expensive than starting a firm in another area of law, and those costs may not be obvious if the attorney has only worked at a larger firm before hanging out a shingle. Expenses unique to the IP practice include a specialized bar exam, finding a docketing system to specifically track patent applications, and navigating the nuances of professional liability insurance that has a unique IP focus based on the risk of that kind of legal work.
"In general, it is very hard to start a new practice from scratch, but it's even more difficult when you are focused on something IP," said Indianapolis attorney Mark Reichel, who started his own practice late last year after leaving Ice Miller. "There is a fairly steep learning curve with respect to patent preparation and prosecution. Most practitioners learn the details from taking a patent bar prep course, and those who do not take a course learn by some fairly time-intensive self-study."
To start his firm, Reichel needed to set up a unique customer number with the United States Patent and Trademark Office and create a retainer account with that office in order to pay filing fees and other costs. He also had to ensure his personal information in the agency's database was updated, because it is not tied to the USPTO's formal roll of attorneys and agents.
One task he didn't anticipate would be such a challenge was finding a suitable docket for IP matters. He had partial access to one through Ice Miller but when he went out on his own he had to identify more comprehensive docket system at a reasonable cost. Instead of plugging into an existing system, he needed additional user licenses from the provider that would allow him to not only read materials, but also enter data. Reichel found the systems are expensive: the cheapest he's been able to find starts at $100 a month for an online system, and a single-user full license system costs at least $1,600 to handle patent, trademark and copyright file information.
Reichel and other patent attorneys say that obtaining professional liability insurance was trickier than it might be for other practitioners. An IP-unique multi-page "rider" is attached to the insurance application and includes a breakdown of risk percentages for patent, trademark and copyright work as well as several questions on each area. The risk is higher for these attorneys as compared to other practice areas such as criminal law because IP law isn't as settled as to what may be patented or copyrighted. Plus, litigation of IP areas can last longer than other areas of law, meaning
clients may spend more on their legal claims and end up dissatisfied with their attorney if they don't like the case outcome.
"Liability insurance as an upstart is more expensive, since insurance companies are leery because you don't have an established process," said Paul Maginot, founding partner of what is now the 15-person firm of Maginot Moore & Beck. "As a new person getting into this, you don't understand those hidden costs."
Maginot worked in private practice and as a corporate patent attorney before starting his own solo practice in Indianapolis. Like other patent attorneys, Maginot faced difficulties in finding an affordable docketing system, which he's found can run $30,000 or more per year depending on the system. He said attorneys sometimes can negotiate those prices and it's often better to start off small and upgrade as a client base grows.
"I had challenges, but they weren't insurmountable and these issues aren't too great once you get established in this area of law," he said.
Small or solo practices don't always endure.
That's what lawyer Cedric D'Hue found after leaving Baker & Daniels to start his own IP firm in 2009. He left because the economic downturn meant there wasn't enough work to justify him being there.
D'Hue zeroed in on the Lafayette area because of Purdue University and the large amount of engineer-related matters there. Soon enough, he took on Purdue Research Foundation as a client.
"My breakout was moving to that area with such a narrow focus," he said. "In Indianapolis, I was one of several hundred patent and IP attorneys competing for the same clients. But in Lafayette, there's an undersupply of local patent attorneys because it's just close enough to Indy, but far enough where the attorneys have to commute."
Finding clients in the IP area is more difficult, he said. You can't advertise in general newspapers because potential clients are highly specialized and not flooding the market like those who might be searching for a criminal defense lawyer. Finding a geographic area where your name gets out can be one of the best things to do. He said IP clients communicate with each other and learned his name. D'Hue also suggested IP attorneys with their own firms attend networking events to meet other attorneys and potential clients.
After two-and-a-half years on his own, D'Hue said his big client, Purdue Research Foundation, connected him with Bingham Greenebaum Doll and persuaded him to go back to a larger firm where he'd be with other lawyers focused on engineering, science and IP law.
"Basically, it comes down to wondering what happens for them if one day I got hit by a bus," he said. "This was a great connection with Bingham, and that's worked out. I loved having my own firm, and it was tough at first, but in the end it was about doing what was best for my client."
D'Hue has lectured at law schools on starting an IP firm, and he said the expertise gained from a big firm before starting his own practice is what helped him succeed.
One tip he's offered is finding computer software to install on a laptop or desktop where you pay a couple thousand dollars up front but don't have to worry about accruing monthly charges that add up to more over time.
"It's not easy, especially for someone who's coming out with a lot of student loan debt and needs a place to eat and stay," he said, adding that attorneys who want to start a firm can make it happen if they understand the risks and issues they'll face. "It can be done if you do it right."•
 
Please enable JavaScript to view this content.