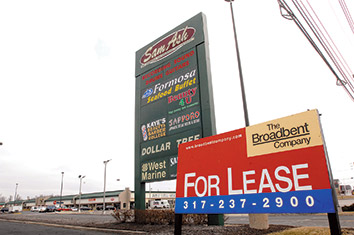 A recent bankruptcy appeal tossing an Indianapolis shopping center's reorganization plan further establishes that the control of equity in Chapter 11 cases will be subject to competitive bidding and that insiders might be out of luck.
"This is a case that will be talked about by bankruptcy lawyers for a long time," said Alan K. Mills, a Barnes & Thornburg LLP partner who successfully represented the chief creditor before the 7th Circuit Court of Appeals in In the matter of: Castleton Plaza LP; Appeal of: EL-SNPR Notes Holdings LLC, 12-2639.
 
On Feb. 14, the 7th Circuit reversed a Southern District of Indiana bankruptcy court that had approved a Chapter 11 reorganization plan in which Castleton Plaza owner George Broadbent was to transfer equity in the property to his wife Mary Clare Broadbent, who was to invest $375,000 in new equity. Under the plan, Castleton Plaza secured lender EL-SNPR would be paid $300,000 on secured debt of $10 million, and the remainder would be written down to about $8.2 million of unsecured debt.
"Not only did the equity holder decide who it was going to be sold to, he also decided what it was going to be sold for," Mills said of the original reorganization plan. "This has been sort of a nationwide maneuver by debtors' lawyers in single-asset bankruptcy," he said of reorganizations relying on infusion of new equity from insiders as 11 U.S.C. §101(31) defines that term.
Mills
Mills said the 7th Circuit's reversal was a vindication of the absolute priority rule that generally holds that a court will not confirm a plan in which dissenting creditors are not paid in full or given an opportunity to market test the value of equity.
"Competition is essential whenever a plan of reorganization leaves an objecting creditor unpaid yet distributes an equity interest to an insider," 7th Circuit Chief Judge Frank Easterbrook wrote in remanding Castleton Plaza to the bankruptcy court to open the reorganization plan to competitive bidding.
Deignan
Taft Stettinius & Hollister LLP partner Paul T. Deignan represented the Broadbent Company and Castleton Plaza. He said he and his clients are reviewing the ruling and might seek an appeal.
"It is of such a serious nature that it is getting serious attention," Deignan said. "People including myself and other bankruptcy attorneys are going to have to think about this for a while. It's a pretty dramatic change for those of us who represent family-owned businesses."
Deignan said there is an exception or corollary to the absolute priority rule when substantial new equity is brought to the table, as was the case in Castleton Plaza. Bankruptcy courts have long recognized that new capital from insiders can be a key to a company's recovery, he said.
"Part of the reason this is a very significant decision is, in our part of the country at least – Indiana, Illinois, Wisconsin in the 7th Circuit – many of the Chapter 11 reorganizations are of small businesses and family-owned businesses," Deignan said. If creditors now can require an auction for new equity ownership in bankruptcy, "a consequence of that will be not a lot of incentive for family members to step up who might be able to save the family business," he added.
Georgakopoulos
But Indiana University Robert H. McKinney School of Law professor Nicholas Georgakopoulos said the 7th Circuit decided correctly based on the U.S. Supreme Court precedent in Bank of America National Trust & Savings Association v. 203 North LaSalle Street Partnership, 526 U.S. 434 (1999). That ruling held that pre-bankruptcy equity holders may not contribute new capital on an exclusive basis over the objection of impaired creditors.
"I think the Supreme Court decision in 203 North LaSalle should be seen as trying to protect lenders," said Georgakopoulos, whose article, "New Value, Fresh Start," was cited in the high court's opinion. "And if the 7th Circuit were to uphold the lower court's opinion in Castleton, they would have created a huge loophole which would allow self-dealing and would allow essentially bankruptcies of closely held corporations to avoid the requirement of 203 North LaSalle."
Mills said the 7th Circuit decision in Castleton Plaza appears to be the first Circuit-level ruling to apply the LaSalle holding. He said the opinion goes a long way toward resolving a split among bankruptcy courts regarding whether equity owners can avoid the absolute priority rule through transfers to insiders.
He believes the ruling may have a wider impact, even if insiders are not involved in a reorganization plan. "Whenever you have an equity piece that is going to be sold, I think many bankruptcy courts after this will see if there's a market for it to determine its true value."
Bose McKinney & Evans LLP partner James E. Carlberg chairs the Bankruptcy and Creditors' Rights Section of the Indiana State Bar Association. He also believes the ruling will have profound ramifications for Chapter 11 reorganizations.
"What the court really said was no one knows for sure what the right to make a contribution to become the new equity owner is worth," Carlberg said. "And in all cases that has to be put up, in essence, for bids and the creditor allowed to bid for it as well.
"What the court is saying is we should put that up for auction to safeguard against it being undervalued at the outset."
Carlberg explained that many bankruptcies don't involve assets earning sufficient income to service debts. That doesn't appear to be the case with Castleton Plaza, which boasts leases with at least 20 retail tenants including such anchor stores as Sam Ash, West Marine, Dollar Tree and Formosa Seafood Buffet.
Easterbrook's ruling made clear that when a Chapter 11 bankruptcy creditor doesn't buy into a reorganization plan involving insiders, that plan won't pass muster.
"This appeal presents the question whether an equity investor can evade the competitive process by arranging for the new value to be contributed by (and the new equity to go to) an 'insider,'" Easterbrook wrote. "The bankruptcy judge answered yes; our answer is no."•
Please enable JavaScript to view this content.