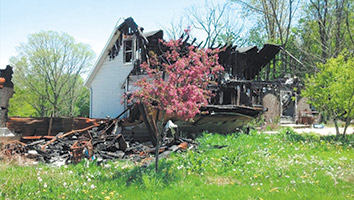 A LaPorte County woman who lost her home to a fire, allegedly started by her estranged husband, is at the center of a legal dispute with her insurance company that could set precedent in Indiana caselaw.
The case focuses on the issue of excluding so-called "innocent co-insureds" from coverage after intentional acts. Insurance companies have traditionally denied claims when a fire was set by only one party listed on the joint policy.
However, a trend has been emerging nationally, according to an article in Property Casualty 360. Increasingly, courts have been holding that the language of "any insured" or "an insured" included in many homeowners' policies does not enable insurance providers to bar innocent co-insureds from coverage.
Arizona, California, Idaho, Massachusetts and Michigan are some of the states where courts have struck down the coverage denials, finding the intentional act exclusion was invalid.
Gwendolen Womack, a LaPorte County resident, was denied coverage under her policy's intentional act exclusion clause. Although her husband, Robert, has been charged with setting the house on fire and remains in jail, Allstate Property & Casualty Insurance Co. did not honor her claim because the loss was caused by one of the insured individuals.
A trio of attorneys from Ice Miller LLP has taken Womack as a pro bono client. They counter that by having her claim refused, Womack, a survivor of domestic violence, is continuing to be victimized. They have filed a complaint in LaPorte Superior Court against Allstate, asking for unspecified declaratory relief, damages and costs arising from the house fire and denial of coverage.
Indiana courts have ruled for innocent co-insureds in past cases, namely American Economy Ins. Co. v. Liggett, 426 N.E.2d 136 (Ind. Ct. App. 1981), and Fuston v. National Mutual Ins. Co., 440 N.E.2d 751 (Ind. Ct. App. 1982). However, the state's judiciary is believed to have never addressed separating co-insureds in cases of domestic violence.
"This is an opportunity to set a good precedent and to make some pretty good public policy," said Kerry Hyatt Blomquist, legal director at the Indiana Coalition Against Domestic Violence.
Continued victimization
Womack lost her home and her belongings to a fire on May 31, 2012. If not for the advice of a police officer, she could have lost her life.
Blomquist
Her marriage had endured instances of abuse, but in May 2012, after her husband became violent during an argument, Womack gathered her two children and left. She subsequently filed a protective order that required her husband to stay away from the residence and her place of employment.
A law enforcement official who escorted Womack to the house insisted she gather some essential items and stay elsewhere for her own protection. Womack spent the night at her parents' house with the intention of returning to her own home after work the next day.
Hours after Womack settled at her parents, her husband called her father and said the house was on fire. By the time Womack was allowed to go to her house, her husband had been arrested and everything she and her children owned was gone.
"We have nothing," Womack said. "We don't have anything."
In a letter dated Nov. 21, 2012, Allstate rejected Womack's claim. The company stated the policy covering the home imposed joint obligations, which means the responsibilities, acts and failures to act of one insured person will be binding to the other insured person.
Allstate went on to explain that its own investigation had determined that Robert Womack had "both motive and opportunity to set the fire." It also contended that both Gwen and Robert Womack had "made material misrepresentations regarding this claim."
Therefore, based upon the policy's language, the company stated it would not be providing coverage.
Blomquist noted denial of insurance claims from domestic violence victims not only continues the victimization of individuals who have already been abused but also bolsters the position of their abusers who are trying to either kill their victims, devastate them or cause them to be homeless.
The house was allegedly burned by the woman's estranged husband. (Photo submitted)
In this case, Blomquist believes Womack has a right to at least half of the amount provided for in the homeowner's policy.
Allstate declined to further discuss the basis for its decision since the matter is currently under litigation. However, in an email to Indiana Lawyer, the insurance company pointed to its support of domestic violence victims.
"We were very concerned to learn of the unfortunate and criminal circumstances surrounding Ms. Womack's claim and are saddened by her personal situation," the email stated, adding the company has invested more than $30 million in support of domestic violence victims. "Allstate understands the devastating impact that domestic violence can have on individuals and households. We are strongly committed to help reduce the incidence and impact of this terrible crime."
Since the fire, Womack has no permanent place to live. She maintains with the insurance payment, she would be not only able to afford a residence, but also she could have kept her home out of foreclosure.
Now her family is separated, with her teenage daughters staying in two separate locations while she lives with a neighbor.
"It's hard to say 'good night' over a text message," Womack said.
Unique and special issue
Angela Krahulik, partner at Ice Miller, has handled insurance cases that involved denial of coverage because of an intentional act, but those have mostly been related to environmental contamination matters. Never has she seen a claim be denied where an allegation of domestic violence results in a criminal act.
The Womack case, Krahulik said, involves a unique and special issue. Namely, the victim of the abuse has to deal with the mess caused by the criminal act while the accused abuser is not penalized by the denial of coverage.
Krahulik, along with associate attorneys Elizabeth Timme and Sarah Murray, decided to take this case after hearing Blomquist talk about Womack's situation during a luncheon for the Women and the Law Division of the Indianapolis Bar Association.
The complaint they filed has one count against Womack's husband under the Indiana Crime Victims Relief Act. It also lists three counts against Allstate: breach of duties of good faith and fair dealing, breach of contract and declaratory relief.
Cases in other states challenging the intentional act exclusion as applied to domestic violence victims have been carried to the appellate level and, in California, all the way to the state's Supreme Court.
Krahulik is not looking that far ahead. She hopes Allstate will rescind its denial and provide Womack with coverage.
Although this is the first case of insurance denial to a domestic violence victim to reach the Indiana courts, Blomquist suspects there have been others. But those victims did not have the luck in securing pro bono legal assistance.
Blomquist said she trusts the courts to understand the equity issue in the Womack case. And, noting the national trend, she has faith in the court system.
"I'm cautiously optimistic," she said. "I'm just glad we can at least make the argument."
At this point, with the complaint filed and Ice Miller attorneys on her case, Womack described herself as "scared."
"I feel like if they can't help me, then I'm done," she said.•
Please enable JavaScript to view this content.