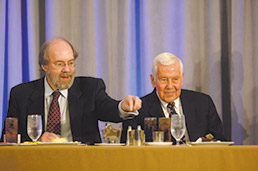 Chief Judge Frank Easterbrook of the 7th Circuit Court of Appeals presented his final State of the Circuit address during the Circuit conference this month in Indianapolis, describing the federal appellate court for Indiana, Illinois and Wisconsin as perhaps the nation's most industrious.
"In a world where the failings of government make headlines, it is well to emphasize the successes," Easterbrook told the 7th Circuit Bar Association and Judicial Conference on May 6. Circuit Judge Diane Wood will succeed Easterbrook as chief judge on Oct. 1.
"Last year the 7th Circuit issued 534 published opinions, more than any other (federal) court of appeals – even though we are a relatively small circuit. We issued fully reasoned, precedential opinions in more than 40 percent of all cases; the national average is 19 percent and several courts are down around 10 percent," he said. "The 7th Circuit hears oral argument in 36 percent of all appeals, essentially every case that has lawyers on both sides. No other Circuit hears more than 30 percent, and one Circuit hears oral argument in only 11 percent of appeals."
"That the Circuit remains the nation's leader in both hearing arguments and publishing opinions has been made possible by the fact that for many years we have operated at or close to full strength." The court has had one vacancy since January 2010 when Judge Terence Evans took senior status. Evans died Aug. 11, 2011.
"And every year about 10 District judges within the Circuit hear one or two days of appellate arguments. I think that judges of both the Circuit and the District courts gain from serving side-by-side as colleagues. We get to know each other, and know our shared business, better," Easterbrook said.
After consulting with Wood, Easterbrook said the decision was made to make another round of invitations this summer for District judges to sit by designation on Circuit Court panels, starting with newly confirmed judges. After that, judges who received initial invitations four years ago will receive a second invitation.
Easterbrook delivered his address in advance of the introduction of former Sen. Richard G. Lugar. Like Lugar, Easterbrook addressed the escalating politicization of the judicial nomination process by senators of both parties. He joined President Barack Obama and United States Chief Justice John Roberts in calling for a return to historical practices and deference to qualifications over political litmus tests.
Whereas federal court nominees as recently as a decade ago could expect swift confirmation, Easterbrook said, "Senators are playing tit-for-tat, with each Congress determined to replicate delays and perceived injustices done by the other party in a preceding period. … Delay also makes it hard to attract top-quality people to the bench. No practicing lawyer wants to dangle in public while his or her practice dwindles."
Against such a backdrop, Easterbrook said he was concerned about the rate of confirmations and nominations. He noted the 7th Circuit Court of Appeals has had a vacancy for 40 months and no nomination is pending. In the District courts, he said the Western District of Wisconsin has had a 50 percent vacancy rate for the past 38 months with no pending nominations. He said there are three vacancies in the Northern District of Illinois and one in the Eastern District of Wisconsin. Meanwhile, federal courts have experienced a decline in filing, and thus revenue, in recent years.
On top of that, sequestration will hit the federal judiciary in areas where fixed costs are not set by law. Judges' salaries and rent paid to the Government Services Administration for court space, for instance, are constant obligations. "Once the must-pay items are accounted for, a 4 percent reduction works out to a 10 percent or more cut in the money available to pay the people in the clerk's offices who make the court function, and the federal-protection staff who keep the courthouses open and safe," Easterbrook said. "The (7th Circuit) Court of Appeals has not found it necessary to lay off or furlough anyone; some District courts may need to do this. If the budget standoff continues, things will become worse for all components of the judiciary.
Funds to pay jurors and criminal-defense lawyers are separate line items. If these are depleted, trials may need to be halted toward the end of the fiscal year until these funds are replenished." Easterbrook declined a request for interview, deferring to his remarks in which he modestly summed up his six-year tenure leading the court. "My hope when I became chief judge was that I would not spoil the features that have made this Circuit work well and earn the respect of the Supreme Court and our colleagues elsewhere," he said. "That reputation is a tribute to all of my colleagues, and I think that they have survived my tenure admirably. I'm sure that Judge Wood will just add to the luster."•
Please enable JavaScript to view this content.