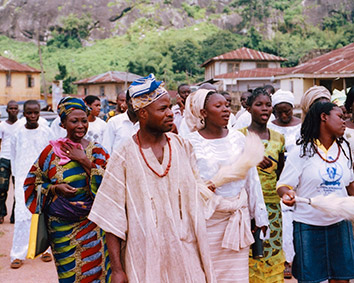 Sikiru Adeyeye had a mission when his father died in Nigeria three years ago. Letters to his employer asking to take one week of paid vacation and several weeks off without pay expressed the urgency of his obligation.
"This is very important for me to be there in order to participate in the funeral rite according to our custom and tradition," one letter noted in outlining the detailed, weeks-long rituals Adeyeye said he was compelled to perform as his father's eldest child and only son.
"This is done … so that the death will not come or take away any of the children's life," read the first handwritten request for time off submitted by Adeyeye, who then was a material handler and packer at Heartland Sweeteners in Indianapolis.
Heartland denied the leave requests, notifying Adeyeye, "You not being at work for that period of time would negatively affect the business." Adeyeye was told he'd been fired when he returned, a decision that a federal District Court affirmed when it granted summary judgment in favor of the company on Adeyeye's religious discrimination complaint under Title VII of the Civil Rights Act of 1964.
But the 7th Circuit Court of Appeals last week reinstated Sikiru Adeyeye v. Heartland Sweeteners, LLC, 12-3820, holding that Adeyeye had a case that could not be disposed of through summary judgment and ruling in remarkably frank language.
"Heartland argues that Adeyeye's termination was caused by his absence rather than the refusal to accommodate his religious beliefs. This is sophistry," Judge David Hamilton wrote. "Adeyeye was absent to observe his religious practices, and he was fired as a result of that absence. It is as simple as that. There is ample evidence indicating that Adeyeye's religious observance caused his termination."
The panel's opinion also cautions that courts should avoid weighing employers' arguments about the sincerity of beliefs, among other things, when religious accommodation is considered.
The 7th Circuit reversed summary judgment granted by Judge William T. Lawrence of the U.S. District Court, Southern District of Indiana, who said Adeyeye did not present evidence sufficient for a reasonable jury to find he provided notice of the religious nature of his request for unpaid leave.
"We disagree," Hamilton wrote for the court. "Whether or not Adeyeye's letters might have justified holding as a matter of law that they provided sufficient notice of the religious nature of his request (a question we do not decide), they certainly are sufficient to present a genuine issue of material fact regarding whether Heartland had notice of the religious nature of the request. We also find that genuine issues of material fact prevent us from affirming summary judgment on any of the other grounds argued by Heartland."
The company had argued it was entitled to summary judgment on questions of whether it had notice of the religious nature of the request, whether Adeyeye sincerely held his professed beliefs, whether his religious observance caused his termination, and whether an accommodation of his request would have created an undue hardship.
Jeffrey Macey, an attorney at Macey Swanson and Allman in Indianapolis, said Adeyeye's letters gave the company ample notice. "The court really just looked at the language of the request," Macey said.
Adeyeye "also testified, 'I have to do it, otherwise I'm going to suffer consequences – spiritual consequences, religious consequences'," Macey said.
"He is a Christian," Macey said of his client. "His father had a Christian burial, there was a priest there, but the Christianity in his village relies on traditionally African practices."
James B. Chapman II, a Benesch partner representing Heartland, did not respond to messages seeking comment about the case.
In the 7th Circuit opinion, Hamilton wrote that employers should avoid arguments about whether someone requesting a religious accommodation sincerely holds beliefs.
"The prospect that courts would begin to inquire into the personal reasons an individual has for holding a religious belief would create a slippery slope we have no desire to descend. Has the plaintiff had a true conversion experience? Is he following religious practices that are embedded in his culture and family upbringing? Is he making Pascal's coldly rational wager to believe in God based on his self-interest? These questions are simply not an appropriate or necessary line of inquiry for courts. We are not and should not be in the business of deciding whether a person holds religious beliefs for the 'proper' reasons," Hamilton wrote.
That reasoning resonated with Notre Dame University School of Law professor Rick Garnett. "It is true that Title VII only requires accommodation of employees' religious beliefs, obligations, and practices if the employee is 'sincere,' but it is also true that courts wisely avoid getting into psycho-analyzing or finely parsing the reasons why a belief is held," Garnett said.
"The 'sincerity' inquiry functions as a filter, to weed out sham and disingenuous claims for accommodation, but it is not supposed to authorize a judicial inquiry into the genealogy of a claimant's religious beliefs," he said.
Macey said Adeyeye, married with a young daughter, is now working as a care provider in the home health care industry. "I think we're just expecting to try the case," Macey said.•
Please enable JavaScript to view this content.