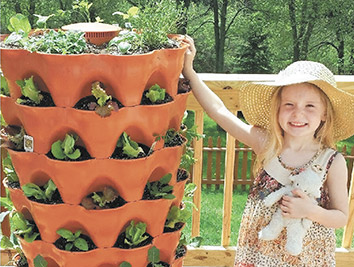 var win = null; function NewWindow(mypage,myname,w,h,scroll){ LeftPosition = (screen.width) ? (screen.width-w)/2 : 0; TopPosition = (screen.height) ? (screen.height-h)/2 : 0; settings = 'height='+h+',width='+w+',top='+TopPosition+',left='+LeftPosition+',scrollbars='+scroll+',resizable' win = window.open(mypage,myname,settings) }
Entrepreneurs in Bloomington have a new and improved answer for the question, "How does your garden grow?"
The U.S. Patent and Trademark Office on March 29 issued a design patent for the Garden Tower 2, and other patents are pending for an invention that allows up to 50 plants to grow in a compact space that would fit on the most modest apartment patio.
"It does it a lot like Mother Nature does, but in a way for people who don't have the space or time requirements" to grow a traditional garden, said Clark Greiner, marketing director for the Garden Tower Project. "It just requires a green heart, not a green thumb.
"From a legal and business perspective, the patents are building the strength of the company from a tactical and strategic standpoint," he said. The company has other utility patents and global patents pending on Garden Tower 2.
Roberts
It's not their first stab at compact gardening that stresses sustainability, but the latest design refinements by the Garden Tower Project put it in a class by itself, Columbus intellectual property attorney John Roberts believes. This is the first IP case he's worked, for instance, where worms are a critical feature.
"In general, we think it's novel to have this compost tube in the middle of a stacked garden," Roberts said. "It has many other features that are novel." These include a series of six stackable planters with curved edges that resemble a tulip. "In other words, it's pretty."
Gardeners place food scraps and other compost in the center cylinder chamber that's perforated with holes leading into the planters. Worms that make meals of the compost work their way throughout the structure, nurturing the plants. Each round, stackable planter unit also rotates on its own, set upon ball bearings so that plants can be moved to receive more or less sunlight as needed.
Another unique feature: The unit has a drawer at the bottom where nutrient-rich water that filters through the tower and can be collected and reused. Roberts and company officials believe these are all novel and protectable elements.
"We're fighting for the broadest possible claim scope we can get," Roberts said.
Joel Grant, development and technology manager for the project, said the patent process has taken years, in part because of prior counsel's missteps. "The toughest thing is timelines for everything," Grant said. "What we put out to the public has got to be measured against our IP strategy."
Amy Rhodes harvests some leafy greens from the Garden Tower 2. Like its produce, the tower's manufacturing is locally sourced. (Photo courtesy of Garden Tower Project)
Not that business is suffering. Grant said since 2012, the company, with its prior and current Garden Tower versions, has maintained a growth rate around 300 percent. A Kickstarter campaign raised more than $430,000 to fund the new project and was the largest for a material product in Indiana, he said.
"The product itself is incredibly robustly designed," Roberts said. When fully loaded with soil and plants, "There's an incredible amount of weight on this thing, even though it's made out of plastic. They put a lot of energy into this design."
That included making sure the plastic was food-grade. "It's just as clean as your milk jug on the grocery store shelves," Grant said. "There's so much that doesn't meet the eye," such as ensuring as much of the product as possible is locally sourced. The product is injection-molded in Noblesville; product fulfillment takes place in Zionsville; and the company's home base remains in Bloomington. "It's 100 percent domestic content, 100 percent USA-made."
New England transplant Colin Cudmore invented the original Garden Tower and continually improved its design. He previously invented a few things to solve irritating problems that had happened to him. When he lost his lighter on a camping trip, he patented a keychain fob designed to hold most lighters. After he spilled coffee on himself, he designed and patented a splash-proof coffee lid.
But the inspiration for this was different.
"I'd recently moved to Bloomington and knew nothing about the organic food movement," he said, when his mother "dragged me to a lecture by a person named Will Allen." The former pro basketball player and founder of the organization Growing Power conveyed a message about urban food deserts and the lack of access to nutritious food untold numbers of people face globally.
"Frankly, it just pissed me off, to be quite honest," Cudmore said. "I was overwhelmed by what I heard. My mom said, 'Why don't you solve it? You know how to do that.' I said, 'You know, you're right."
With the latest iteration, he said, "There's really not much to improve on it," though there are some accessories in the works.
Having been through the patent process a time or two, he said, "Every product is going to be a different challenge, right down to the challenge of who the examiner is." He said the problems often are resolved with direct communication to explain what's novel about the product and why it differs from prior art.
Tom Tlusty, a partner in the project, said educators appreciate the tower as a self-contained ecosystem. It also addresses many of the concerns of sustainability and reliable access to food. Large-scale agriculture creates many problems, he said. "Distributive systems are quite more robust than monolithic systems that are just purely for profit," he said.
"Our goal is to revolutionize urban agriculture. This is an incredibly powerful tool for doing that," Tlusty said. Developers also believe the product can help gardeners with mobility problems or disabilities.
Company officials said they're not currently targeting the broad commercial market, but that hasn't stopped the latest product from spanning the globe. Orders have been sent to Dubai, Guam and Japan, and the company is seeking distribution partners in several other countries.
For Roberts, helping with the IP protections for such a novel and promising product has its own kind of reward.
"I did nothing but commercial patent and trademark litigation for a little over 10 years, and I got out of that a few years ago. It was always kind of a negative environment," he said. "It was almost always two large corporations fighting each other.
"Now my practice is focused on helping individuals and small companies like this bring their dreams to reality. It's positive almost all the time. To help produce a product that actually helps the world gives me a lot of satisfaction," Roberts said. "They're not doing this just to make a widget."•
Please enable JavaScript to view this content.