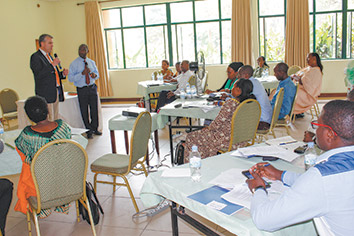 In the span of only three short months, nearly 1 million Rwandans were killed in the infamous genocide of 1994, leaving behind only two-thirds of the country's population to deal with the lingering resentment and trauma.
Widespread government corruption began seeping throughout the African nation in the aftermath of the killings, making the jobs of attorneys who attempted to work on behalf of the poor, widowed and orphaned all the more difficult. But a group of Indianapolis attorneys, determined to provide support to their African counterparts, traveled to Rwanda in late January to get a firsthand look at what it means to be an attorney in a country filled with blatant corruption and intentional oppression.
Joe Miller and Jacqueline Pimentel-Gannon of Faegre Baker Daniels LLP, Kelsey Raves with the Neighborhood Christian Legal Clinic, Carrie Lynn with Indiana Legal Services Inc., and Jason Reese of Carmel's Wagner Reese LLP took a 28-hour plane ride across the globe just after the new year to help lead seminars and workshops designed to equip attorneys in Rwanda and neighboring countries with the skills and knowledge they need to fight on behalf of the poor in their countries.
The group traveled to Rwanda to work with an organization known as the African Leadership and Reconciliation Ministries, or ALARM, which was founded in October 1994 in the immediate aftermath of the Rwandan genocide. Celestin Musekura, ALARM's founder, believed that if he could rebuild the church in Rwanda, Christian leaders could then begin the process of facilitating tribal reconciliation throughout the war-torn country. Thus, the goal of ALARM is to train Christians in Rwanda and throughout Africa to be leaders and use their unique skills to meet the specific needs of their poorest neighbors.
While many Christian organizations focus their work on rebuilding homes after disasters, bringing food and water to poor areas and sharing their religious beliefs, the group of Indianapolis attorneys said they were drawn to ALARM because it offered a unique opportunity to use their legal knowledge and skills to train their counterparts in third-world areas.
"I've always loved mission work, and this was a great opportunity to combine my faith and my legal career," Lynn said after returning home. "It was just a good intersection of those two things."
Reese, who had only left North America once before his trip to Rwanda, said he felt a strong calling to visit the African nation after watching the film "Hotel Rwanda," which chronicles the genocide. In the past, Reese has volunteered his time on various boards and in leadership positions, but said when he learned of ALARM's legal mission trip, he knew it was time to put to use his education and skill set to directly impact the lives of others.
While in Rwanda, the group of American attorneys led workshops on setting up free legal aid clinics, creating private practices and raising funds to support the African attorneys' efforts. But while the intent of their trip was to better equip the African lawyers, the Indianapolis legal professionals said they came away from their experience having learned far more than they taught.
"That was our prayer and our hope in going in — to have that posture of listening and having a very genuine discussion," Miller said. "That really did seem to happen. We were learners."
These Hoosier attorneys traveled to Rwanda in January on a mission trip and led legal workshops for African attorneys. (Photo courtesy of Jason Reese)
From a legal perspective, Lynn said she was struck by the courage and tenacity shown by the African attorneys.
In Rwanda, little about the practice of law is easy, she said. Government officials often seek to undermine the legal claims of the poor, and there is little money to help attorneys provide stronger support to their clients.
Yet even in the face of adversity — and often, the threat of government retaliation — African attorneys never abandon their clients or their cases, no matter how dire the situation might get, Lynn said. That resolve was an inspiration to her to be more persistent in her own work on behalf of Indianapolis' poorer communities.
The Hoosier attorneys and ALARM workshop lawyers gathered in Rwanda to learn from each other. (Photo courtesy of Jason Reese)
"Sometimes justice isn't always fast, but you have to wait," she said.
The attorneys also brought personal lessons home to the United States from their time in the rural African nation. Miller, for example, who has previously done other mission work in Rwanda, said his African counterparts taught him that in order to be successful, you have to be teachable.
Rather than letting the differences between the American and Rwandan justice systems deter them from learning from the Americans, Miller said the African attorneys came into the workshops with open minds and gratitude to the American legal professionals who were sharing their knowledge.
"These are very well-educated, experienced professionals who, frankly, could be forgiven for raising an eyebrow and saying 'Who are these folks presuming to tell us about the law?'" Miller said. "But they demonstrated a huge willingness to open themselves up to what collaboration might produce."
But the most important lesson the Americans can take away from the Africans, Musekura said, is the knowledge of how to survive and thrive in the face of injustice, corruption and high-stakes situations.
Although his work can often leave him feeling stressed, Reese realized after returning to the States that having a job that requires him to wear a suit each day and spend his time in an office is not nearly as stressful as having to advocate for clients whom the government intentionally wants to oppress.
"There's stress, and then there's real stress," Reese said.
Further, Reese said his time in Rwanda gave him a greater appreciation for the strength and clarity of the law in the United States.
Now that they have returned home, the Indianapolis missionaries said they are making intentional efforts to ensure the lessons they learned from their African counterparts stay with them in their day-to-day practices and lives, and they're already looking ahead to a time when they can return to their new Rwandan friends.
"I would go back tomorrow," Lynn said.
And although the work they did had its roots in Christianity, Reese believes all people, regardless of their religion, can use their unique skills to the benefit of the poorest people around the world.•
Please enable JavaScript to view this content.