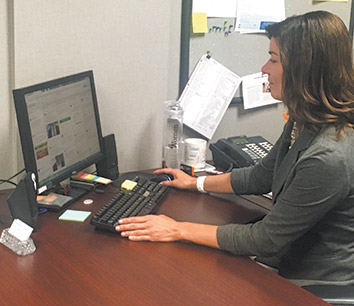 A quick glance at the home page of most law firm websites shows a common feature — a hyperlink, icon or other symbol urging online visitors to connect with the firm on social media.
In today's legal market, most attorneys understand that social media is the name of the legal marketing game. Clients like to stay engaged with their legal representation, and social networking sites such as Facebook, Twitter and LinkedIn provide a convenient method of keeping them abreast of a firm or attorney's work.
But simply having accounts on popular social networking sites is not enough to connect with clients. Instead, firms must develop a strategy that highlights the services they offer and entices prospective clients to want to learn more.
"The internet is the largest ocean you could ever imagine, and you're just a blip in that ocean," said Josh Brown, a franchise law attorney who has presented on the topic of social media marketing. "You want to be a red blip in a blue ocean so that you stick out."
Though each firm and attorney may have their own strategy that works best for them, social media marketers agree that the first step to developing an individualized strategy is to carve out a niche audience. For Brown, that means posting content that appeals to entrepreneurs who are considering buying or selling a franchise. And for Jaime Lira, director of marketing for Cohen & Malad LLP, that means undertaking the task of offering content that can appeal to people interested in any of the firm's main practice areas.
Matt Houston, marketing manager for Wilson Kehoe Winingham LLC, said effective social media strategies identify which social networking sites will reach the target audience. Both Brown and Houston said Facebook continues to be the most effective social networking tool for attorneys, as it appeals to a wide audience and allows for extensive interaction.
But Lira also employs LinkedIn to share blog posts written by her firm's attorneys, a strategy she said allows her to highlight their areas of expertise. Twitter, however, is her favorite social media presence, and the one she turned to first when she began building the firm's social media presence from the ground up in 2011. Today, Cohen & Malad boasts more than 1,500 Twitter followers.
The key to developing a strong social media following is to be active, Lira said. For each account she runs for the firm, Lira's goal is to post at least twice a week to ensure followers and visitors know the firm is actively keeping up with issues that matter to its clients.
Knowing what kind of content to post is also key, as the information that is shared through social networking sites should appeal to a firm's target audience. For Brown's firm, that content includes blogs about the world of franchise law and links to his self-produced podcast, Franchise Euphoria.
But an attorney or law firm's social media feed should also include content that humanizes the legal professionals, said Jon Quick of Q Public Relations and Marketing, who works with law firms to develop marketing strategies. One way to accomplish this goal is to post photos that show attorneys engaging in their communities, either by doing charity work or participating in a hometown event, Quick said.
Houston agreed and said one of his main objectives when posting to social media for Wilson Kehoe Winingham is to dispel the negative perceptions that often surround lawyers. That's why in addition to offering blogs, news stories and other legal information, the firm's social media accounts — which have garnered nearly 1,500 followers on Twitter and just as many likes on Facebook — include photos of its attorneys doing "normal things," such as celebrating with each other at office parties and participating in out-of-work activities.
Both Quick and Houston agreed that developing an effective social media strategy can be a difficult task for solo and small firms, which may lack the time or resources necessary to executive a strategy that works. But Brown, who runs his practice with just one other attorney, said social media marketing is often less about resources and more about passion.
For example, Brown said engaging with his social media audience is a task he enjoys, and thus puts a good deal of time and effort into completing. A byproduct of that effort has been the ability to pick up new clients, he said. Cohen & Malad's social media presence has also garnered the firm additional clients through the years, Lira said.
Similarly, firms should delegate their social media marketing work to someone who enjoys social networking on a personal level and could use their personal experience to help the firm develop its professional online presence, Houston said. If no attorneys in a firm have the necessary experience with social networking sites to oversee social media marketing, then Quick suggested hiring an intern or young communications professional to take over the job.
When assigning the task of developing a firm's social media presence, Quick said the social media professional should use every post to drive followers to the firm's website. Brown and Lira, however, said their approach is not to directly promote their firms, but rather to share content that relates to their followers' needs and interests. That, in turn, will hopefully inspire their followers to reach out to them when they need legal advice, they said.
Though executing an effective social media marketing strategy can require a significant time commitment, Brown and the marketers agree there is usually minimal cost associated with the task, as sites such as Facebook and Twitter are free to use and have no limits on the amount of content that can be posted. The largest expenses a firm might incur could be the cost of hiring someone to handle social media or the cost of search engine optimization, which is the process of using certain keywords on websites to improve a site's placement on search engines such as Google.
As a time-saving measure, Lira pointed to tools such as Hootsuite, which allows her to plan what content she wants to post, schedule the content to go live in advance, then monitor its interactions with online followers. Usually, Lira said she logs into Hootsuite once a week to plan the firm's social media content for the coming week, then gets notifications to her phone that let her know when a post has gone live and has garnered a response from a follower. That kind of technology is an efficient way to manage social media in an industry where free moments are few and far between, she said.
But while social media is one of the most effective tools legal professionals currently have available to grow their businesses, the experts also caution against forgetting a key part of practicing law: making connections. At the end of the day, the legal industry is one built on relationships, so social media should be an extension of that fact, not a substitution, they said.
"Don't get so caught up in social media that you forget about the grassroots stuff," Quick said. "There's still room for getting out there and talking to people."•
Please enable JavaScript to view this content.