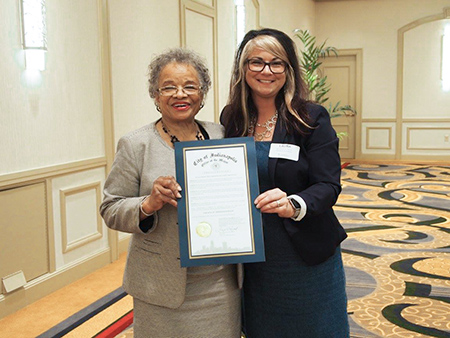 They're the silent saviors, the unsung heroes of the practice of law. Without them, most attorneys agree the show could not go on. So, it's no surprise that the paralegal job market is in the midst of a growth spurt predicted to last for at least eight more years.
A 2016 report from the U.S. Bureau of Labor Statistics predicted 15 percent growth in the paralegal job market over a 10-year period, a rate more than twice the 7 percent increase projected across all occupations for the same timeframe.
Some theorize that a stronger economy in the wake of the Great Recession has law firms hiring again, while others say it's a natural result of firms' need to provide efficient services at lower prices. And once a firm realizes the value of paralegal services, they choose to hire more.
Regardless of the reason for the boom, paralegals and their employers agree: without the services that paralegals offer, lawyers would find themselves working harder but producing fewer results.
"They're the lifeblood of our office," said Keith Hancock with Barker Hancock & Cohron in Noblesville.
Landing the job
Both Brad Schwer, partner-in-charge of Taft Stettinius & Hollister's Indianapolis office, and Courtney David Mills, a Riley Bennett Egloff LLP attorney, have observed their own and other firms in hiring mode when it comes to paralegal assistance. But breaking into the growing job market still requires some effort on the part of a paralegal looking for work.
One avenue into a paralegal job is to pursue a degree in paralegal studies, as did Laura Thirion, a litigation support paralegal with Katz Korin Cunningham. Or you can follow Lottie Wathen's path and become an Indiana registered paralegal, an Indiana State Bar Association accreditation recognizing their additional knowledge and training.
Sometimes even law school can land a law student in a paralegal job. That was the case for James Goheen, a Frost Brown Todd employee who opted for paralegal work after discovering the practice of law wasn't right for him.
Regardless of a paralegal's background or training, making connections is equally important when trying to enter the profession, Thirion and Wathen said. Cassie Karkiewicz, a student in Indiana University's paralegal studies program in Indianapolis, agreed. She said she has witnessed the value of networking firsthand.
While job shadowing a Marion County public defender one day, an administrator in the Marion County Public Defender's Office stopped Karkiewicz and asked if she was interested in interviewing for a job. She agreed and landed the job, a feat she credits entirely to her willingness to try the job shadowing program.
Though Karkiewicz has her sights set on one day earning her J.D., Thirion and Wathen said her belief in the power of networking can benefit all legal professionals looking for work, even when the job market is growing. That's why organizations such as the Indiana Paralegal Association regularly offer job shadowing and other similar opportunities to help aspiring paralegals make the connections that will lead them to a job, Wathen said.
Learning the ropes
The need for connections doesn't end once a paralegal has a job. Like young attorneys, paralegals beginning their careers or working in a new practice area face a steep learning curve. To that end, Thirion said it's vital for paralegals to find an attorney who is willing to teach them the legal concepts they need to know.
Goheen has worked with the same attorney since 2011, and during the early days of their relationship, he said he had to learn about the attorney's work, standards and expectations. He had to work closely with his supervisor to learn about his role and how he would support his firm.
Though professional conduct rules bar paralegals from the practice of law, they support their firms by completing numerous legal tasks, including discovery, drafting pleadings, reviewing case files, client interactions and more. Most paralegals eventually become self-sufficient and can often predict the tasks their attorneys will ask them to complete next, Thirion said, but they can't get there if the attorney is not patient in the early days.
Schwer said he and his fellow Taft employees understand that learning curve, which is why the firm has a paralegal training system in place. When a new paralegal joins the firm, their counterparts who have more experience serve as mentors to bring the new employees up to speed. That system can even apply to new attorneys who rely on experienced paralegals to learn the specifics of their practice areas in the early days of their careers.
"It's really, truly a team effort where they're standing right beside us and working side-by-side," Schwer said.
Supporting the firm
To be a team player, paralegals must understand their team's specific needs. Wathen, for example, who is now with Witham Hebenstreit & Zubek LLP, has worked in small, medium and large firms, and in multiple practice areas such as family law, insurance defense and bankruptcy. Each firm has its own operational style, she said, and each attorney will use paralegal services in his or her own way.
At smaller firms such as Hancock's, for example, each paralegal has a unique job description depending on which attorney they work with. Hancock said he and other younger attorneys at the firm rely on paralegals to help track case management deadlines, while the firm's senior partner requests their assistance drafting pleadings. The firm's paralegals also help with administrative tasks, which Hancock said is invaluable to smaller firms.
For Goheen, however, administrative tasks aren't a big part of his job description. Instead, he supports his governmental practice by reviewing and revising contracts, drafting ordinances and working on economic development projects.
In general, Thirion and Wathen said administrative tasks aren't typically part of a paralegal's job description, yet it's not uncommon for paralegals to be asked to wear multiple hats in one day. If that means jumping into work normally handled by a firm administrator, then Wathen said the "paralegal attitude" is to do what it takes to get the job done.
Job evolution
The advent of Indiana registered paralegals has added perceived professionalism to the work paralegals do, Mills said, narrowing the definition to more professional work and fewer administrative tasks. The paralegals agreed, noting that although they are not allowed to give legal advice, they generally can predict the advice their attorneys will give to clients with questions.
Schwer and Mills agreed their paralegal staffs are adept at predicting their needs and resolving client issues, assets they said come from the experience of working side-by-side with trained legal professionals.
"In the medical realm, doctors use nurses, physician's assistants and nurse practitioners and refer to those as 'physician extenders,'" Mills said. "In the legal field, I refer to paralegals as 'attorney extenders.'"•
Please enable JavaScript to view this content.