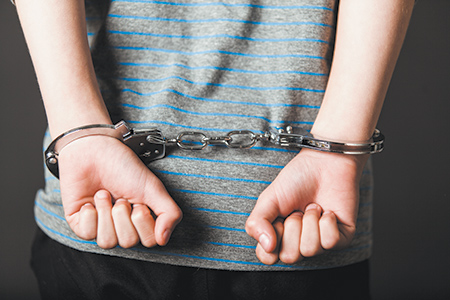 Threats Indiana schools have received since the shooting that killed 17 at a school in Parkland, Florida, are alarming, with the perpetrators asserting they are going to kill their classmates and blow up the building.
Domine
But Elkhart Circuit Juvenile Magistrate Judge Deborah Domine's repeated use of the words "children," "child," and "kid," serve as a reminder that the students sending these menacing messages do not always realize the trouble their statements can cause.
"Kids are impulsive, and kids are unpredictable," she said.
Since the shooting at Marjory Stoneman Douglas High School Feb. 14, schools across Indiana have recorded a spike in threats of violence. Teenagers and preteens in rural, suburban and urban communities have taken to social media to warn of horrific acts. Many of these students do not understand the consequences of their actions until they are arrested, charged and put into the juvenile justice system.
A sampling of recent incidents includes a 12-year-old boy arrested for writing a threat against his classmates at Greenfield Intermediate School; a teenage girl at Austin High School arrested and charged with juvenile delinquency/intimidation for making threats to "harm others"; and a 17-year-old boy arrested and charged with felony intimidation for writing a threat on a bathroom stall at F.J. Reitz High School in Evansville.
Stress from teachers, tests, homework and parents have long induced teenagers to make inappropriate comments around the lunch table or at the bus stop. In the past, they went on with the rest of their day. Things changed starting with the 1999 massacre at Columbine High School.
Domine, who has served on the bench for 17 years, noted the threats today may not be any more intentional than those lodged 30 years ago. Even so, because some students have followed through, arriving to class with guns and firing at other students, schools and law enforcement cannot dismiss any threat.
"We all recognize that kids make foolish statements," she said, "but we would be foolish to not take them seriously."
Potts
While Kevin Potts, criminal defense attorney at Potts Law LLC in Indianapolis, understands the need to investigate school threats, he believes law enforcement and local prosecutors are overreacting and bringing criminal charges for noncriminal behavior. Constitutional rights to due process are being sidestepped in the name of keeping schools safe, he said.
Potts is providing representation in a case from Corydon involving four juveniles and an 18-year-old. The five have been charged with conspiracy to commit aggravated battery after posting a threat against Corydon Central High School. The Harrison County Sheriff deemed it a "credible threat," arrested the individuals, executed search warrants and seized weapons from their homes.
Conspiracy, Potts pointed out, has to include an overt act in furtherance of committing the felony. In Corydon, the guns taken by the sheriff were all legally owned by the parents of the accused.
Compounding the situation, he said, is the lack of any process or standard. Instead, law enforcement agencies are determining on their own whether a statement or action by local students is a credible.
"I think what you are starting to see is some noncriminal threats being charged criminally when they could have been handled through the school system," Potts said. "We've left a lot of these things in the discretion of local law enforcement deciding what's credible and not credible."
Online and in public
Part of the fuel behind the arrests and charges for school threats is social media. Teenagers are going online and posting threatening messages and videos about violent acts. Tapping out a menacing statement then hitting the send button helps give students what, Domine said, they all want — the chance to stand out from the crowd.
It can also bring criminal intimidation charges. The fear brought by these posts can cause hundreds of students to stay home rather than potentially risk their lives at school.
Scott County Prosecutor Chris Owens echoed many when he said every threat has to be taken seriously. Given the tragedies that have happened at other schools, the top priority has to be safety.
"We're talking about the youth in our community," Owens said. "Nothing is more precious than that."
Vanderburgh County Deputy Prosecuting Attorney Martha Posey agreed and asserted the penalties should be harsher for anyone sending threatening messages to educational institutions. In her two years of covering juvenile court, she can remember only three times threats were made against a local school, but two of those incidents have happened since Parkland.
"Law enforcement and prosecutors have a duty to ensure the community safety," Posey wrote in an email. "When threats are communicated to schools simply because a student doesn't want to go to class, resources normally used to handle priority emergency runs are sent to schools to ensure safety."
Like Potts, Amy Karozos worries about noncriminal behavior becoming criminalized. As the juvenile project manager at the Indiana Public Defender Council, she concedes it is perfectly understandable that law enforcement investigates every threat, but she wonders — are crimes really being committed?
Teenagers who have grown up with the internet are posting their thoughts online and, once those posts are shared, they are getting in trouble. Education about social media and the consequences of thoughtless messages would help.
"Kids don't make the smartest decisions with social media," she said. "They make really poor decisions."
After an arrest
Usually, students who make the threats will be identified and interviewed by police. They could be arrested, charged and detained then taken to juvenile court. In Evansville, the process also includes giving the youths a mental health assessment and talking to the parents to determine how serious the threat was.
Niemeier
Vanderburgh Superior Juvenile Division Judge Brett Niemeier has noticed more juvenile offenders having mental health issues. Some have deep psychological problems, and he believes the community has been blessed that these troubled teenagers have not "gone out and killed a bunch of people."
Niemeier links the struggles of some youths to parents who didn't properly care for their children. Also, mental health problems can run in families, and parents may not have money to cover therapy for their child.
That's where Niemeier's court will step in. The court can monitor the family, bringing the parents and teenagers back every couple of weeks. Where finances are a concern, the court can pay for the therapy.
The arrest and detention alone can be traumatizing to the students.
Pointing to research from the Annie E. Casey Foundation and the U.S. Department of Justice, Karozos said removing the teenager from their school and family can inflict such emotional harm that the juvenile will struggle into adulthood.
Also, Potts noted in smaller communities, the damage can extend beyond the child. Families can be stigmatized and have their reputations ruined even if the charges are eventually dismissed or if the court finds the teenager did not commit a crime.
Moreover, a juvenile adjudication can have long-term consequences. Juvenile records are not always sealed, Karozos said, so an impulsive threat made as a middle or high school student could prevent the now-adult from getting accepted into college or joining the military.
"Bottom line," Karozos said, "is kids are going to be better set up for success if we keep them in school and out of the juvenile justice system."
Domine acknowledges the system might be overreacting to some of these threats. Getting arrested can be traumatic for the student but, at the same time, there is the need to protect every child in the classroom. No school wants to be the next Parkland.•
Please enable JavaScript to view this content.