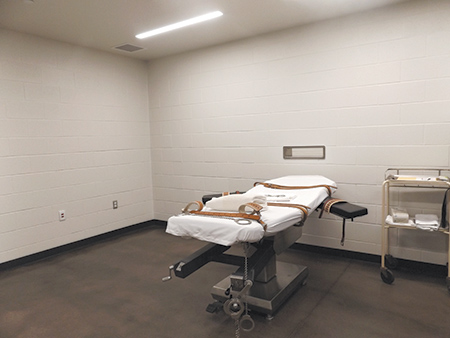 A law slipped into the 2017 budget bill during the General Assembly's final hours declared that information about drugs that the state would use to execute someone was confidential. The last-minute law was written into the bill even though a judge had ruled months earlier that the very same information was a matter of public record and had ordered the Department of Correction to provide it.
"It's the damnedest thing," Indianapolis attorney Peter Racher said of what he calls the secrecy statute inserted into must-pass legislation at the eleventh hour. "There was no substantive debate," he said, describing the law's insertion into the budget bill as "anti-democratic. … But that is the process the General Assembly followed in enacting this new statute."
Racher, of Plews Shadley Racher & Braun P.C., represents A. Katherine Toomey, an attorney with the law firm of Lewis Baach Kaufmann Middlemiss PLLC in Washington, D.C. Beginning four years ago, Toomey formally requested information from the DOC regarding the drugs it would use or planned to use in lethal injections, were the state to order an execution to be carried out.
Despite a ruling years ago from the Indiana Public Access Counselor that the information Toomey sought was public, the DOC largely denied her requests for information, leading Toomey to sue the department in 2015. Marion Circuit Judge Sheryl Lynch granted summary judgment for Toomey in October 2016, ordering the DOC to provide the information within 30 days.
Toomey is still waiting. But she's also still litigating. She and Racher said they're perplexed by what they consider extreme lengths DOC has gone to in court, and in the Statehouse, to keep the information about lethal injections from the public.
Racher
More broadly, Racher said the case poses a significant test for Indiana's Access to Public Records Act, as well as for the fundamental principle of separation of powers between branches of government.
"You can't just go to the General Assembly to unwind a judgment entered by a court," Racher said. "That intrudes into the judicial function, not to mention that you can't legislate in Indiana in a way to defeat a specific citizen's request for information."
The lawsuit, A. Katherine Toomey v. Indiana Department of Correction, 49C01-1501-PL-3142, remains in Lynch's court, with further proceedings scheduled in June. The DOC continues its fight to bar access to the information Toomey seeks, now relying heavily on the law passed after Lynch's initial summary judgment ruling in Toomey's favor.
Questioning DOC
The Department of Correction declined to answer specific questions from Indiana Lawyer about its duty to release information regarding drugs used in lethal injections, or why it continues to fight against disclosure.
"The Indiana Department of Correction is well aware of its obligations related to release of information under the Public Records Act," DOC spokesman Ike Randolph wrote in response to emailed questions. "… At this time, there has been no final order in (Toomey's) case, but when the case is over, our agency will comply with any final outcome."
Toomey asked the DOC eight questions seeking information on the DOC's inventory of lethal injection drugs. Among other things, she asked for information about the kinds of drugs DOC has on hand for lethal injection purposes by amount and expiration date, as well as documents regarding drugs the department was considering using and communications the department has had regarding obtaining lethal injection drugs.
"While I can only speculate about the state's motives for hiding this information from the public, it does appear clear that it is concerned that its actions behind closed doors won't survive scrutiny in the light," Toomey wrote in response to emailed questions. "This may well be because, for instance, documents previously disclosed show that officials had purchased Somnasol, a drug that is intended for use by veterinarians in the euthanasia of dogs. This drug should not be used under any circumstances on a human being."
Randolph declined to provide Indiana Lawyer with the formulation the state would use in an execution. "With respect to withholding the identities of companies which manufacture or sell materials used in the lethal injection process, or the identities of persons who participate in actions or decisions related to the lethal injection process, we believe our agency has justifiable reasons why such information is properly withheld from disclosure," he wrote.
Confidentiality or secrecy?
Racher calls Indiana Code 35-38-6-1(e) and (f) "the secrecy statute." The DOC prefers to call it "the confidentiality statute." By any name, its terms are sweeping and clear — and they were never subjected to debate or the normal legislative process in the Statehouse. The statute provides a means by which pharmacies, drug distributors or other facilities can provide drugs to the DOC for use in lethal injection while also declaring the identity of those suppliers to be confidential.
"Pharmaceutical companies simply don't want their pharmaceuticals used in executions," Racher said.
He noted the statute's reach is broad, essentially imposing a gag rule on anyone who may be in the supply chain of lethal injection drugs supplied to DOC. "If you're an employee of a pharmacist that provides that material to the state and you want to talk," Racher said, "the statute mandates that you maintain confidentiality." He believes the language applied to someone who divulges the information would violate freedom of conscience protections under Article 1, Section 3 of the Indiana Constitution.
The language of the confidentiality statute added to House Bill 1001 by a conference committee was posted online at about 2 a.m. on April 21, 2017 — the day before the session adjourned. House Ways and Means Chairman Rep. Tim Brown, R-Crawfordsville, introduced the changes, calling them "limits of liability related to pharmaceuticals purchasing. And this is related to potential death penalty cases. … (T)he drug companies request this … in their purchase pricing."
The bill ultimately passed, but not without protests from legislators, including Sen. Karen Tallian, D-Portage, who said lawmakers hadn't had a chance to review the law. "Something is wrong with a system that allows … one person somewhere to put these things into the budget without any vetting," Tallian said after the amended budget was introduced.
Neither Brown nor Tallian responded to messages seeking comment. A spokeswoman for House Speaker Brian Bosma said he was traveling on a trade mission with Gov. Eric Holcomb and could not be reached for comment.
There are currently 12 men who have been sentenced to death on Indiana's Death Row, as well as one woman who's housed in Ohio. No executions are currently scheduled, and several condemned inmates' death sentences have been overturned on appeal.
Meanwhile, the Indiana Supreme Court ruled earlier this year in Roy Lee Ward v. Robert E. Carter, Jr., et al., 46S03-1709-PL-00569, that the DOC can alter its lethal injection protocols without going through public rulemaking. A panel of the Indiana Court of Appeals had reached the opposite conclusion. During arguments in Ward, the DOC told justices it had abandoned the untried lethal injection formulation at issue in the case and was seeking guidance on how it should proceed.
Despite multiple requests, Randolph declined to identify to Indiana Lawyer the lethal injection drugs or protocol DOC would use if an execution were ordered.
Toomey said there's a basic reason she's fighting in court to get the DOC to disclose how it would execute someone. "I believe it is important that citizens in every state know what the government is doing in their names, and this is all the more important when it comes to an act as grave as carrying out executions," she said.•
Please enable JavaScript to view this content.