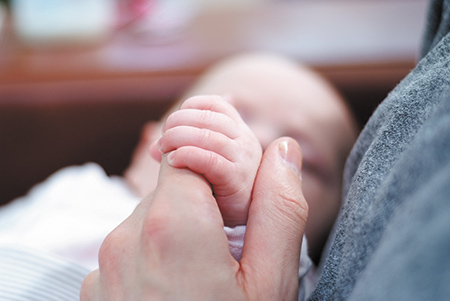 She was in a deposition when her phone rang. On the other end of the line was her daughter's school, telling Taft Stettinius & Hollister LLP partner Tracy Betz that her daughter had the flu and needed to go home.
Reviewing her schedule for the rest of the day, Betz realized she couldn't cancel her upcoming appointments. Her husband was also unavailable, his day filled with hearings on the Marion County bench.
Betz
Left with no other options, Betz did what any mother would: she left her job to pick up her child. But with a full slate of tasks still requiring her attention, Betz took it a step further and brought her daughter back to the office, placing her in a sleeping bag to rest while her busy mother continued to work.
Bingham Greenebaum Doll LLP partner Julianna Plawecki can relate. She once brought her daughter to work and laid her on the floor of her office with a blanket and stuffed animal while Plawecki participated in a meeting she couldn't miss.
"I told her, 'Remember, mommy has a big meeting, and you promised you would take a nap during the meeting,'" Plawecki said, laughing at the memory of that unusual day.
Plawecki
Despite the stress of trying — and failing — to find last-minute childcare, both Betz and Plawecki said their experiences proved to be beneficial. That's because they were given the opportunity to speak with their firms' leaders about the personal and professional responsibilities that compete for attorneys' attention, and to discuss how their firms could become more sensitive to their attorneys' various needs.
To that end, Taft, Bingham and other businesses throughout Indiana have begun studying ways to give their attorneys the flexibility to be both good parents and good lawyers. At Taft, those studies have manifested into the Care@Work program, an initiative designed to mitigate the last-minute childcare binds Betz and Plawecki are all too familiar with.
"We wanted to find services our attorneys could temporarily use without having to make hundreds of phone calls," said Betz, who co-chairs Taft's Gender Advancement Committee. "That's less than ideal."
Built-in flexibility
Taft's version of Care@Work is part of a 23-country program offered by Care.com, an online family and home care referral website. Through Care@Work, Taft attorneys and benefits-eligible employees are given 24/7 access to Care.com's website and app in case last-minute childcare needs arise. The program also provides access to adult care services, Betz said, a feature meant to assist attorneys who are caring for their aging parents or for other elderly family members.
From a logistical perspective, Betz said Care@Work is a flexible program that can be used in different ways depending on an attorney's situation. For example, if a working mother is presented with a last-minute childcare need and has only limited time to find a solution, she can call Care.com's 24-hour phone line to get matched with an in-home nanny almost immediately. Or, if a father learns one evening that his nanny won't be able to work the next morning, he could log on to Care.com's website or open the app and request a babysitter for the next day.
Care@Work matches employees with in-home or center-based family care services, said Alyssa Johnson, Care.com's senior director of account management for Care@Work. Each nanny or daycare facility that is recommended through the program is pre-vetted to ensure they meet Care.com's criteria, Johnson said.
Rolling out Care@Work at Taft late last month is part of firm's efforts to accept the reality that attorneys' worlds do not exclusively revolve around their lives in the office, said Taft partner Jeff Kirk, who is also a member of the Gender Advancement Committee.
"We're all working very hard to provide the best service for our clients," Kirk said, "but we do have lives that we have to address, and issues come up."
A growing trend
Other employers across Indiana are similarly searching for ways to adjust their business models to the reality of working parents. At Indiana University, that means utilizing an expanded version of Care@Work.
IU offers Care@Work to roughly 24,000 employees, said Johnson, who received permission to discuss IU's program. Like Taft, the university's program includes emergency child and adult care, but the school also offers adult senior care planning services. That feature pairs employees with trained social workers who can assist in the process of developing a long- or short-term care plan for aging family members, an offering Johnson said is beneficial to the types of employees who work for the university.
Ice Miller LLP is currently in the process of rolling out a similar program, known as the Back-Up Care Advantage Program, for its full- and part-time employees through Bright Horizons Family Solutions, LLC. Available this fall, the Back-Up Care Advantage Program will offer in-home or center-based child and adult care to Ice employees. Like the Taft program, Ice's family care initiative is employer sponsored, with attorneys and employees paying a small portion of the cost of care.
"Ice Miller recognizes family is a non-negotiable priority and employees may miss work when last-minute or emergency care is unavailable," Ice partner and Women's Initiative Committee chair Kristine Bouaichi said in a statement last month. "Now, employees have access to high-quality back-up care when, where and how it's needed. There's no unnecessary stress related to finding back-up care."
Ice announced its firm-wide care initiative on Aug. 22 and subsequently began a 45-day rollout process. 
Though Bingham hasn't rolled out a program like Care@Work, Plawecki leads the firm's BGD Family group, which is studying such family care initiatives. Through a process of external research and internal feedback, BGD Family is exploring issues such as the need for emergency care while also looking at how to adjust firmwide practices to accommodate parenting attorneys, she said.
For example, Plawecki said Bingham has learned through its research that traditional after-hours business development events are no longer appealing to attorneys or their clients. That's because those events keep working parents away from their children, an after-work sacrifice younger generations of attorneys and their clients aren't as willing to make.
Instead, BGD Family is exploring family-friendly business development events that encourage attorneys and clients to bring their kids along. One such event is the Friendly Feast with the Witches, a Bingham-sponsored family-friendly Halloween program at the Children's Museum of Indianapolis.
Inside the office, Bingham now offers pack 'n plays, changing tables and toddler cots to both attorneys and clients who, like Plawecki, occasionally find themselves in a bind and need to bring their child to a meeting.
"We're trying to be smart about this and look into how people want to be helped and what's going to matter to them," she said.
Here to stay
The need for in-office flexibility for working parents isn't likely to go away anytime soon, Johnson said. One reason for this is the fact that in today's world, more mothers are returning to or entering the work force at a faster rate than in previous generations, she said.
That reality is coupled with the fact that populations are now living longer, and seniors often wish to age in their homes, Johnson said.
Those factors together create a greater need for family care services, she said, but that need doesn't eliminate a caregiver's need to earn a living.
As a result, Johnson said employers are seeing higher rates of absenteeism as more employees find themselves faced with an unexpected family care crisis. Building flexible programs such as Care@Work into a business's culture allows those employees to continue working even in the face of those crises, she said — a reality that is good for families and for businesses' bottom lines.
"Family care needs are unpredictable," she said, "but the business impact isn't."•
Please enable JavaScript to view this content.