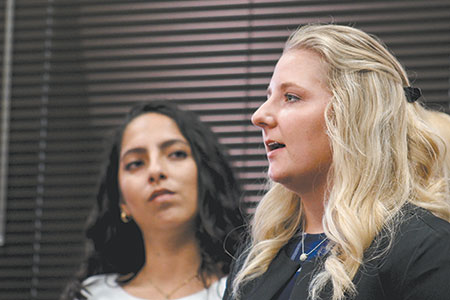 Hill
Indiana Lawyer's top story of 2018 began inside an Indianapolis bar in the cool early-morning hours of Thursday, March 15. Attorney General Curtis Hill had had a few drinks. A few too many, several witnesses would later claim.
What happened next set the stage for a high-stakes Hoosier drama that continues to unfold in the glaring spotlight of the #MeToo movement: Several women accused Hill of sexual misconduct.
Accusations that Hill drunkenly groped a female lawmaker and multiple female legislative staff members who were celebrating the end of the legislative session at AJ's Lounge would not become public for several months, after a handful of lawmakers had taken it upon themselves to investigate the women's claims away from public view.
The sexual misconduct allegations against Hill became news in the steamy days of early July. The public revelations — and Hill's heated denials — have kept Indiana's top lawyer on the hot seat since. Hill continues to serve as attorney general, but he is embattled.
Gov. Eric Holcomb, a fellow Republican, called on Hill to resign, as did Statehouse leaders in both parties. Those calls haven't gone away, but neither has Hill, who denied the accusations, defied the calls for his resignation and retaliated. Hill shows no signs of going anywhere, but neither do calls from Democrats to impeach him when the General Assembly convenes in January. Republican legislative leaders, however, say they doubt such an effort will proceed.
"I never dreamed this could happen to me," Hill told reporters at a July 9 news conference where he took no questions and denied the accusations days after they surfaced. Hill said he was the victim of a rush to judgment by those calling for his resignation. He protested that he'd been found guilty rather than presumed innocent.
"A week ago today, I had a name," Hill said. "I want my name back."
Reardon
But Hill's accusers, who include Democratic Rep. Mara Candelaria Reardon, said Hill betrayed the public trust and lied to those he serves. "I will continue to cooperate with any and all investigations into this matter until such a time that Curtis Hill is held accountable for his abhorrent behavior," Reardon, of Munster, said after Hill initially dug in.
Over the next several July days, additional accusers spoke out, including Senate Democrat spokeswoman Gabrielle McLemore and Republican legislative assistant Niki DaSilva. Hill then went on the offensive, making public an email from DaSilva that he said showed a coordination of the accusers' stories. Hill also used taxpayer-funded resources of the attorney general's office to attack his accusers and the legislators' investigation into the allegations against him.
Upping the ante, Hill also announced the establishment of a legal defense fund in response to the accusations, and attorneys representing him said Hill was considering a defamation suit against his accusers. Some legal experts have questioned whether a nonprofit such as what Hill organized may be used for the benefit of one person.
As summer went on, special prosecutor Daniel Sigler of Allen County was appointed to investigate the allegations against Hill to determine whether criminal charges were warranted, and Indiana Inspector General Lori Torres also investigated. In October, Sigler staged a news conference to present his findings.
Sigler said he believed the women who accused Hill, but he declined to charge the attorney general. "At best the evidence regarding the essential element of Hill's intent is that he was overly friendly and touchy with everyone in the establishment as the apparent result of alcohol consumption. Inappropriate or intoxicated behavior does not automatically equate to criminal behavior," Sigler said.
Likewise, the inspector general issued a report detailing the events that led to the accusations against Hill after interviewing 56 witnesses. Torres' report concluded Hill did grope his accusers, but she found insufficient evidence that Hill had violated laws regarding ghost employment and misuse of state property when he held a press conference in his Statehouse office to deny the groping allegations or when he issued press releases in his defense on office letterhead.
Though Torres found insufficient evidence to warrant an ethical complaint against Hill, she said evidence of Hill's intoxication and "creepy" behavior was "well documented." She noted three of his accusers are in their 20s – including Samantha Lozano, a legislative aid for House Democrats who was the last of Hill's accusers to publicly come forward – demonstrating "the disparate power, influence, authority, and age that exists between Hill and the women who made allegations against him."
"Hill publicly demanded a fair and full investigation," Torres wrote. "The interviews of fifty-six witnesses by special agents of the OIG, the opportunity for Hill to provide his own recorded statement, the participation of the (Indianapolis Metropolitan Police Department) Sex Offense Section in nearly every interview, and the assessment and analysis by a special prosecutor provided an unbiased, independent review of the events of that evening and events thereafter."
"The public and others will judge whether the evidence in this case disqualifies Hill from holding elected office in the future," Torres concluded. "This investigation is now closed."
But while investigators closed their Hill cases without bringing charges, this was far from the end of the attorney general's legal and political peril. Hill's accusers used the same forum where Sigler's conclusions were announced to make clear that, like Hill, they weren't going anywhere, either. Hill's accusers said they will file civil lawsuits against Hill, the AG's office and the state for defamation and other causes.
At the end of the investigations, Hill's accusers said, it simply wasn't enough to be told they were believed.
"What has happened today has told women that when we come forward, that when we share what happened to us that we can be believed, but that doesn't really mean anything," McLemore said. "… We put ourselves out there, we put our jobs and reputations on the line just to be told, 'You're believed, but there's nothing we can do.' So we're just taking that next step to see if there is something we can do."
Meanwhile, against the backdrop of the Hill scandal and subsequent sexual misconduct accusations a former legislative intern leveled this year against House Speaker Brian Bosma, the Indiana General Assembly in November quietly recommended changes to its sexual harassment policies that critics complained didn't go far enough in protecting victims.
And as 2018 unfolded, Attorney General Hill continued to play a controversial role in several of the year's top Indiana legal news stories.
2. Valparaiso Law School to close in 2020 after move bid fails
Valparaiso Law School announced in November that it will close in 2020 after a last-ditch effort to continue the struggling institution's legacy with a move south was blocked. The developments were the final twists and turns in a roller coaster ride for the law school whose fate has been uncertain for years.
The 139-year-old law school was staggered two years ago when the American Bar Association formally censured Valparaiso for failing to comply with admission standards. The ABA lifted its sanction last year, but by that time, the damage had been done. Days after the ABA lifted its censure, the school in late 2017 announced it would halt admissions for 2018 and explore options for its future as it faced "severe financial challenges."
After Dean Andrea Lyon announced her resignation in March, Valpo announced in June that the school had reached a nonbinding agreement to transfer the law school to Middle Tennessee State University in Murfreesboro. Middle Tennessee president Sidney A. McPhee said that any potential transfer would result in his university obtaining the law school outright. Valparaiso Law School, he said, would be akin to a gift and not something that Middle Tennessee would be merging with or buying.
"Our exploration of this proposal is in keeping with MTSU's tradition and strategic priority of pursuing innovative partnerships that create meaningful opportunities for our students, our region and our state," McPhee said.
By early October, the governing bodies for both schools had agreed to the move. "I'm confident this agreement will continue the great legacy of Valparaiso University Law School and serve an area of the country without an accredited, public law school," said Frederick Kraegel, chair of the Valparaiso University Board of Directors.
While the transfer was touted as a gift, Middle Tennessee had agreed to pay Valparaiso $2 million to cover the costs and expenses related to the transfer. Moreover, MTSU would have reimbursed Valparaiso for the liability insurance procured in conjunction with the transfer for a period of five years.
But the deal never made it that far. On Oct. 15, the Tennessee Higher Education Commission rejected the proposed move in an 8-5 vote. With six law schools in the Volunteer State, including two public institutions, the commission appeared concerned about competition, McPhee said.
About two weeks after the move was rejected, Valparaiso announced the law school would close in 2020. "It's a very sad day," Valparaiso University president Mark Heckler said after the decision was announced Oct. 30. He said the rejection of the move to Middle Tennessee was "an unexpected and very bitter disappointment for everybody involved."
Valpo Law's closure will give Indiana the dubious distinction as the only state in which two law schools have ceased operations. Upstart Indiana Tech Law School closed in 2017 after four years.
Department of Child Services Director Terry Stigdon, backed by Gov. Eric Holcomb, talks to reporters after a study found Indiana places children in foster care at well more than twice the national rate. (Photo courtsey Department of Child Services)
3. Tumult at DCS continues as report finds fault
The fallout from former Department of Child Services director Mary Beth Bonaventura's bombshell departure with a scathing exit letter to Gov. Eric Holcomb in December 2017 continued to impact the agency and state government in 2018.
Holcomb spent much of late 2017 and early 2018 trying to repair damage caused by the acrimonious accusations Bonaventura laid at his feet. Among other things, she claimed in her resignation letter that DCS budget cuts amid the opioid crisis meant "lives will be lost and families ruined."
To lead the agency, Holcomb turned to Terry Stigdon, former clinical director of operations at Riley Hospital for Children at IU Health in Indianapolis, who began on Jan. 1. "I am honored by this incredible opportunity to put my experiences and passions to work as never before to improve the lives of children and families around the state," Stigdon said.
Holcomb also announced the hiring of a consultant, the Alabama-based Child Welfare Policy and Practice Group, to perform a comprehensive review of child welfare in Indiana, leading Democratic lawmakers to blast administration "secrecy" and demand that a review of the agency be conducted in public. "I don't think the Legislature should be out there with major hearings going on until the end of session," then-Republican Senate leader David Long, of Fort Wayne, responded. "I don't think we're effective at doing that."
Nevertheless, lawmakers did take action, passing more than 10 pieces of DCS-related legislation in 2018. Measures included a foster parents bill of rights, an increase in the number of children a foster home may have, and measures increasing DCS procedural notification requirements, among others. Lawmakers also approved further study of the agency.
After the session, the Holcomb-ordered report was issued. It found Indiana's rate of children in the foster care system is 13 per 1,000 children — well more than twice the national average of 5.6. The state's rate of children entering care is 8 per 1,000 children, compared with the national rate of 3.6. A major culprit is the opioid epidemic, the report said, confirming what Indiana juvenile judges have been bemoaning for years. Parental drug use accounted for 55 percent of all removals in 2017 — nearly twice the rate of four years prior.
As the report was issued, Holcomb announced a $25 million increase in agency funding, though critics said far more is needed. The governor also said the state would work to transform a "culture of fear" in the workplace at DCS.
Pledging a new day at the agency, Holcomb said, "We'll reduce the staff turnover rate, which is about 30 percent. We'll provide support for foster families so another 1,800 don't give up their licenses. We will get to the bottom of why the rate of Hoosier children in out-of-home care has more than doubled in the last five years."
Meanwhile, Bonaventura found new work in state government. She went to work in January as special counsel in the office of Indiana Attorney General Curtis Hill.
4. Indiana civil forfeiture case goes to SCOTUS
Indiana may now be ground zero for lawsuits over what civil forfeiture critics call policing for profit, and what happens with a Marion man's Land Rover could guide future seizures of property that law enforcement connects with crime.
The United States Supreme Court in November heard arguments in Tyson Timbs v. Indiana, 17-1091, a case brought by the Virginia-based Institute for Justice. The question before justices is whether the seizure of Timbs' $42,000 Land Rover in connection with a drug transaction was an excessive fine forbidden by the Constitution. The Indiana Supreme Court affirmed the seizure, overturning lower court rulings, holding that the Eighth Amendment's Excessive Fines Clause had not been incorporated to the states. Some justices of the nation's highest court seemed nonplussed by Indiana's decision.
Justice Stephen Breyer pressed Indiana Solicitor General Thomas Fisher on his argument that because the court action is against property, the civil forfeiture isn't a fine. Breyer asked whether it would be appropriate to seize either a Bugatti or a jalopy if the driver was going 5 mph over the speed limit. Fisher said the type of car would not matter — all that would be relevant is the fact that the car was being used to commit a crime.
"Really? Come on, General," Justice Neil Gorsuch chided Fisher at one point in the argument.
While the Timbs case is pending before justices in Washington, another civil forfeiture case, Jeana M. Horner, et al. v. Terry R. Curry, et al., 18S-PL-00333, is before the Indiana Supreme Court. The issue in Horner is whether all forfeiture proceeds must be deposited into the Common School Fund pursuant to Article 8, Section 2 of the Indiana Constitution. A Marion Superior Judge found that the phrase "all forfeitures," as it was understood at ratification in 1851, did not include civil forfeitures. Indiana justices heard arguments in the case in October but had not ruled at IL deadline.
As those cases worked through the courts, some of Indiana's civil forfeiture issues were addressed in the Legislature this year. Reforms were passed that, among other things, increased due process protections for property owners.
5. Judge orders Marion County early voting; Hill draws ire
A lawsuit alleging that a lack of early voting locations in Indianapolis was discriminatory and constituted voter suppression was settled in July. District Senior Judge Sarah Evans Barker approved a consent decree, and the Marion County Election Board established six early voting locations around Indianapolis for the 2018 general election. Then Attorney General Curtis Hill got involved.
Igniting a fresh controversy weeks after he was accused of sexual misconduct, Hill attempted to intervene to block the consent decree, arguing that the agreement between the board and plaintiffs Common Cause of Indiana and the NAACP was unenforceable. He also questioned the legitimacy of the board's vote, provoking a public rebuke from Indiana Secretary of State Connie Lawson, a fellow Republican whose office regulates elections.
"I support Marion County's unanimous decision to adopt satellite voting. I urge Attorney General Hill to drop this," Lawson said in a statement in August. She called his actions "reckless" and said they did not reflect the will of voters. Hill, Lawson complained, "did not have the professional courtesy to provide me notice of his motion, even though I am named as a party in the suit."
Barker was having none of Hill's effort to intervene. She tersely rejected it two days after it was filed, finding Hill's objections wholly without merit. "The State's lawyers may entertain what preferences they will, but violations of federal rights justify the imposition of federal remedies," Barker wrote.
But Hill has nevertheless appealed the ruling to the 7th Circuit Court of Appeals, where arguments have not yet been scheduled.
Marion County voter turnout in the 2018 midterm election was 48 percent — nearly twice the 24.7 percent who voted in the 2014 midterm and the highest turnout in a midterm election since 1990.
6. New judges Sweeney, Hanlon join Southern District
Sweeney
After a period of eight years with no new judges added to the federal bench for the Southern District of Indiana, two nominees of President Donald Trump were confirmed this year.
James Sweeney II, a former Barnes & Thornburg partner and Marine Corps veteran, sailed through U.S. Senate confirmation in August as the successor to Judge Sarah Evans Barker, whose seat on the court had been vacant since she took senior judge status in 2014.
Described by friends and colleagues as humble, modest and a go-to person, Sweeney's confirmation was "truly good for the state and the country," Barnes partner Julia Spoor Gard said. "We need more judges like Jim."
A couple of months later, Faegre Baker Daniels partner James Patrick Hanlon was seated on the federal bench on Oct. 11. Both Hanlon and Sweeney were confirmed by voice vote — rare shows of bipartisanship in the factious Senate.
Hanlon
"J.P. is good people," Faegre partner Matthew Albaugh said of Hanlon. "He is not flusterable, if that's a word."
A former assistant U.S. attorney for the Southern District of Indiana, the Valparaiso Law School graduate brought to the court a wide range of public and private sector experience. Hanlon worked for Chicago law firms and took leadership roles as an AUSA combatting gang activity and training law enforcement.
Hanlon succeeds Southern District Judge William T. Lawrence, who assumed senior judge status in July.
"Let me say how honored I am that any of you would make your way to the courthouse for such an occasion as this," Sweeney told a packed federal courtroom in November during his investiture. "I'm humbled to stand before you today. I've learned from and leaned on each of you in some way and I appreciate that."
The investiture ceremony for Hanlon had not been scheduled at IL deadline.
7. Courts get message as lawyers oppose cell number disclosure
Few proposals are so thoroughly disliked as one that would have required lawyers to provide their cellphone numbers when filing appearances in matters. Lawyers spoke, and the court listened.
The amendments to Rule of Criminal Procedure 2.1 and Rule of Trial Procedure 3.1 proposed in March by the Indiana Office of Judicial Administration were zealously opposed by the legal community. Many lawyers said making their cellphone numbers publicly available simply went a step too far.
Former Supreme Court Chief Administrative Officer Mary Willis said the proposal was meant as a means to provide lawyers notice of court dates via text messages. "It's a common practice used to a successful end to keep people notified," Willis said.
But lawyers — particularly those who practice family law — were concerned about their safety, privacy and the prospect of unwelcomed and unwanted calls from opposing parties on their personal devices. Others worried about the prospect of being on-call 24/7.
The response was heeded. In July, the court announced a series of rule amendments, but the cellphone disclosure amendment notably was not among them.
"Attorneys: thank you. We heard your concerns. The Court did NOT approve the proposed rule requiring attorney cell numbers on the appearance form," the Indiana Courts announced on its @incourts Twitter account.
Indiana Lawyer's online poll is by no means scientific, but a question on this issue garnered more reader response than any other asked in 2018. Of the responses, just 1 percent said they favored the proposal, and 66 percent opposed it. A third, 33 percent, said they would favor disclosing their cell numbers to the court, but not to the public.
8. CBD oil legalized – is medical marijuana next?
The Indiana General Assembly passed a bill legalizing CBD oil derived from cannabis, but budding Statehouse efforts to legalize medical marijuana face much harsher prospects.
Attorney General Curtis Hill in late 2017 ruled CBD oil illegal, but Gov. Eric Holcomb tapped the brakes, giving retailers 60 days to remove CBD products from store shelves. Ultimately, Holcomb's intervention also gave lawmakers time to pass a law torching Hill's official opinion.
Responding to outcry at the prospect of CBD being pulled from the market, Sen. Jim Tomes, R-Wadesville, filed a bill on Jan. 2 to legalize cannabidiol that contains no more than 0.3 percent THC. He said he'd heard from constituents who swore by a treatment that relieved pain without the side effects of prescription drugs. "When we're done, CBD will be as easy to obtain as baby aspirins," Tomes said. Holcomb signed the bill into law in March.
But for all of Tomes' support for CBD, he, like many lawmakers, is of a different mind on medical marijuana. After a Statehouse study committee in October heard hours of testimony on medical marijuana, Tomes said he was concerned about the potential for abuse.
Supporters in both parties, including Rep. Jim Lucas, R-Seymour, and Sen. Karen Tallian, D-Portage, acknowledge legalizing medical marijuana will be tough in Indiana, particularly with Holcomb expressing caution and Hill staunchly opposed. Nevertheless, a November poll showed just 16 percent of Hoosiers favor the continued criminalization of marijuana, and the state is becoming an outlier as the cannabis industry expands nationwide. More than three-fifths of states have some form of legalization. Illinois and Ohio have legalized medical marijuana, Michigan this year legalized recreational marijuana, and medical marijuana is currently being debated in the Kentucky Legislature.
9. Lawyer in Park Tudor scandal faces discipline
High-profile Ice Miller employment attorney Michael Blickman was hit with a formal disciplinary action in November stemming from his representation nearly three years earlier of Park Tudor High School in a sex abuse scandal involving a former coach who's now in prison.
Blickman, 65, was accused in an 18-page discipline complaint of possessing and copying child pornography, failing to immediately report suspected child abuse and other violations that could result in the Indiana Supreme Court taking action against his law license. Ice Miller said it stood behind Blickman but would not comment on the pending discipline case.
The Supreme Court Disciplinary Commission alleged Blickman let his personal friendship with then-Park Tudor basketball coach Kyle Cox adversely affect his representation of Park Tudor. Blickman represented the school when a parent brought to the school evidence that Cox had exchanged sexually explicit texts and images with a 15-year-old female student. Blickman, the commission said, took a laptop from the girl's father and had his law firm copy its contents before returning it. Authorities were not notified about the alleged abuse for more than a day after the evidence had been presented.
Blickman faces discipline counts for allegedly failing to immediately report suspected child abuse; for possessing and copying child pornography, and; for "imploring the Victim of a criminal act and her family from cooperating with law enforcement, seeking financial inducement or the withdrawal of financial benefit to discourage such cooperation, by engaging in conduct the purpose of which was to stop or limit a criminal investigation of a third person, and asserting a non-existent privilege to delay or hinder a criminal investigation."
10. Judge strikes down DOC lethal injection secrecy statute
The Indiana Department of Correction has been ordered to disclose drugs it has on-hand that could be used in a potential lethal injection execution, but the department went to extraordinary lengths to subvert a judge's ruling on the matter.
Marion Superior Judge Sheryl Lynch twice has ruled that Washington lawyer A. Katherine Toomey is entitled to such public information, but in a November order, she chronicled how the department worked with Gov. Eric Holcomb's office and the General Assembly to get a "secrecy statute" inserted into the state budget in the final days of the 2017 session. Lynch struck the law — which barred anyone from DOC staff to pharmacists from disclosing the information — as unconstitutional on First Amendment and multiple other grounds.
"In passing the Statute while Toomey's case was pending with the Indiana Court of Appeals and the Indiana Supreme Court, the General Assembly unconstitutionally took away the judicial power," Lynch ruled. "The General Assembly does not have the authority to determine the outcome of pending litigation. As applied to this case, the General Assembly's passage of the Statute overstepped its authority and violated the Indiana Constitution's Separation of Powers by disturbing a pending case and upsetting this Court's judgment."
DOC has not commented on the ruling in the case, A. Katherine Toomey v. Indiana Department of Correction, 49C01-1501-PL-3142. Holcomb's office said it was reviewing Lynch's order. The decision came after the Indiana Supreme Court ruled in February that DOC did not need to go through a public rule-making process to develop an execution protocol.
Year's other big news
Indiana Lawyer staff members also voted these among the top legal news stories of 2018:
School safety: The May 25 Noblesville West Middle School shooting in which a 13-year-old gunman injured a classmate and a teacher spurred wider discussions about school safety and juvenile justice. The teen showed "no remorse," a judge said in November after the boy admitted responsibility for the attack and apologized. He was placed in juvenile detention at the Department of Correction until he turns 18, after which he will be on probation.
Hate crimes: Indiana again failed to adopt hate crimes legislation that has been presented in the General Assembly annually for years. The state remains one of just five states without such a law, and Gov. Eric Holcomb called on lawmakers to pass a bill after anti-Semitic graffiti was spray-painted at a suburban Indianapolis synagogue in July. After the issue was the subject of an interim study committee this year, backers are optimistic a bill will pass in 2019.
Tavitas joins Court of Appeals: Former Lake Superior Judge Elizabeth Tavitas was appointed to the Indiana Court of Appeals. Gov. Eric Holcomb selected Tavitas in July to succeed retired Judge Michael Barnes, who stepped down from the court after 40 years of public service nearly equally divided between two decades on the appellate court and two prior decades as St. Joseph County prosecutor.
Big civil damages verdicts: Carmel spine surgeon Rick Sasso won a $112 million damages verdict against medical supply giant Medtronic in a patent dispute decided in November by a jury in Marshall County. An Indianapolis man who was permanently injured in a crash after his intoxicated friend took the keys to his truck was awarded $35 million, but subsequent litigation over insurance coverage leaves payment of the judgment up in the air.
Diversity, mental health CLEs: A resolution adopted by the Indiana State Bar Association House of Delegates in October would require for the first time that attorneys' continuing legal education requirements include one credit hour each on the topics of diversity and inclusion, and mental health and substance abuse. The Indiana Supreme Court has not yet taken action on the recommendation.
Opioid epidemic: The Legal Services Corp.'s Opioid Task Force met in Indianapolis to address legal aid implications. Chief Justice Loretta Rush played a key role in that meeting, as she did in co-chairing the National Judicial Opioid Task Force, which came to the Circle City in June. In November, Attorney General Curtis Hill announced Indiana would sue Purdue Pharma for damages related to opioids.•
Please enable JavaScript to view this content.