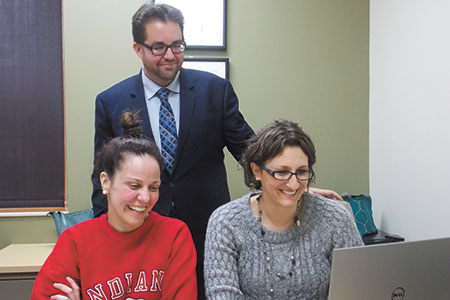 As a 20-something adult settling into a beautiful apartment in downtown Indianapolis and loving her job as a paralegal, Erin White was looking forward to starting the next chapter of her life when she learned the hard lesson about best-laid plans.
White, now 34, was diagnosed with severe narcolepsy, a neurological disorder that includes excessive sleepiness, sudden muscle weakness and even paralysis. The disability robbed the bubbly woman of her energy and excitement, leaving her struggling to complete simple chores such as returning a library book.
"It took me a while before I realized just how devastating that was," White said, reflecting on her early battle with the affliction. "It took me years before I was able to fully realize I was a shell of myself."
Today, White is enjoying her life again. She is back to having her own apartment and is a manager at a Goodwill boutique store, Vintage Vogue. Bad days still visit, but they no longer sap her desire to thrive.
White was helped by Tangram, a nonprofit in Indianapolis that provides support for individuals with disabilities, and the new PLAID program. Launched in 2016 by Indiana Legal Services, the Providing Legal Assistance to Individuals with Disabilities initiative is partnering with agencies in Fort Wayne and central Indiana focused on serving individuals with disabilities.
The disabled can be an especially vulnerable population, and people such as White who have disabilities that are not readily apparent can become entangled in situations that put their independence and well-being at risk, said Jay Chaudhary, ILS managing attorney. They do not always realize when they are being taken advantage of, Chaudhary said, which makes them easy targets.
PLAID was modeled after the medical-legal partnership program at Indiana Legal Services, a program that Chaudhary started. MLPs provide civil legal assistance to patients whose health is being harmed by issues that could have a legal remedy. In the PLAID program, the clients are offered legal assistance for expungements, Social Security and Medicaid appeals, and landlord-tenant disputes.
"At the end of the day, they're human just like you and I, and they have the right to everything everybody else does," Stephanie Buttler, Tangram director of behavioral health, said of people with disabilities. "A disability doesn't disqualify that."
'Still in awe'
ILS staff attorney Nick Parker oversees the PLAID program, providing guidance and representation to the agencies and their clients. Inspired by his grandmother who worked with disabled individuals and his mom who has multiple sclerosis, Parker knows well the obstacles those with disabilities face, as well as the potential they have.
Parker realized immediately when he started working with PLAID what needed to be done. It is important to help clients understand what is happening, he said, and assure them they have a partner in the process.
"We're going through this together," Parker said. "I'm not letting them feel like just another cog in the bureaucracy."
White credits Parker with giving her peace of mind. He has provided guidance on filing paperwork for Social Security benefits so she can continue to work without losing the governmental support she needs and has appeared with her at hearings, even making time to attend one that was days away from his wedding.
Perhaps most importantly, Parker has helped White navigate the confusing and complex waters of Medicaid. White depends on potent prescription drugs to function, and with some of her medications costing $1,000 a month, the public insurance program is a lifeline.
At one point, White had to switch her Medicaid benefits to, again, ensure that her ability to hold down a job would not make her ineligible for the medical support. She became scared as she and Buttler plowed through forms and terms, trying to find the Medicaid program that would cover her medicines.
It was Parker who ultimately helped White and Buttler make the right switch. He pinpointed the problem, got the right form and cleaned up a little bureaucratic miscommunication.
"I guess I was overwhelmed by it all," White said. "Nick was so down to earth, I'm still in awe."
Expected expansion
When ILS first began talking to agencies about starting the PLAID program, Chaudhary remembers meeting some skepticism. The organizations did not see the need to bring in an attorney for work they had been doing themselves.
But Buttler has seen the benefit Parker provides and is often talking about ways Tangram can access his services to help more clients. Without his help, she said, she and White would have stumbled on trying to figure out Medicaid, researching and reading documents and asking for advice from colleagues. All the while, they would have known that if they did not pick the right Medicaid program, White would have lost coverage for her medications.
Parker deflected the compliments Buttler and White paid to him.
"For everything that PLAID's able to give back to consumers and families, I guarantee they're giving just as much back to me and my personal growth as an attorney," he said. "I just can't thank the providers enough for making this project a success."
Since it started, PLAID has helped more than 400 clients, far exceeding the amount originally anticipated. The program was first funded by nearly $200,000 in grants mostly from the Lilly Endowment, the Governor's Council for People with Disabilities and Anthony Wayne Services. Now, the program is working to become self-sufficient and is looking to expand to other areas of the state next year.
White said the support of her family, along with help from Tangram and PLAID, enabled her to succeed in a life she did not imagine. She remembers when her neurologist explained what she could expect living with narcolepsy — if she properly managed her medications and sleep schedule, she could aspire to about 70 percent to 80 percent of a normal life.
"Initially I was really devastated by that," White said, "but, if anything, I'm grateful for the 70 to 80 percent now."•
Please enable JavaScript to view this content.