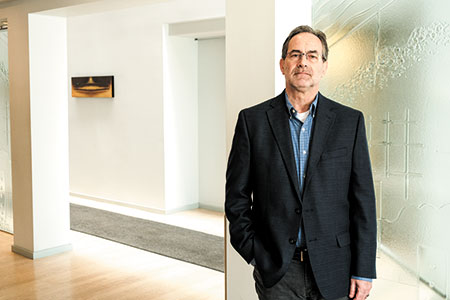 With nearly three dozen attorneys and a practice portfolio that spans health care, litigation, business and real estate, Katz Korin Cunningham in Indianapolis would seem to be a prime target for larger firms looking for merger opportunities.
Managing partner Michael Gabovitch confirmed KKC has been approached as mostly regional firms have inquired if the firm has any interest in combining offices or being acquired.
However, Gabovitch said, his answer is always the same — "unequivocally no."
The firm, Gabovitch said, equates a merger with giving up some of its freedom. Rather than being controlled by a firm in another state, KKC wants to make its own decisions in-house, take care of its clients as it sees best and allow its lawyers to model their practices to fit the needs of their clients.
And KKC has been growing. The firm has been snapping up lateral hires, practice groups and even making room for two new associates who will be joining the firm after they graduate from law school in May. In June 2017, Katz Korin added Cunningham to its nameplate when Norris Cunningham and his health care litigation team relocated from Hall Render Killian Heath & Lyman.
The firm is not growing just for growth's sake, with Gabovitch maintaining, "We don't see becoming a behemoth." Instead the expansion is happening organically, he said, through relationships KKC attorneys have built with lawyers at other firms. In turn, KKC has been presented with opportunities to pick up talent that it could not refuse.
"We believe we have an environment in which lawyers enjoy practicing," Gabovitch said, adding happy, productive attorneys produce additional work and bring in more business. "As all law firms, we want to be attractive to clients, but also to lawyers."
KKC is mirroring the mantra of "if you're not growing, you're dying" that many law firms abide by across the country. But, unlike KKC's strategy, a significant number of other firms are choosing to grow through mergers.
Altman Weil Inc., the management consulting firm serving legal organizations, has tracked law firm combinations since 2007 and reported that 2018 saw a record 106 combinations. Acquisitions of firms with two to 20 attorneys represented 80 percent of the combination activity, while firms with 21 or more attorneys comprised 20 percent.
Missing from all the realignment, however, was Indiana.
From 2007 to 2016, Indianapolis was a top target for merger activity, according to Altman Weil, but in 2017 the movement dropped to just two combinations involving Indiana firms. That year, Stoll Keenon Ogden PLLC in Lexington, Kentucky, acquired Bamberger Foreman Oswald & Hahn LLP in Evansville, and Bose McKinney & Evans LLP in Indianapolis acquired Roberge Law in Carmel.
No Hoosier-based law office participated in any merger in 2018, and with the first quarter of 2019 closing, Indiana remains out of the mix.
The hot pace of the legal merger market is not enticing KKC. The firm is not looking to be acquired, Gabovitch said, but rather, "We're interested in growing organically, as we have been."
Building their bench
Thomas Clay, a principal of Altman Weil, does not believe the absence of mergers poses an "existential threat" to the Indiana legal profession. Law firms in the state can compete by providing legal services at a lower cost and touting Midwestern values, he said.
Clay
Economics is driving the mergers, with larger firms scooping up smaller firms in places where the clients and money are, such as along the West Coast and in Texas, Chicago and Florida, Clay said. In looking for acquisition targets, he said, national and international firms are not interested in modest-sized law offices "in the hinterlands doing low-rate retail work."
"The morsel has to be tasty enough for the larger firms to actually get a deal done," Clay said. "The economics of Indianapolis compared to the rest of the state is better in terms of revenue and profitability, but having said that, they don't look like (the firms in) Chicago or Los Angeles."
Although Indiana firms are not on Altman Weil's MergerLine, Hoosier attorneys say they are fielding offers from other law firms.
Hall Render has been receiving calls and making calls to other firms, exploring if they could achieve by merging what they cannot achieve by themselves, according to John Ryan, managing partner. Growing just to grow can put a firm at risk of failure, Ryan said, so when Hall Render evaluates an overture, it looks to see if the merger can provide something or create an opportunity the firm currently does not have.
Ryan
Since 2014, the health care boutique firm in Indianapolis has grown from four to 10 offices around the country, primarily through lateral hires. Also this month, Hall Render is launching a recruiting campaign to lure more lawyers with health care expertise. The effort is expected to continue for a couple of years, and the goal is to bring in the "best and the brightest" health care attorneys.
Hall Render's focus on talent reflects the change Ryan sees in the merger market.
Previously, he said, firms were combining and acquiring to establish a foothold in specific geographic regions. As corporate clients shifted and consolidated, the lawyers wanted to be sure they had an office nearby. But today, Ryan said he believes firms are merging to build their benches and bring in lawyers who are exceptional in their practices and have deep knowledge of their respective industries.
Making lateral hires to fortify a practice group and attract new clients is less risky and easier to manage than growing through a merger, Ryan said. He does not think Indiana firms are shying away from these business marriages, but instead believes the local market is quiet because the firms that were willing and able to combine have already done so.
"It doesn't surprise me we're absent from that list," Ryan said of the Altman Weil 2018 report, "in large part because we had so much merger activity in the years leading up to now."
Finding a niche
McNeely
At McNeely Stephenson in Shelbyville, senior partner J. Lee McNeely believes the merger activity is being fueled by law firms wanting to improve their bottom line and appear to have more gravitas. Large firms attract larger clients for the simple reason that bigger is often perceived as better.
"Nobody ever lost a job because they decided to hire the largest law firm in town or in the country," McNeely said. He explained the person who decides to hire a smaller firm will be blamed if something goes wrong with the legal work, but if that person hires the biggest firm, then the decision will be seen as a good one even if the legal matter is fumbled.
Like Katz Korin Cunningham, McNeely has resisted firms that call with a merger proposal. He sees his firm as having carved a niche in the market by offering quality legal services to business clients who want personal attention but do not want to pay their lawyers $500 and $600 an hour.
"I don't aspire to be Jones Day," McNeely said, referring to the international law firm that has a roster of more than 2,500 attorneys.
As part of the consequence of making new hires, Gabovitch said his firm has learned the importance of integration. New lawyers who come on board are entering a completely different environment, having to learn everything from the procedures for entering their billable hours to where the office supplies are kept.
On top of this, clients are calling and expecting their attorneys to provide seamless service despite having just moved to a new office. It can be a challenge, but they do not panic, Gabovitch said.
"Part of what it means to be a lawyer is to address challenges," he said.•
Please enable JavaScript to view this content.