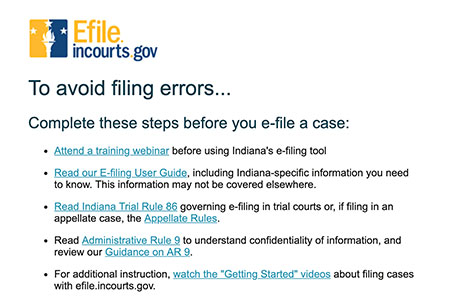 As Indiana nears the end of the electronic filing rollout, attorneys, paralegals and legal assistants have largely fallen into a comfortable rhythm. In the counties where e-filing is now a permanent fixture, filers have learned the rules for getting their cases docketed. They know where to upload a file, how to attach an exhibit and who to call for help — at least most of the time.
Even experienced filers occasionally run into problems that might get a document sent back to them. State and federal clerks are required to accept all filings in most circumstances, but that doesn't mean an attorney won't get a call from the clerk's office or an order from a judge asking them to refile a submission.
Usually, it's smaller technical issues that might trip up a filer — an incorrect case number, a missing signature, an exhibit that's not properly attached. It could also be the selection of the wrong case type, which can lead to improper payment of fees.
Filers largely agree that electronic filing has improved their work, cutting the time and money of printing off and distributing hundreds or even thousands of paper documents. But enjoying the full benefits of the electronic system, they say, is a matter of trial and error.
Reasons for rejection
Many attorneys recently had the chance to learn about some of the most common e-filing rejection reasons during the Indiana State Bar Association Solo/Small Firm Conference earlier this month in French Lick. Alex Braun of One Legal, one of the e-filing service providers available to Indiana attorneys, discussed common reasons for an e-filing rejection based on data gathered from Indiana, California, Illinois and Texas.
The most common rejection reason One Legal found was missing or incorrect information on a document, accounting for 30 percent of rejections. That's a broad category that can include issues such as inaccurate case numbers or a mismatch between the contact attorneys listed on the document and in the filing, Braun said.
Similarly, Indiana Southern District Court clerk Laura Briggs said one of the more common e-filing issues in federal court is a mismatch between the attorney who signed the document and the attorney who filed it, or a mismatch of attorney information when one attorney leaves a case. Those kinds of errors would need corrective action, Briggs said.
An incomplete or missing document was the second-most common rejection reason found by One Legal, accounting for 19 percent. That might include a missing prerequisite document, such as a proof of service or cover sheet, Braun said.
Other issues making up a smaller percentage of rejections include duplicate filings, missing signatures, incorrect fees, and defective, illegible or ineligible filings. Briggs likewise said a missing signature or illegible filing would require resubmission, while Allen County Clerk Chris Nancarrow noted that an incorrect fee payment is one of three reasons why his office could reject a filing outright.
Clerks' roles
Indiana Trial Rule 86(L) lists the three reasons a clerk could reject an electronic filing: unpaid fees, use of the wrong case management system or the request of the filer. In federal court, Federal Rule of Civil Procedure 5(d)(4) provides that a clerk "must not refuse to file a paper solely because it is not in the form prescribed by these rules or by a local rule or practice."
That means most Indiana rejections will come to an attorney directly from a judge. Solo practitioner Heather George Myers sees that playing out, saying it's rare for her to get a rejection from the clerk's office on the front end.
In Nancarrow's Allen County office, he's seen all three of the Trial Rule 86(L) exceptions. An improper fee payment might come from a missing waiver order or the selection of an incorrect file type, while an incorrect listing of a case number might prompt a filer to request rejection so they can correct their mistake. Or, an attorney might mistakenly file their juvenile case in the Odyssey case management system rather than in the Quest system, where juvenile cases must be filed in Allen County.
In federal court, Briggs said her office might ask for a corrected resubmission or restrict access to a filing, or a federal judge might strike a document, but the clerk's office will never outright reject a filing for noncompliance. If they notice an issue on the front end, Briggs' office will email the attorney outlining the issue and direct specific corrective action, if needed.
In practice
In her Johnson County practice, Myers has noticed e-filing issues with supplemental documents that are filed.
For example, many counties have a local rule requiring attorneys to file a proposed order each time they file a motion, and judges will reject those filings if the proposed order is missing. Similarly, when filing a confidential document, Myers said attorneys can run into issues if they forget to file a notice indicating the file should be kept confidential.
Amy Yeskie, a paralegal with Krieg DeVault in Indianapolis, does most of her filing in federal court, where she most often runs into the issue of selecting the wrong filing type. Indeed, Briggs said the most common question her office gets from attorneys is which "event," or document type, should be used to file the document. If it's a motion, for instance, what kind of motion is it?
An event mismatch can lead to an incorrect filing fee, Briggs said, which would require corrective action on the filer's part. Yeskie said filers who are still learning the ropes often ask her how to decide which event to use.
Braun, speaking on behalf of One Legal at the Solo/Small Firm Conference, recommended choosing the most general event that encompasses the document, or choosing the event with the highest fee to avoid underpayment. When Yeskie's in doubt, she calls the clerk's office directly and asks for guidance.
Seeking guidance
Nancarrow's office still receives those calls for help, but they're coming less frequently as attorneys get used to Allen County's e-filing system. Now, his office rejects only about three to five filings per week.
If a filing is rejected, the attorneys say there is a grace period built in — 72 hours in state courts — to correct any defects. The same sort of grace period was allowed in the days of paper filings, Myers said.
To avoid a rejection or request for resubmission, Briggs recommends attorneys practicing in federal court familiarize themselves with the local rules and the ECF Policies and Procedures Manual. Yeskie actively tries to stay abreast of rule changes, regularly checking court websites and attending CLEs to ensure she doesn't miss an update.
On the state side, Nancarrow recommends reviewing the e-filing website, which includes tutorials and user guides. In fact, when someone calls him for help, he sends them to the site before doing anything else.
In general, Braun said the feedback One Legal has received is that e-filing in Indiana is going smoother than in other jurisdictions. Hoosier filers agree, saying that with guidance from the clerks, they've largely been able to clear the hurdles between paper and electronic documents.•
Please enable JavaScript to view this content.