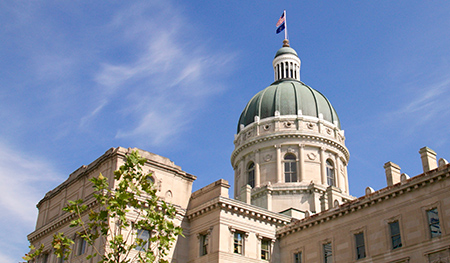 Rep. Sean Eberhart likely created a first in Indiana Statehouse history when he zipped down the aisle of the House of Representatives on an electric scooter. The Shelbyville Republican not only showed his colleagues what they were regulating, but he also injected some fun into the long 2019 session of the Indiana General Assembly.
Rep. Sean Eberhart, R-Shelbyville, opens the debate on regulating electronic scooters by riding one down the House aisle. The resulting new law, HEA 1649, places some regulations on their use. (Photo courtesy of Indiana House of Representatives)
Although the $34 billion budget dominated the session, legislators introduced and considered more than 600 bills each in both the Senate and the House. The ones they passed covered a variety of matters, including hate crimes, hemp, gambling, foster parents, electricity generation and, of course, scooters. House Enrolled Act 1649, now Public Law 142, attempts to regulate some of the upheaval created when thousands of rental e-scooters were unexpectedly dropped into Indianapolis, Bloomington, South Bend and other Indiana cities.
Below is a review of some of the more significant bills that became laws this year.
ABORTION
HEA 1211 (PL93) Second trimester
Even as federal courts have continued to strike down the Legislature's previous attempts to limit access to abortions, the Statehouse passed this bill that prohibits second-trimester dilation and evacuation abortions. The legislation creates exceptions if the mother's health or life is at risk. It also makes performing a second-trimester abortion a Level 5 felony and allows for the recovery of damages and attorneys' fees.
One day after Gov. Eric Holcomb signed the bill, the American Civil Liberties Union filed a federal lawsuit, claiming the ban violates the Due Process Clause of the 14th Amendment. The plaintiffs have asked the Southern Indiana District Court to issue a preliminary injunction.
SEA 201 (PL72) Ethical exemption
This bill prohibits nurses, physician assistants and pharmacists from being required to perform an abortion or assist with an abortion if the provider has ethical, moral or religious objections. It also prohibits requiring providers to prescribe, administer or dispense an abortion-inducing drug.
Opponents of this measure were concerned women could be denied access to non-abortion medical treatments if the provider suspects the drugs will be used to terminate a pregnancy. Also, some see the possibility that this bill could enable a broader attack on access to contraceptives.
CHILDREN
Ever since Mary Beth Bonaventura resigned in December 2017 from her position as executive director of the Indiana Department of Child Services and accused the governor of putting children's lives at risk, the Legislature has taken a special interest in the troubled agency. The Statehouse passed two key laws this year which came out of the summer study committee tapped to review DCS and its policies.
SEA 1 (PL210) focused on foster parents and making the best interest of the child paramount. The bill gives foster parents the right to intervene in child-in-need-of-services and termination of parental rights proceedings and the right of first refusal if a child they previously fostered is placed back in the system after being returned to the biological parents.
HEA 1006 (PL198) implemented the recommendations made by the Alabama-based Child Welfare Policy and Practice Group, which examined DCS in 2018. The bill lowers the caseloads of DCS family case managers to no more than 12 families receiving in-home services or 13 children in out-of-home placement. It also expands from 30 to 45 the number of days DCS has to submit a report on an allegation of child abuse or neglect.
CRIMINAL LAW
SEA 551 (PL40) Crime victims
A provision in this 22-page bill expands the sex offenses that may be prosecuted before the victim reaches 31 years of age. The expanded list of offenses includes child molesting, vicarious sexual gratification, child solicitation, child seduction, sexual misconduct with a minor and incest.
SEA 424 (PL36) Rape kits
Under this bill, the Indiana Criminal Justice Institute will expand its reimbursement database to also track sexual assault examination kits. The legislation also requires law enforcement and prosecuting attorneys to use the tracking system to provide storage updates on the kits and enables the victim to register for notifications. Any personal information about the victim that is entered into the tracking system is confidential.
SEA 174 (PL215) Fertility fraud
Following the news that Indianapolis fertility specialist Dr. Donald Cline had used his own sperm to impregnate patients without their consent, prosecutors discovered Indiana had no law specifically prohibiting what the doctor did. The Legislature turned its attention to the matter and made fertility fraud a Level 6 felony. It also created a civil cause of action for fertility fraud, which enables the plaintiff to be awarded compensatory and punitive damages, or liquidated damages of $10,000.
SEA 488 (PL69) Public defenders
A special task force convened to review Indiana's public defender system made three recommendations for ensuring the accused have a right to counsel. The General Assembly agreed to one recommendation by authorizing the creation of multicounty public defender offices. This bill requires the interlocal agreements to be administered by a joint board.
An attempt to follow a second recommendation and provide state funding to support representation in misdemeanor cases failed. Although House Bill 1453 sailed through the House Courts and Criminal Code Committee and picked up bipartisan support, it stalled shortly thereafter.
ENVIRONMENT
HEA 1278 (PL250) Environmental committee
Among the provisions in this bill is the establishment of a 21st Century Energy Policy Development Task Force. The 15-member committee will examine and evaluate the state's policies regulating electric power plants and how possible shifts in electricity generation could impact reliability and affordability. Eight members will be appointed by majority and minority leaders in the Statehouse, while the remaining seven will be appointed by the governor.
GAMBLING
HEA 1015 (PL293) Gaming
With this new law, Hoosiers will be able to (legally) wager on their favorite sports teams. Advocates pressured legislatures across the country to open the betting windows after the U.S. Supreme Court ruled in Murphy v. National Collegiate Athletic Association, 584 U.S. ___ (2018), that the federal prohibition against states allowing fans to gamble on sports was unconstitutional. Indiana's law regulates sports wagering, sets fees on those licensed to conduct such wagering and imposes a 9.5 percent tax on the adjusted gross receipts from the sports betting.
The bill also permits a Gary casino to be relocated from the riverboat to an inland location and allows a new casino to be opened in Vigo County. Officials from Gary and Vigo County lobbied for the provisions, saying they would provide broad economic opportunity to their communities.
However, reporting by the Indianapolis Star spotlighted potential unfair deal-making that voters particularly hate about politics. House Speaker Brian Bosma had to recuse himself from voting on the gambling bill because he was doing legal work for the Vigo County Capital Improvement Board of Managers, which was pushing for the bill to establish a casino in Terre Haute. Also, Rod Ratcliff, chairman and CEO of the Indiana casino operator Spectacle Entertainment, was reported to have given Gov. Eric Holcomb two flights on his private jet in 2018 and made big contributions to Holcomb's largest 2016 campaign donor.
HEMP
SEA 516 (PL190) Regulation of hemp
At least seven bills were introduced either reducing the penalty for possession of small amounts of marijuana or decriminalizing it altogether, and another five bills sought to legalize the use of medical marijuana. All failed, but the bill legalizing hemp took root and became law.
The hemp law establishes a licensing framework for hemp growers and sellers. Anyone who violates the requirements of the license or a rule adopted under the hemp law is subject to a civil penalty and possible license revocation.
JUDICIARY
With overwhelming support in the Legislature, three counties are getting new magistrate judges and another county is getting a whole new court. HEA 1118 (PL48) provides a new magistrate to Howard County; HEA 1057 (PL25) allows an additional magistrate to serve the Vanderburgh Circuit Court and gives an additional magistrate to Vanderburgh Superior Court; and HEA 1332 (PL53) allows Marion Superior Court to appoint 24 magistrates as part of the county's conversion to replace court commissioners with magistrate judges.
Also, HEA 1173 (PL9) adds a superior court in Tippecanoe County.
However, Clark County went home empty-handed. HB 1155 would have opened two new circuit courts in the southern Indiana county beginning July 1. Despite a demonstrated need for the additional courts, the bill lost support when an amendment was approved by the Senate that called for the new judges to be appointed and serve for 5½ years before being put on the ballot.
The bill's author, Rep. Terry Goodin, D-Austin, told the News and Tribune of Jeffersonville that the amendment was unacceptable. "This is a democracy we live in, so I think folks ought to be able to vote on their judges," Goodin said.
PROBATE
SEA 518 (PL231) Probate commission
After the probate group was booted from the Legislature's list of interim study committees in 2014, attorneys and lawmakers worked for reinstatement. They scored a small victory in 2016 when the General Assembly established a probate study subcommittee as part of the Interim Study Committee on Courts and the Judiciary. During the 2019 session, they achieved a bigger success with the establishment of the Probate Code Study Commission. The new nine-member commission, all appointed by the governor, will study and make recommendations about the state's probate and trusts codes, as well as other topics referred by the Legislative Council.
In addition, this comprehensive bill authorizes the Indiana Supreme Court and its Office of Judicial Administration to establish and administer a statewide electronic estate planning documents registry. Items such as an electronic will and an electronic power of attorney can be deposited into the registry, which will be available to the public.
SELF-DETERMINATION
SEA 380 (PL68) Supported decision making
Hoosiers with disabilities now have another option instead of being placed under a guardianship — they can make their own decisions. This bill recognizes supported-decision-making agreements that enable adults with and without disabilities to make their own choices with some help and accommodation from designated individuals.
The push for this legislation was started in June 2018 when Jamie Beck became the first Indiana resident to have her guardianship terminated in favor of a supported-decision-making agreement. As a result, the 28-year-old Beck has moved from a nursing home into her own apartment and has secured steady employment.
SENTENCING
SB 198 (PL5) Bias crimes
Although some legislators have filed hate-crimes bills session after session, grassroots organizations drew new attention to the effort in recent years. Common arguments for such a law contended Indiana was one of just five states that did not have such a statute, and that the absence of the protections against bias-motived criminal acts sent the message that the Hoosier state is an unwelcoming place.
The General Assembly approved the addition of making bias motivation an aggravating factor in sentencing. However, the process included a recess on the Senate floor for a hastily called Republican caucus, emotional speeches by legislators and a list of protected characteristics being stripped from the bill. In the end, the list was reinserted, but some advocates are not claiming victory because while "sexual orientation" made the list, "gender identity" did not.
HEA 1080 (PL26) Credit time
Prior to October 2017, community corrections directors had been revoking good time credit. But in Richard D. Shepard v. State of Indiana, 84S01-1704-CR-00190, the Indiana Supreme Court took a closer look at the statute and found the directors actually did not have revocation authority. The original version of this bill allowed the Indiana Department of Correction to create protocols for enabling community corrections directors to revoke credit, but after an outcry from some Democrats worried about circumventing the public rule-making process, the language was tweaked to allow DOC to promulgate emergency rules.
HEA 1078 (PL240) Level 6 offenders
A key provision in the massive criminal code reform passed in 2013 was to keep lower-level offenders in the county jails where they could receive treatment and services to reduce their likelihood of recidivism once they were released. The Legislature approved this measure, which narrowed who could serve their sentences locally. Now, the courts may send a Level 6 felony offender to the Indiana Department of Correction if the individual is violent or has two prior unrelated felony convictions.
WRONGFUL CONVICTION
HEA 1150 (PL165) Exonerated prisoners
Hoosiers who are freed from prison after being wrongly convicted still have many hurdles to overcome to re-establish their lives. This bill seeks to remove some of those barriers by allowing exonerated individuals to participate in the programs and services offered to non-exonerees. Also, it entitles the person whose conviction has been vacated and is actually innocent to $50,000 for each year of incarceration, but the compensation is limited only to those individuals who have not filed a lawsuit or previously received an award of damages for the conviction.•
• IL managing editor Olivia Covington and reporter Katie Stancombe contributed to this report.
Please enable JavaScript to view this content.