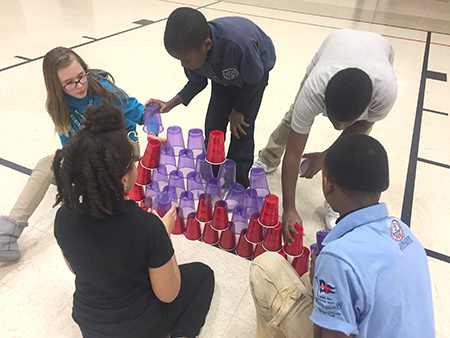 When Christina Bowden was hired to coordinate an afterschool program at Indianapolis' Ralph Waldo Emerson School two years ago, she was immediately bombarded with questions from staff and students. When was the program starting up again?
"They were so excited," Bowden recalled. "They look forward to it."
Interest in IPS 58's equally academic and entertaining afterschool program has only continued to grow since then, drawing participation from roughly 100 third- to sixth-graders. Bowden is tasked with developing and running the program, connecting with volunteers and partnership organizations, as well as making sure the kids get homework help and dinner before 6 p.m. each day.
Bowden
But without the assistance of one Indianapolis law firm, the program wouldn't be able to function at its current capacity.
Taft Stettinius & Hollister joined forces with United Way of Central Indiana in 2011 with the sole focus of creating and funding a robust afterschool program at IPS 58. Since both partners have joined hands with the school, Taft has donated more $1 million to help fund the afterschool program and other like academic initiatives.
United Way then disperses the funds into the school through its partnership with Shepherd Community Center, enabling funding for clubs, events and staff. Students in the afterschool program can partake in such activities as martial arts, dance, running, arts and crafts, computing, and more, Bowden said. Each presents opportunities to learn life skills outside of the classroom, including strategic thinking and communication.
The partnership's overall goal is to provide a positive space for students while also helping address diversity and socio-economic issues at a formative age, said Taft managing partner Robert Hicks. Thus, by offering additional educational opportunities, students can take next-level steps towards finding their way in the world.
"We don't care what these kids dream about, as long as they dream about something," Hicks said. "We want them to see themselves as having an opportunity to advance their personal interests and careers with their education."
Making connections
Offering financial assistance isn't the only way Taft hopes to make an impact in the students' lives, however. The firm also seeks to engage with the kids through meaningful human connection. That's where its staff has stepped in.
Roughly 30 Taft employees and attorneys opt to volunteer their time at the school each year, working with kids and teachers in a variety of outlets, Hicks said. Some come once a week, others help out a few times a month.
Buechler
"Our staff and attorneys love it," said attorney Stacia Buechler. "There's something about it that touches everyone. We personally get so much more out of it than we feel like we give."
Since partnership's inception, Buechler has helped behind the scenes and on the ground, initially serving on Taft's steering committee to help secure safe bus transportation for the afterschool program.
She's volunteered at the school's "Law Day" and worked one-on-one with students in the ReadUp tutoring program. More recently, Buechler said she wanted to see firsthand what the afterschool program looked like so she could get a better sense of the impact being made.
"I started to participate on a weekly basis wherever they needed me," she said. That included working with another instructor during an improv class that she said was an "absolute blast."
"Even though you're dressed in a suit, you're crawling around on the ground trying to be a sloth," she laughed. "I might look like a lawyer, but I'm in there playing with them, and they can see you and connect with you."
That connection is priceless, said attorney Stephen Rost, who has visited the same IPS 58 classroom for the last three years. He reads seven books — one per month — to a group of fourth graders through the Real Men Read program.
Sparking discussion and conversation with the students about what they've read together has tremendous value, Rost said. Even more valuable are the friendships and bonds that are formed in the process.
Rost
"It's an awesome program. I got involved and didn't know what to expect and it's blown me away," he said. "The kids are unbelievable."
With young children of his own, the attorney said he also sees the importance of having volunteers step in and get involved in the students' education. Rost said that partnerships such as Taft's can help show students that people in the community believe in them and recognize their value.
"And, it shows that when they leave the school that they, too, will have to carry the torch into the community and get involved with the younger generations," Rost said.
Passing the torch
Taft paralegal Rachel Anderson Reynolds said that seeing the students she tutors in reading and comprehension transform over the course of the year is incredibly rewarding. But the best part of the job, she noted, is seeing the student's excitement about their personal progress and growth.
Anderson Reynolds said it's important to be personally involved in volunteering, so that the students can visibly put a face to the person who's helping them and know they have someone rooting for them. She said she thinks that Taft does a good job of encouraging its employees to do just that.
"The more good you do, the more good will be done," she said. "I think it's important for kids to see adults volunteering, because they can grow up to volunteer. It's a cycle that helps improve the world."
Promoting a cycle of positive change is part of the impact Taft seeks to make, which both Hicks and Buechler said they are seeing come to fruition through the firm's long-term partnership with IPS 58. But the impact doesn't come from making big waves, Buechler said.
"More than anything, it doesn't matter to us whether it's a big impact or a series of tiny impacts, as long as we're helping to make the educational experience for even one kid better, or to make the teachers love teaching and feel supported by what we do," Buechler said. "That's all that really matters to us."
The partnership is already making an impact in the lives of the students, Bowden attested. It's made a drastic imprint on her own life.
"To see people so willing to give of their money and resources, and to be so invested – and for me to be the one directly seeing the impact that makes on the students is an honor," she said.•

Please enable JavaScript to view this content.