For the first time, Indiana Attorney General Curtis Hill is publicly recounting his version of what happened in the early-morning hours of March 15, 2018, when he allegedly groped four women while drunk at a legislative party.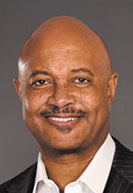 Hill this week has been the respondent in a disciplinary evidentiary hearing, In the Matter Of: Curtis T. Hill, Jr., 19S-DI-156. News broke in July 2018 that Hill was accused of inappropriately touching four women at the sine die party: Democratic State Rep. Mara Candelaria Reardon, legislative staffers Gabrielle McLemore Brock and Samantha Lozano, and former legislative aid Niki DaSilva.
During his testimony Thursday, this time as a witness in his own defense, Hill recalled in detail the actions he took on March 14, 2018, the last day of the legislative session. He spent the day working in an office at the Indiana Government Center as his staff monitored legislation regarding access to the consumer fund.
At about 8:30, Hill testified that he ventured out for dinner and ran into lobbyist Tony Samuel and some of Samuel's colleagues at the Capital Grille. Hill joined them for appetizers — specifically lambchops — and a glass of wine before part of the group moved on to the 1933 Lounge above St. Elmo's Steakhouse. Hill also had a glass of wine while there.
It was while at the 1933 Lounge that Hill learned his office had been defeated in the consumer fund legislation, but he was told that he had an unlikely ally on the floor, Sen. Greg Taylor. Believing Taylor would be at the sine die party, Hill said he agreed to join Samuel and others at the party so he could see and thank Taylor.
Hill arrived at AJ's Lounge with Samuel and others around 12:30 a.m., and within half an hour the bar became and remained "very packed," according to his testimony. Taylor was indeed at the party, and Hill said he took some time to speak with the legislator, as well as other lawmakers and partygoers that he knew.
Then, describing himself as a "fun guy" who likes to meet as many people as possible, Hill testified that he began a series of "quick hit" conversations with people he didn't know. While in the bar area, Hill saw Taylor working as a "celebrity bartender" and made a comment that, in order to get a drink from Taylor, people would need to show some "skin" or "knee."
According to Hill, that comment was directed at everyone near the bar — not a group of women, as DaSilva has testified — and he meant it as a joke aimed specifically at Taylor. He also said it was a reference to the movie "It Happened One Night" — a reference he said people of a younger generation might not understand.
During the night, Hill said he "nursed" a vodka martini and "sipped" a single shot of Fireball. Though he drank more that night than he normally does, Hill said he was not out of control.
While at AJ's, Hill recalled encountering Reardon, whom he knew through the Indiana Black Legislative Caucus and the legislative charity event Hoosier Idol. Both Reardon and Hill have performed in Hoosier Idol.
When the two struck up a conversation, Hill said he leaned in to hear Reardon better. He testified on the stand that he has a "hearing deficiency," particularly in his left ear, so the noise of the bar made it difficult to hear what people were saying.
Hill also testified to having trouble hearing during the disciplinary proceedings, and multiple times while on the stand he asked defense attorney Donald Lundberg to repeat his questions.
As he leaned down to hear Reardon, Hill said his hand brushed her shoulders and landed on her mid-to-lower back, a gesture he said was intended to steady himself so he could hear her better. He testified to being "startled" when he touched bare skin rather than fabric, then said he removed his hand and remarked about Reardon wearing a backless dress.
Specifically, Hill said he asked Reardon if the dress was the one she performed in at Hoosier Idol. He said he doesn't know if she responded, and he didn't recall if they had a second interaction. If they did, Hill said it was not "remarkable."
When asked directly if he squeezed Reardon's buttocks or put his hand under her dress, as she has alleged, Hill said "absolutely not." He also said he never heard Reardon say "what the f—" or "back off," as she testified to saying in response to his alleged groping.
Further, Hill said he never remarked, "That skin, that back," while trying to allegedly touch Reardon a second time. In general, he said Reardon did not express any anger or hostility toward him.
The AG also knew Lozano before the sine die party, having met her at the 2017 Hoosier Idol event. Earlier in the week, a photo was admitted of the two together at Hoosier Idol with their arms around each other's backs.
Hill explained the photo by saying Lozano had told him she went to school with his daughter, so he asked to take a photo to send to his daughter. Hill testified that he often does this when he meets people who know one of his five children.
Lozano is smiling in the photo, Hill said, and at the time she did not object or resist.
Lozano has testified that Hill grabbed her around the waist and pulled her close to him while at AJ's. But on the stand Thursday, Hill said the bar was crowded, so he helped "guide" people closer to the bar top to get their drinks.
Likewise as to DaSilva – whom Hill said he knew through her work for Sen. Ryan Mishler – Hill said he was helping usher people closer to the bar.
DaSilva has alleged that Hill rubbed his hand down her back, and when she used her hand to stop him, he placed both of their hands on her buttocks. Hill said on the stand he has "no recollection" of that happening.
Finally, Hill said he did not know Brock before the party, and he did not recall meeting her that night. However, he said he has a recollection of an "event" that "mirrored" her account of Hill rubbing her back.
Specifically, Hill said he remembers taking a seat at the bar and putting his hand on people's shoulders. But, he said, he never gave anyone a "sexual," "sensual" or "intimate" backrub — quoting words Brock used on the stand — nor did he rub anyone's back for "a couple" or "a few" minutes, as she has alleged.
Hill vehemently denied touching anyone at all in a sexual manner while at the sine die party. Instead, he said it is his custom — and a successful custom, at that — to physically engage with people he meets by placing a hand on their backs or shoulders to show connection.
The AG also cast claims that he "dirty danced" with a lobbyist in a different light, saying instead that there was an "Elvis-like" song playing, so he danced like Elvis would, including his famous leg and hip movements. Hill is a hobbyist Elvis impersonator.
At no time during the night did anyone tell Hill he had been drinking too much or needed to go home, he said.
Within the next few days, Hill said he heard from his then-chief of staff Joan Blackwell that a woman — identified on the stand as DaSilva — had been complaining about Hill's "show a little skin" comment. Blackwell also said there were complaints about Hill touching people, but he testified that he chalked those comments up to the "Statehouse rumor mill."
The party would not come to his attention again until June 29, 2018, when he participated in a three-way call with Bosma and Long. It was on that call that the legislative leaders told Hill about their internal investigation into the allegations against him and their "list of don'ts," as Hill called it: don't come to legislative events and don't talk to the employees.
Hill also learned on the call that The Indianapolis Star was writing an article about the allegations, but he said Bosma and Long did not provide additional context about the complaints.
The AG was preparing to board a flight at the time of the call, so he made arrangements with legislative leaders for a meeting the following Monday, July 2. It was at this meeting that Hill learned the memorandum prepared by Taft Stettinius & Hollister at lawmakers' request had been leaked by one of the four legislative leaders or their staffers, though Hill himself was not given a copy.
As the meeting went on, Hill said he became concerned he was being faced with a "political attack." He questioned in the meeting and on the stand the validity of the legislative investigation and the Taft memo, saying it was one-sided and rife with inaccuracies.
Eventually, Hill said his attitude in the meeting shifted into a defense mode, and he decided to fight. He did not see the Taft memo until it was released in the media, and he testified that he has never received an apology for the leak.
The matter was then referred to the Inspector General and a special prosecutor, and Hill's testimony was just getting into their work when hearing officer Myra Selby called for the daily lunch break. His direct testimony will continue Thursday afternoon.
Reardon testified Monday that after Hill groped her, she confronted him about his behavior toward her and told at least one person at the party that the AG was a "creeper." The prosecution on Monday also called as witnesses Hill's other accusers, followed by testimony Tuesday from legislative staffers who attended the sine die party, and from House Speaker Brian Bosma and former Senate President Pro Tem David Long.
Hill briefly took the stand as a commission witness Wednesday. Also on Wednesday, an employee in the Elkhart County Prosecutor's Office testified to Hill crudely propositioning her beginning in 2016, while Samuel, the lobbyist who took Hill to the party testified in the AG's defense.
Check back with theindianalawyer.com for updates.
Please enable JavaScript to view this content.