The attorney discipline hearing against Indiana Attorney General Curtis Hill began Monday with testimony from the state lawmaker who has accused Hill of grabbing her buttocks.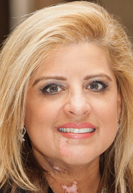 Rep. Mara Candelaria Reardon, D-Munster, was the first witness called in the evidentiary hearing in In the Matter Of: Curtis T. Hill, Jr., 19S-DI-156. Reardon is one of four women who have accused Hill of drunkenly groping them at a legislative party in March 2018 — accusations that form the basis of the disciplinary complaint against Hill, who has denied sexual misconduct.
The Indiana Supreme Court Disciplinary Commission has accused Hill of violating three Indiana Rules of Professional Conduct. In support of the commission's case, Reardon retraced the steps she took at AJ's Lounge on March 15, 2018.
According to Reardon, she arrived at the Indianapolis bar shortly after 1 a.m. with her intern and her legislative aid, Samantha Lozano, who has also accused Hill of sexual misconduct. The bar was crowded, but not shoulder to shoulder, Reardon said — people were congregating near the bar, while there was an open dance floor in the middle of the room.
It was in this open space where Reardon says she encountered Hill, whom she said smelled like alcohol and had glassy eyes. They exchanged pleasantries, and Hill then bent down as if he could not hear what Reardon was saying. The problem, the state representative said, was that she was not saying anything in that moment.
As he bent down, Reardon said Hill placed his hand on her back and proceeded to slide it all the way down to her buttocks. The dress she was wearing had an exposed back, so he was touching skin until he reached "draped" fabric around her belt line.
There, she said, the AG slid his thumb under the fabric while the rest of his fingers remained on the dress itself. He then squeezed her buttocks with a "firm grasp," she said.
Claiming she felt shocked, violated, angry and afraid, Reardon said she told Hill, "Back off. What the f—?" Her fight or flight reaction was flight, she said, because she didn't know what kind of "drunk" he might be.
From there, Reardon said she encountered a Republican partygoer, Logan Harrison, and told him, "Your boy is a f—ing creeper," meaning Harrison's "Republican teammate." But according to Reardon, Harrison said Hill was not his "boy."
Not long after the first incident, Reardon said she was standing in a circle with a group of people when Hill approached her again, placed his hand on her back and said, "That skin, that back."
"I knew where he was going with that hand," Reardon said Monday, adding that she moved away from Hill before he could grope her again.
Reardon told commission attorneys she views the sine die party, an annual tradition, as a work event because lawmakers often discuss the previous legislative session and possible plans for the next session while at the party. But in an attempt to bolster the defense claim that the March 15 party was an "unofficial event," attorney Jim Voyles asked Reardon if the Access to Public Records Act applied to the event, or if notice of the party was posted.
In response, Reardon reiterated that she views the party as a legislative event. But upon further questioning from Voyles — who said her views on the issue and the law's view are different concepts — she said she was not sure of the answer to his questions.
Voyles also asked Reardon to describe her dress, making the point that anyone who touched her back that night would have touched her skin. Reardon said she could not recall if anyone else touched her in a greeting.
In opening statements, the defense said Hill is an outgoing politician who physically interacts with people he meets.
Voyles also asked the representative to describe what she had to drink that night – two Grey Gooses with club soda. When Voyles asked if "many" people were intoxicated that night at AJ's, Reardon said "some" were.
On redirect, Reardon said she never finished her second drink. She also claimed that though she had been drinking, she was not impaired during either interaction she had with Hill.
The defense focused much of its questioning on the actions Reardon took after her encounters with Hill. Though she said Lozano saw the first incident of groping, the representative said she did not discuss her allegations with anyone else that night.
According to her direct testimony, Reardon planned to make an appointment with Hill, confront him directly and tell him to never look at or touch her again. But, she said, her plans changed in April when she learned that Lozano and Niki DaSilva, a Senate Republican aide, had similar experiences. She did not know the fourth accuser, Senate Democrat communications director Gabrielle McLemore, until later.
After learning of Lozano and DaSilva's experiences, Reardon said she decided to raise the issue with House leadership upon the convening of the 2018 special session in May. In the intervening weeks, Reardon said she reached out to the other women involved to see if they were comfortable with her bringing their names to legislative leaders.
The incidents were reported to House Speaker Brian Bosma and other legislative leaders on May 14, at which point an internal investigation was begun. As has been widely reported, that investigation led to the now infamous "Taft memo" — a document prepared by Taft Stettinius & Hollister detailing the results of the internal investigation.
Reardon testified that she did not know about the memo until it was provided to her in late June 2018 by a newspaper reporter. Upon reading the memo, Reardon said she was distressed that it included her name, as she had asked legislative leaders to remain anonymous.
She was also distressed about perceived inaccuracies in the memo. Specifically, the report said Hill put his hand under Reardon's dress, which she said gave the impression that he went up from her hemline, rather than down from her back.
As a result of those concerns, Reardon said she decided to publish an op-ed in the Times of Northwest Indiana to provide what she believed the true version of events. A criminal investigation began shortly thereafter, and Reardon was questioned in a "padded room" at the Munster Police Department where she said criminals are interrogated.
Hill was not criminally charged.
During her testimony, Reardon said she was uncomfortable with the setting of her police interview. Voyles pushed her on that point, asking why she didn't ask to change the location. In response, Reardon said she didn't know she had that option.
Voyles also asked Reardon why her filings with the Equal Employment Opportunity Commission said Hill's "hand" was under the fabric of her dress, rather than just his "thumb." In response, Reardon said she views "hand" and "thumb" as the same thing.
Though she said Hill has not suffered any consequences from his actions, Reardon became emotional as she discussed her personal consequences — panic attacks, a lack of trust and a fear of going out in public on her own. She also said she was removed from the Black Legislative Caucus.
Reardon's testimony concluded shortly before noon on Monday, and prosecution witnesses were expected to continue into the afternoon.
In opening statements, Donald Lundberg, another of Hill's defense lawyers, presented two main themes of Hill's case: a difference in perceptions, and the proper role of the Disciplinary Commission.
Check back with theindianalawyer.com throughout the week for updates.
Please enable JavaScript to view this content.