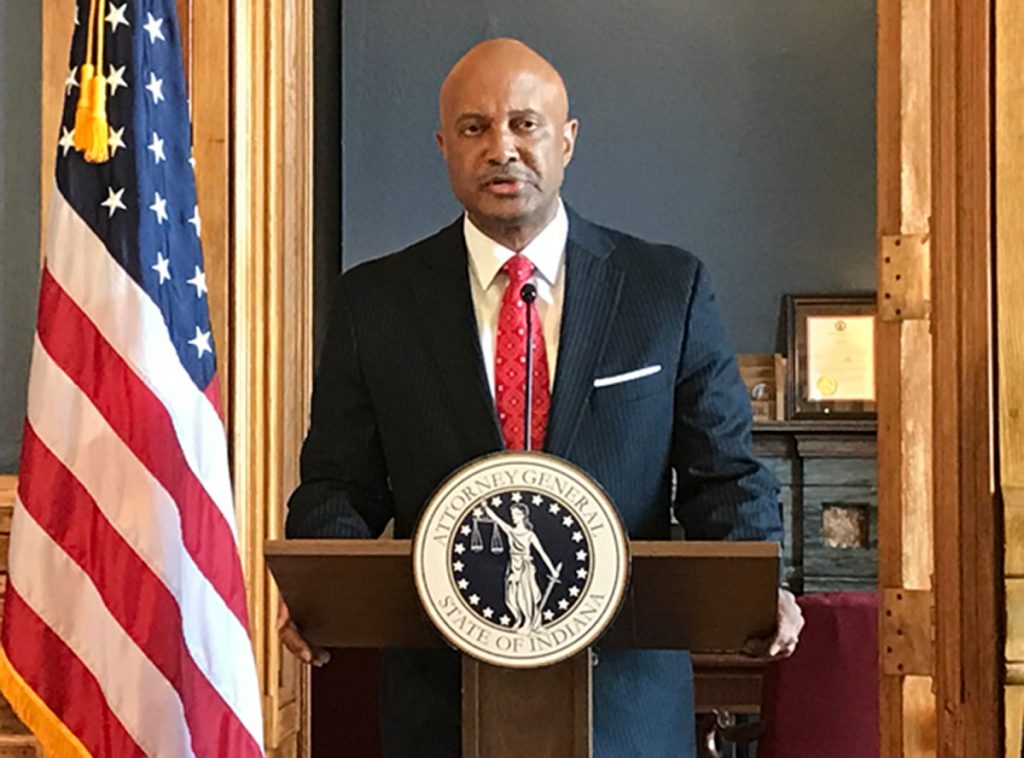 For the first time in Indiana history, the elected attorney general has been suspended. But what the discipline means for Attorney General Curtis Hill remains to be seen.
The Indiana Supreme Court on May 11 handed down an order in In the Matter of Curtis T. Hill, Jr., 19S-DI-156, requiring the Republican AG to serve a 30-day suspension with automatic reinstatement beginning May 18. The justices found that he violated Indiana Rules of Professional Conduct 8.4(b) and (d).
The violations stem from March 2018, when four women — Democratic State Rep. Mara Candelaria Reardon and legislative staffers Gabrielle McLemore Brock, Niki DaSilva and Samantha Lozano — accused Hill of drunkenly groping them at an early-morning bar party.
Hill's suspension could have a wide-ranging impact, as he is statutorily required to hold a law license that is in good standing to serve as attorney general. For now, Hill said in a statement, chief deputy Aaron Negangard "will assume responsibility for the legal operations of this office during the temporary suspension of (Hill's) license until it is reinstated on Wednesday, June 17."
But what the future holds for Hill remained unclear at IL deadline Monday.
Violations and sanctions
The Indiana Supreme Court found "ample evidence" that the physical contact Hill made with the women was rude and insolent, two factors necessary to establish battery.
Thus, the court credited hearing officer Myra Selby's determination that the contact constituted misdemeanor battery.
Reardon has said Hill slid his hand down her bare back then squeezed her buttocks. Brock said he rubbed her back without her consent, while Lozano said he put his hands around her waist and pulled her close to him. DaSilva said Hill rubbed his hand down her back toward her buttocks, then grabbed her hand and placed both of their hands on her buttocks.
Further, the justices found a sufficient nexus between Hill's actions and his professional duties to find that he committed a criminal act reflecting adversely on his fitness to practice law in violation of Rule 8.4(b)
"Respondent went to the party with the purpose of discussing a bill affecting his office with key legislators and nurturing goodwill, he spent time at the party doing precisely these things, and while there he committed battery against a legislator and three legislative staffers," the court wrote
Similarly, because Hill is the "chief legal officer" of Indiana, his conduct was prejudicial to the administration of justice in violation of Rule 8.4(d).
Key to determining sanction, the high court wrote, were emails and press releases that Hill and a team of supporters put out in response to the leak of a memorandum about the groping allegations prepared by the Taft law firm in Indianapolis. The leak of the memo made the allegations against Hill public in July 2018.
One particularly inappropriate message, the justices said, was a press release revealing an email DaSilva mistakenly sent to an email address within the Office of the Attorney General. DaSilva was trying to email her public statement about her allegations to a friend for review, but Hill released the message as evidence of editorializing and coordination against him.
But the court also said certain actions taken by Hill and his team were aimed at the process that led to the public accusations — namely, the memo leak — and not the accusers. Further, the court said Hill was "fully entitled" to defend himself against the allegations.
But Hill went "a step too far" in two respects: by characterizing the allegations as "vicious" and by releasing DaSilva's email.
"In sum, we find Respondent's actions in the wake of the disclosure of the Taft Report do carry some aggravating weight, but not to an extent that entails the type of wholesale lack of insight or lack of remorse that ordinarily would prompt us to require a respondent attorney to undergo the reinstatement process in order to prove his fitness to resume the practice of law," the high court ruled.
Little precedent
Though Hill has appointed his temporary replacement, the order does not provide guidance on what the suspension means for his ability to remain in office. Former Indiana Attorney General Greg Zoeller said answering that question falls to the Indiana Supreme Court, not the General Assembly.
When he served as attorney general, Zoeller said he felt he had a "higher duty" in how he conducted himself.
"When I was elected as the state's attorney general, I felt a higher responsibility to uphold not only the professional requirement of the office but also to my demeanor so that I didn't reduce the reputation of that office that I was elected to maintain."
Retired attorney Jan Kreuscher, who worked in the OAG for more than eight years during the 1990s, offered two possible outcomes based on events involving two previous attorneys general.
In the first, Pam Carter, who served as the state's top attorney from 1993 through 1997, stepped away briefly to battle breast cancer. Carter remained attorney general but named her own interim replacement.
The second instance happened when Jeff Modisett resigned as attorney general to join the 2000 Democratic National Convention. Then-Gov. Frank O'Bannon appointed an interim attorney general to serve until the next election.
Prosecutors could also provide insight.
In 1996, the Indiana Supreme Court was called upon to issue an emergency suspension for a Knox County prosecutor accused of misconduct. Bradley J. Catt had been charged with several violations of the Indiana Rules of Professional Conduct and the Indiana Supreme Court Disciplinary Commission had requested the suspension while the case was pending.
The order, signed by then-Acting Chief Justice Myra Selby, highlighted that attorneys within offices of county prosecutors represent the state.
"Upon examination of the matters now before this Court and in light of the foregoing considerations, we conclude that the respondent's suspension from the practice of law renders him unqualified to perform the duties of an attorney, including the duties of a prosecuting attorney," Selby wrote in In the Matter of Catt, 672 N.E.2d 410 (Ind. 1996). "Accordingly, we find that the respondent should be suspended from the performance of his duties as Prosecuting Attorney during the period of suspension from the practice of law, and that his pay for services as Prosecuting Attorney should be discontinued during his period of suspension."
Unknowns
The suspension comes as Hill is seeking a second term. One of his GOP opponents, Decatur County Prosecutor Nate Harter, responded to the disciplinary order on Facebook.
"Today's announcement reflects the unavoidable fact that my friend Curtis Hill has lost the trust of Hoosiers and has compromised his ability to do the important work we deserve," Harter said.
Hoosier lawmakers this year attempted to bring clarity to questions regarding Hill's ability to serve if disciplined, introducing legislation that would have prevented any lawyer who was disbarred or suspended for 30 days or more from serving as attorney general. Likewise, the legislation would have prohibited any lawyer who was disbarred or suspended for 30 days or more in the last five years from running for AG. However, the bill died on the last night of the 2020 session.
Hill has not indicated whether the discipline will affect his reelection campaign, saying only that he accepts the suspension "with humility and respect" and that his office will continue to work for Hoosiers "without interruption."
House Speaker Todd Huston, R-Fishers, did not respond to a request for comment by IL deadline, while Senate President Pro Tem Rodric Bray, R-Martinsville, declined to comment.
Political leaders from both parties in 2018 called for Hill's resignation. Senate Minority Leader Tim Lanane repeated his call for resignation May 11, saying the result of the discipline "is now a host of unresolved legal issues as to the legality and operation" of the OAG — which, Lanane said, would be cleared up if Hill resigned.
Holcomb likewise said that his position on Hill's resignation has not changed.
"I'll make any and all decisions that I have authority to do, and that is something that is in question," Holcomb said. "I am seeking a quick turnaround on those questions to be answered."•
IL senior reporter Marilyn Odendhal and reporter Katie Stancombe contributed to this report.
Please enable JavaScript to view this content.