Following a "drastic" move by the Indiana Supreme Court suspending in-person jury trials from mid-December to March 1, courts across Indiana are attempting to resume the hallmark proceedings of the American judicial system. But in Marion County, finding enough jurors to hold those proceedings has proven difficult.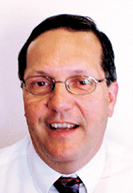 The Indianapolis courts were already working at a reduced capacity. Pre-pandemic, each of the county's eight major felony courts could conduct two jury trials per week, according to Judge Mark Stoner. But now, with social distancing and other coronavirus-related measures in place, those courts are conducting two trials per week collectively.
Compounding that slowdown is the fact that not enough prospective jurors are appearing in court. Hundreds of summonses go out for each trial, but the courts are lucky if dozens respond.
"That old cliche is true: Justice delayed is justice denied," said Stoner, who presides over Marion Superior Court, Criminal Division 6. "It's critically important to have jurors show up, because if they don't, witnesses, defendants and families get no resolution, and cases mount up."
Even without reluctant potential jurors, the Marion County Prosecutor's Office was already seeing its caseload get backed up due to the pandemic. The office this month held its first in-person jury trial since November, but juror reticence has made getting back into court difficult.
"When you run out of jurors, you have a mistrial, and you're going to have to start all over again," said Ross Anderson, division chief over major felony courts in the prosecutor's office. "That has happened a number of times."
The Indianapolis courts have responded to low juror turnout with a public message: They are back in business. Pandemic precautions are in place, Stoner said, which means prospective jurors should feel comfortable appearing for voir dire, hearing evidence and reaching a verdict.
Before the pandemic, juror turnout in Marion County wasn't great, but it was enough.
According to Anderson, each case needs 45 to 55 residents at a minimum to respond to their jury summonses to seat a fair panel. Each side gets peremptory strikes plus dismissals for cause, which means a jury pool can dwindle quickly in the process of finding 12 jurors and two alternates qualified to serve.
Pre-pandemic, the Marion County courts sent out around 300 summonses for each trial, Stoner said. About 40 or 50 people would respond from that pool, he continued — not a lot, but enough to proceed. Generally, he said, metropolitan areas like Indianapolis have lower juror turnout than more rural areas due to factors such as the anonymity created by larger populations and the transitory lifestyle of many urban residents.
The numbers
In the post-pandemic world, the number of summonses in Marion County has gone to up to 400 per trial just to get the minimum number of necessary responses, Stoner said. But even that hasn't always been enough — the lowest response Anderson has seen in the pandemic era was just 25 prospective jurors.
"It's pretty staggering," he said.
Mistrials
The result in multiple cases has been a mistrial, something Stoner said did not happen in the pre-pandemic world based solely on juror turnout. When a panel can't be seated, the effects are far-reaching.
From a judicial perspective, the inability to hold a trial makes it difficult for judges to hold lawyers to a timeline, Stoner said. When he's able to set a trial date, lawyers have more incentive to negotiate and resolve cases.
"It's the ability for the court to say, 'Sorry, this case is too old and needs to go to trial. If you don't have it resolved we'll go to trial next week,'" Stoner said. "It puts pressure on lawyers to resolve cases."
There are also costs involved with a jury-related mistrial, the judge said, and not just monetary ones. Defendants are incarcerated for longer periods, jail overcrowding can become more pronounced and court deputies spend what turns out to be unnecessary time transporting defendants to and from the courtroom.
Lawyers also lose time preparing for a trial that doesn't occur, the judge continued. Additionally, they might spend unnecessary money flying in witnesses who are out-of-town and who have taken time off of work.
The court itself incurs a practical cost from low juror responses: postage.
"The difference between sending 300 summonses versus 500 in a week, every week, twice a week … comes out of taxpayer pockets," Stoner said.
For Anderson, the most frustrating part of a mistrial caused by low juror turnout is having to tell crime victims and their families that the resolution they thought was coming has been postponed.
"For a lot of families, the trial is a benchmark point where they can get closure. It's the point from where they can move on," he said. "To get to that point only to have it end in a mistrial is difficult. It's a very tough aspect. That's the most difficult part for us."
Spreading the message
In response, the Marion County courts have released a public message meant to assuage juror concerns about COVID and remind them of their civic duty. The court created a video to help prospective jurors know what to expect if they are summoned for jury duty while the pandemic is ongoing.
The courts previously moved in-person proceedings to the traffic court on East Washington Street to allow for more social distancing, but Stoner said the plan is to return to the downtown Indianapolis City-County Building on April 1. Social distancing will continue, he said, as will other efforts to sanitize shared spaces and reduce physical contact.
For example, exhibits are displayed on large monitors rather than passed from juror to juror. Masks are required, witnesses are protected by shields and the number of people allowed in the courtroom is limited.
Further, Anderson noted, the courts are using contact tracing sheets to track who enters and exits a courtroom in the case of a positive test. Where possible, evidentiary and other pretrial hearings are conducted remotely, he added.
One of the main things Stoner wants prospective jurors to know is that the court will be reasonable.
If a participant has been exposed to COVID-19, is a high-risk patient or has other COVID issues, such as young children e-learning at home, the court will make exceptions. However, communication is key for those exceptions to be made.
"We'll do everything we can to make it convenient and to protect people in terms of health," he said. "We acknowledge that's a key component.
"But," he continued, "we can't have a situation where people aren't showing up because of those reasons."
If the problem persists, Stoner said the court could turn to holding potential jurors in contempt, though he added that no one wants to go that route. Even so, contempt hearings against prospective jurors have happened in the past.
"The summons is a court order," he said. "It's not an invitation."•
Please enable JavaScript to view this content.