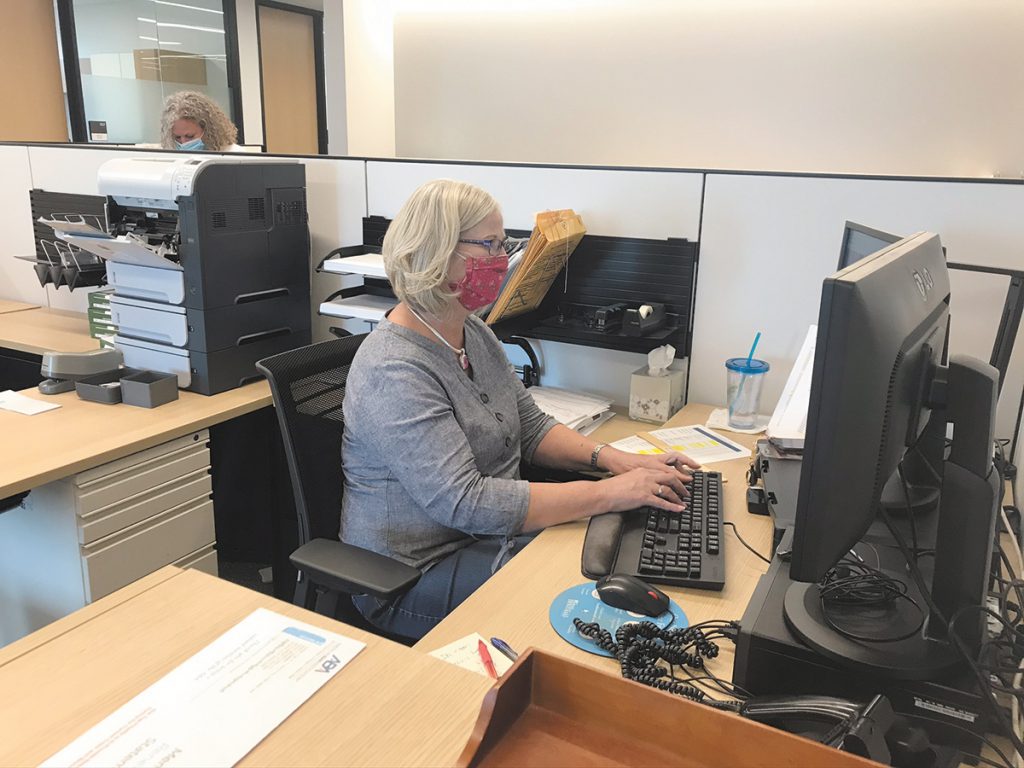 As Indiana approaches its statewide reopening, law firms large and small are creating plans to return to their offices. Most lawyers have been working from home since March, but as Gov. Eric Holcomb has slowly allowed businesses to reopen, law firms also opened their doors to employees.
Like the rest of the state, lawyers aren't heading back to the office all at once — in fact, some aren't heading back at all. The new normal of "working from home" has become so engrained that firm leaders say they don't expect their employees to return to the old lifestyle of commuting into the office every day.
These changes leave questions to be answered. How many lawyers will want to return? Does the professional staff have the same technical capabilities as the lawyers? Do we still need two offices when one might suffice?
As with the pandemic, firm leaders say they're taking their return-to-work policies one day at a time. Right now, they say, the only thing that's certain is uncertainty.
"I don't think we really know," said Bob Hicks, firmwide managing partner of Taft Stettinius & Hollister LLP. "It won't be the same, but I don't know how far different it will be."
Moving out
Holcomb designated law firms as essential businesses in Indiana, which meant lawyers and other legal professionals could come into the office every day. But with an eye toward protecting the health of employees and their families, Hoosier firms almost universally closed their doors, at least partially, beginning in March.
At Frost Brown Todd, which has 13 locations across nine states, one of the first steps was to survey lawyers and professionals to determine what equipment was necessary to support working remotely.
At Taft, Hicks said the firm hired an epidemiologist to advise its COVID-19 task force on the best way to proceed internally. All 1,100 Taft employees across the 11 offices were sent home in mid-March, he said, with only a "skeleton crew" coming into offices.
Felix Melchor, director of administration for Cohen & Malad, said all attorneys at the Indianapolis firm were equipped with laptops before the virus. The question, then, was determining the technological needs of the professional staff, a process Melchor said went smoothly.
Smaller firms were able to more nimbly adjust to the pandemic. Josh Levin, for example, had just taken on a partner in February when COVID-19 came to Indiana in March. With it being just Levin and partner Michael Deihl, Levin & Diehl was able to transition to remote work and develop a system of three-way calls with clients and Zoom meetings to allow for social distancing.
For Mary Panszi of Zionsville's Foley Panszi Law, the solution was for her and partner Allan Reid to work from home while her paralegal came into the office. The lawyers would only come in on the weekends when the office was empty, Panszi said, an important step given that she is immunocompromised and over 65.
Moving back in
Just as most firms switched to remote work in March, many likewise began their transition back into the office in May and June.
At Taft, the process included four phases, with Phase 1 being remote work. Phase 2 began May 11 with a 35% capacity limit, with Phase 3 following June 15 at 75%. There's no set date for Phase 4, Hicks said — no employees will be required to come back if they're not comfortable doing so.
Frost Brown Todd also took a phased-in approach, with about 12 employees coming back in the first round. Phase 2 saw about 50 employees, managing partner Heather Wilson said, while Phase 3, which took effect July 6, encourages all employees to return unless they have health risks or are caring for those with health risks, or if they have childcare needs.
At Cohen & Malad, 15 of the firm's roughly 50 employees were permitted back in the office beginning June 13, Melchor said. That number increased to 25 on June 30, with all 50 welcome on July 9. By July 20, Melchor said the expectation is that everyone will be back in the office, with exceptions similar to those at Frost Brown Todd.
Gutwein Law has used a more informal process, said Sean McCarthy, the firm's marketing and experience manager. When Holcomb released the state's back-to-work plan, the firm surveyed its employees to determine their comfort levels.
"We've always had this culture of trust built in," McCarthy said. "We have some people come in a couple days a week, some staying home with their kids, some people that come in early and leave early or came in late and stay late."
Though they are a two-person operation, the Levin & Diehl team have had to remain cognizant of the five other solo practitioners who share their office space. Some are over the age of 65, Levin noted, so he and his partner have taken steps to stay in their suite when possible and wear masks when they go into the common areas.
Panszi's three-person operation is likewise back in the office, and everyone in the office has an individual workspace. Even so, she said they are frequently sanitizing their space and requesting that clients wear masks when they enter the building.
Government hurdles
Though Cohen & Malad adheres to government mandates related to COVID-19, Melchor said the firm wanted to think independently and make decisions that best suit its employees. Wilson said there's a similar mindset at Frost Brown Todd, where the firm has at times taken steps more restrictive than the government's, such as requiring masks when officials only recommend them.
Firms such as Frost Brown Todd face the unique hurdle of having offices in multiple states, where different governors are taking different approaches. Gutwein is in a similar situation, with attorney Karen Young noting the firm's Minneapolis office faced additional safety concerns after the death of George Floyd in police custody.
At Frost, the various offices have adopted an across-the-board policy, Wilson said: each one is following the same return-to-work plan that is in compliance with all applicable government mandates.
Given Gutwein's flexible approach to returning, Young noted different offices are acting according to their individual needs. Minneapolis, for example, was without power and internet following the riots, so some work had to be shifted out of that office to accommodate its prolonged closure.
What's more, in Frost's Pittsburgh office, lawyers weren't deemed essential by the state government, creating an additional complication. Taft has been juggling government orders across seven states.Lasting changes
A universally accepted truth in the legal profession in the aftermath of COVID-19 is that the pandemic has changed theprofession permanently.
Levin, for example, expects remote court hearings to be more accepted now that judges are getting used to the idea. Panszi likewise finds remote hearings efficient, though she thinks adversarial proceedings are best held in-person.
From an operations perspective, firm leaders expect more lawyers will want to work remotely and to do so more frequently. Business professionals might also follow suit, Melchor said, though he noted that his firm would have to ensure those professionals have the technology necessary to accommodate continued remote work.
One thing Melchor also expects is a need for less real estate. As leases expire, firm management will have to consider the increase in remote work when deciding whether having multiple offices is still necessary.
Hicks, however, takes the opposite approach.
Given that practicing law is a relational business, lawyers will still have to come into the office, he said. When they do, COVID-19 will likely have conditioned them to want individual space where they don't have to be too close to others. To accommodate that, Hicks said, firms will need to keep their office space.
Clients have also changed way they interact with firms, lawyers say.
Some clients already have new expectations for how they meet with lawyers, Wilson noted. She's gone back to in-person meetings, but one involved her standing at least 12 feet from her client.
Though the pandemic has necessitated change, there are some aspects of practicing law that are best left the same, lawyers say.
"There's more to being a partner than sitting at home and billing hours," Wilson said. "I believe you have an obligation to be training and developing lawyers and being in the community. I think some of those things you can't do as effectively exclusively remotely."•
Please enable JavaScript to view this content.