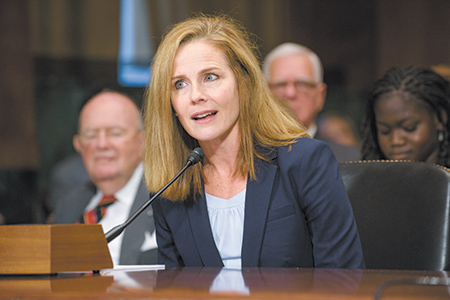 Editor's note: This article has been updated with President Donald Trump's formal nomination.
President Donald Trump on Saturday nominated Hoosier Judge Amy Coney Barrett to the United States Supreme Court, capping a dramatic reshaping of the federal judiciary that will resonate for a generation and that he hopes will provide a needed boost to his reelection effort.
In a Rose Garden Ceremony joined by Barrett and her family, Trump called her "one of our nation's most brilliant and gifted legal minds," noting among her accomplishments that she graduated first in her class at the University of Notre Dame Law School, where she also taught for many years before Trump appointed her to the federal bench in 2017.
"You are imminently qualified for this job," Trump said to Barrett. "You're going to be fantastic."
"I am truly humbled by the prospect of serving on the Supreme Court," Barrett said.
Republican senators are already lining up for a swift confirmation of Barrett ahead of the Nov. 3 election, as they aim to lock in conservative gains in the federal judiciary before a potential transition of power. Trump, meanwhile, is hoping the nomination will serve to galvanize his supporters as he looks to fend off Democrat Joe Biden.
An ideological heir to the late conservative Justice Antonin Scalia, Barrett would fill the seat vacated after the Sept. 18 death of liberal icon Ruth Bader Ginsburg, in what would be the sharpest ideological swing since Clarence Thomas replaced Justice Thurgood Marshall nearly three decades ago. She would be the sixth justice on the nine-member court to be appointed by a Republican president, and the third of Trump's first term in office. Trump called Ginsburg a "true American legend" before introducing Barrett.
Barrett also paid tribute to the late justice she hopes to succeed.
"Justice Ginsburg began her career at a time when women were not welcome in the legal profession. She not only broke glass ceilings, she smashed them," Barrett said. "Her life of public service serves as an example to us all."
Having clerked for Scalia, Barrett said she shares his judicial philosophy. "A judge must apply the law as written. Judges are not policymakers, and they must be resolute about setting aside the policy positions they hold." Barrett also noted that Ginsburg and Scalia shared a close personal friendship despite being ideological opposites on the court.
"Justices Scalia and Ginsburg disagreed fiercely in print without rancor in person," she said. "… Arguments even about matters of great consequence need not destroy affection."
Barrett has been a judge since 2017, when Trump nominated her to the Chicago-based 7th U.S. Circuit Court of Appeals. But as a longtime University of Notre Dame law professor, she had already established herself as a reliable conservative in the mold of Scalia, for whom she clerked in the late 1990s.
Barrett would be the only justice on the current court not to have received her law degree from an Ivy League school. The eight current justices all attended either Harvard or Yale.
Trump and his political allies are itching for another fight over Barrett's faith, seeing it as a political windfall that would backfire on Democrats. Catholic voters in Pennsylvania, in particular, are viewed as a pivotal demographic in the swing state that Biden, also Catholic, is trying to recapture.
While Democrats appear powerless to stop Barrett's confirmation in the GOP-controlled Senate, they are seeking to use the process to weaken Trump's reelection chances.
Barrett's nomination could become a reckoning over abortion, an issue that has divided many Americans so bitterly for almost half a century. The idea of overturning or gutting Roe v. Wade, the landmark 1973 decision that legalized abortion, has animated activists in both parties for decades. Now, with the seemingly decisive shift in the court's ideological makeup, Democrats hope their voters will turn out in droves because of their frustration with the Barrett pick.
Trump has also increasingly embraced the high court — which he will have had an outsized hand in reshaping — as an insurance policy in a close election.
Increases in mail, absentee and early voting brought about by the coronavirus pandemic have already led to a flurry of election litigation, and both Trump and Biden have assembled armies of lawyers to continue the fight once vote-counting begins. Trump has been open about tying his push to name a third justice to the court to a potentially drawn-out court fight to determine who will be sworn in on Jan. 20, 2021.
"I think this will end up in the Supreme Court," Trump said Wednesday of the election, adding, "And I think it's very important that we have nine justices."
Longtime favorite
Barrett became a favorite to replace Ginsburg even before the seat became vacant.
She built a reputation as an intelligent and popular law professor at Notre Dame after clerking for Scalia and, as a mother of seven and devout Catholic, is viewed as a solid social conservative.
Brian Paul, appellate attorney at Faegre Drink Biddle & Reath LLP in Indianapolis, thought Barrett would have been nominated to the Supreme Court when Justice Anthony Kennedy retired in 2018. He continues to support her nomination and believes her work on the 7th Circuit has shown her to be an impartial jurist and not favoring one kind of litigant over another.
"Her decisions can only fairly be described as pro-Constitution and anti-judicial imperialism," Paul wrote in an email. "She implements the law as it is written and enacted, without regard to who the litigants before her are … and regardless of her own policy preferences — exactly as our Framers meant for the law to be implemented." 
Barrett is being picked from the Chicago-based appellate court whose judges have drawn the attention of other presidents. Chief Judge Diane Sykes has often been seen as a potential Supreme Court nominee among Republicans and Judge Diane Wood was apparently considered by President Barack Obama.
If Barrett is confirmed, she will be the second Hoosier seated on the highest court. Chief Justice John Roberts grew up in LaPorte. Barrett is a native of Louisiana but earned her law degree at Notre Dame and has taught at the school since 2002. She lives in South Bend.
Unified Republican support was the only way she was able to get confirmed to the 7th Circuit. The Democrats on the U.S. Senate Judiciary Committee voted against sending her nomination to the floor of the Senate. Another largely partisan vote, with then-Indiana Democrat Joe Donnelly breaking ranks with his party, narrowly propelled Barrett to the appellate bench.
Her nomination came with an additional controversy. Barrett filled the seat that Judge John Tinder vacated when he retired in 2015. Former Indiana Justice Myra Selby had been nominated to that position in January 2016 by President Obama, putting her on the cusp of becoming the first African-American Hoosier to sit on the 7th Circuit. However, she did not get a committee hearing after then-Indiana Republican Senator Dan Coats blocked her nomination and called for a nominating commission to be formed to select the individual best suited for the court.
Influential opinions
Since Barrett joined the appellate court, she has authored 107 opinions with 97 being written for the majority.
Her ruling in Doe v. Purdue, 17-3565,  issued in June 2019, has been gaining traction in other circuit courts around the country. The case involved a male student who claimed his Title IX rights were violated after Purdue University expelled him for alleged sexual misconduct.
Similar lawsuits have been filed mostly by men against colleges and universities across the country. Federal courts have primarily relied on the formula established in Yusuf v. Vassar Coll., 35 F.3d 709 (2d Cir. 1994) to evaluate these cases. This method essentially created a two-step process where the plaintiff first had to prove he was "innocent and wrongly found to have committed the offense" then show that the proceeding the school used to investigate the allegation was biased against him because of his gender.
Barrett rejected that approach in favor of a cleaner approach. She said rather than imposing "doctrinal tests on the statute," the courts should ask the question directly: do the alleged facts, if true, raise a plausible inference that the university discriminated against the student "on the basis of sex"?
Brooklyn College professor K.C. Johnson, who has studied and written extensively about the recent rise of these Title IX cases, praised Barrett's method. "To me, the genius of her opinion was it recognized the simply straightforward approach was the fairest approach."
Since last summer, the 3rd Circuit, 8th Circuit and the 9th Circuit have all adopted the Purdue method.
Steve Sanders, professor at Indiana University Maurer School of Law, noted Barrett's record is thin because she was pulled from academia and does not have much experience practicing law or serving on the court.
"She hasn't been a judge long enough to where you could say she's developed a distinctive judicial voice or distinctive jurisprudence," he said.
Some of her rulings do reflect what are accepted as traditional Republican values.
In Kanter v. Barr, 18-1478, the 7th Circuit panel affirmed that Ricky Kanter, who had pleaded guilty to one count of mail fraud, could no longer possess a firearm under federal and Wisconsin law.
Barrett wrote a 37-page dissent, arguing the Wisconsin statute violated the Second Amendment because it prohibited all felons, regardless of whether they had been convicted of a violent or nonviolent crime, from owning a gun. She pointed out the prosecutors had neither shown how disarming nonviolent offenders, like Kanter, made the public safer nor demonstrated that Kanter would become violent.
Also, an en banc ruling from the 7th Circuit considered the application of the new federal sentencing reform statute, the First Step Act, in United States of America v. Hector Uriarte, 19-2092. The majority of the court found Uriarte, a member of an Illinois gang that conspired to kidnap and rob drug dealers, should not be sentenced to a 25-year mandatory minimum. He was eligible to be sentenced under the First Step Act because even though he had been convicted before the statute was enacted, he was still awaiting sentencing when the bill became law.
Barrett, joined by two other Trump appointees to the 7th Circuit — Michael Brennan and Michael Scudder — dissented. She analyzed the grammatical structure of the statute and concluded the First Step Act should not have been applied. She also admonished her judicial colleagues' reasoning, even though the majority noted that in a similar case, a bipartisan group of key senators had filed a brief in favor of the defendant.
"Speculating about congressional desires is a dicey enterprise, which is one reason among many that we should stick to the text," Barrett wrote.
Sanders does not see Barrett's academic career as a mark against her, noting that on the 7th Circuit, Wood, along with Judge Frank Easterbrook and retired Judge Richard Posner, all ascended from the classroom to the court. Barrett, he said, has the minimum to sit on the Supreme Court.
"I think her experience meets the minimum threshold for somebody going to the Supreme Court," Sanders said. "But lots of people meet that. Some question why is she the best person of all the appellate judges and law professors out there that could go to the Supreme Court."
Political maneuvers
Again, Barrett may be relying on unified Republican support to get confirmed. Trump's nomination and the Senate's willingness to move forward with the confirmation process comes just about six weeks before the presidential election.
IU Maurer professor Charles Geyh sees the push to confirm the nominee as ending "any lingering pretense that the appointments process is governed by anything more than bare-knuckle brawling partisan politics."
But beyond the floor of the U.S. Senate, he believes the courts will be damaged. With nominees described in terms of being a sure vote to either support or oppose certain hot-button issues such as abortion, the public could lose confidence that the courtroom is an impartial place for resolving disputes.
"The public cannot help but feel that a Supreme Court selected in such a process is peopled with ideological zealots, as a consequence of which public confidence in the courts is becoming increasingly contingent … on whose ideologues control the majority," Geyh wrote in an email.
Sanders does not see a reason to wait for the election. Other presidents have nominated candidates to the Supreme Court, and there is no good reason for denying Trump the opportunity. Those who oppose moving forward at this time should either explain the unique reasons this president should not offer a nominee or admit they are resisting because they want payback for the Republicans' block of President Obama's pick, Merrick Garland, he said.
However, Sanders noted the people who might be nominated should think carefully before accepting the nomination in this political atmosphere. Trump demands and expects loyalty, and his public remarks seem to be inferring that if the election outcome ends up in the Supreme Court, he expects the justices he appointed to rule in his favor. That, Sanders said, could put a stain on the new nominee that might be difficult to remove.
Please enable JavaScript to view this content.