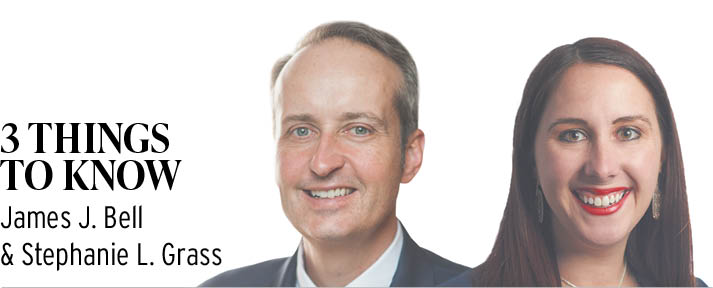 Have you recently been hired on a case and know the media want to talk to you? Would commenting make you feel important? Would chatting with the media be good for business and maybe even raise your profile? Most importantly, wouldn't your mom want to see you quoted in the paper? Before you post a comment on social media or conduct an interview, you should stop and think of the potential ethical implications.
Those implications are outlined in the Indiana Supreme Court Disciplinary Commission's recently issued Advisory Opinion 1-22, "Lawyers' Public Comments on Pending Matters." Here are three things you should know about commenting on pending legal matters.
1. Make sure you have client's consent to speak about the case.
First things first, you cannot say anything to anyone outside your law firm without your client's informed consent.
Indiana Professional Conduct Rule 1.6(a) prohibits lawyers from disclosing confidential information: "A lawyer shall not reveal information relating to representation of a client unless the client gives informed consent, the disclosure is impliedly authorized in order to carry out the representation or the disclosure is permitted by paragraph (b)." The definition of "confidential information" is broad and "has been construed to include all information relating to the representation regardless of the source." In re Goebel, 703 N.E.2d 1045, 1047 (Ind. 1998).
As further explained in Comment 4 to Rule 1.6, the prohibition on revealing information "also applies to disclosures by a lawyer that do not in themselves reveal protected information but could reasonably lead to the discovery of such information by a third person." (emphasis added) For a lawyer to ethically comment on pending legal matters, an exception to Rule 1.6(a) must exist. Usually, that exception will be that the client consented to the communications.
2. Be boring. Don't make any statements that have a substantial likelihood of materially prejudicing the proceeding.
Pursuant to Indiana Professional Conduct Rule 3.6(a), "A lawyer who is participating or has participated in the investigation or litigation of a matter shall not make an extrajudicial statement that the lawyer knows or reasonably should know will be disseminated by means of public communication and will have a substantial likelihood of materially prejudicing an adjudicative proceeding in the matter." So what can you say without materially prejudicing the proceeding? Usually, boring things like a list of claims, information in public records or the scheduling or result of "any step in litigation." See Rule 3.6(b). If you are interested and excited about what you are about to say to the media, you are likely breaking the rules.
The Disciplinary Commission's opinion addresses several "minefields" that can create ethical problems for an attorney under Rule 3.6. Specifically, the Disciplinary Commission reminds us that under Rule 3.6(d)(3), attorneys cannot discuss the results of an individual's participation in a polygraph, because those extrajudicial statements are presumed to create prejudice and polygraph results are inadmissible at trial. (Opinion at p. 3). The Disciplinary Commission also cautioned lawyers that although Rule 3.6(b)(2) permits a lawyer to provide information in a public record, "such information must be the type to 'which an ordinary citizen would have lawful access.'" (Opinion at p. 3 (quoting In re C.B., 962 N.E.2d 1240, 1247 (Ind. 2012).)
Prosecutors have special responsibilities under Rule 3.8, but Rule 3.6 applies to all lawyers and subsection (d) enumerates statements that have a rebuttable presumption of having a substantial likelihood of materially prejudicing an adjudicative proceeding. For instance, under Rule 3.6(d)(4), there is a rebuttable presumption that a lawyer (not just a prosecutor) expressing any opinion on the guilt or innocence of a defendant or suspect in a criminal case will have a substantial likelihood of materially prejudicing an adjudicative proceeding and thus violate Rule 3.6(a).
3. Some practical questions inspired by the advisory opinion
Even if you have your client's consent to make a boring extrajudicial statement that is permissible under Rule 3.6, you should still ask yourself a few more questions like, are you speaking to the media to protect your client from prejudice or are you making a public comment because you would enjoy the attention? Or, is it too early to know enough about the case to comment? Are you unwisely committing yourself to a position/putting your feet in cement before you know all the facts?
Some other things to think about: Are you giving a statement to the media or are you being interviewed? If it is an interview, how prepared are you to answer unanticipated questions? Do you trust the publication or the interviewer to accurately repeat what you said? What will your statements do to your relationship with opposing counsel or the judge?
Similarly, will your comments make the case more difficult to resolve? Will your statements calm things down or will they stir the pot? Keep in mind that the Disciplinary Commission cautioned, "Extrajudicial statements made about a case in a politically or socially charged atmosphere can increase the likelihood that the statement will materially prejudice the proceeding. Attorneys should be cautious when making statements that could be politicized by the public and contaminate the potential jury pool." (Opinion at p. 5) If your comments fan the flames of highly-charged social or political issues, your comments will likely receive more scrutiny from the Disciplinary Commission.•
__________
James J. Bell and Stephanie L. Grass are attorneys with Paganelli Law Group in Indianapolis. Opinions expressed are those of the authors.
Please enable JavaScript to view this content.