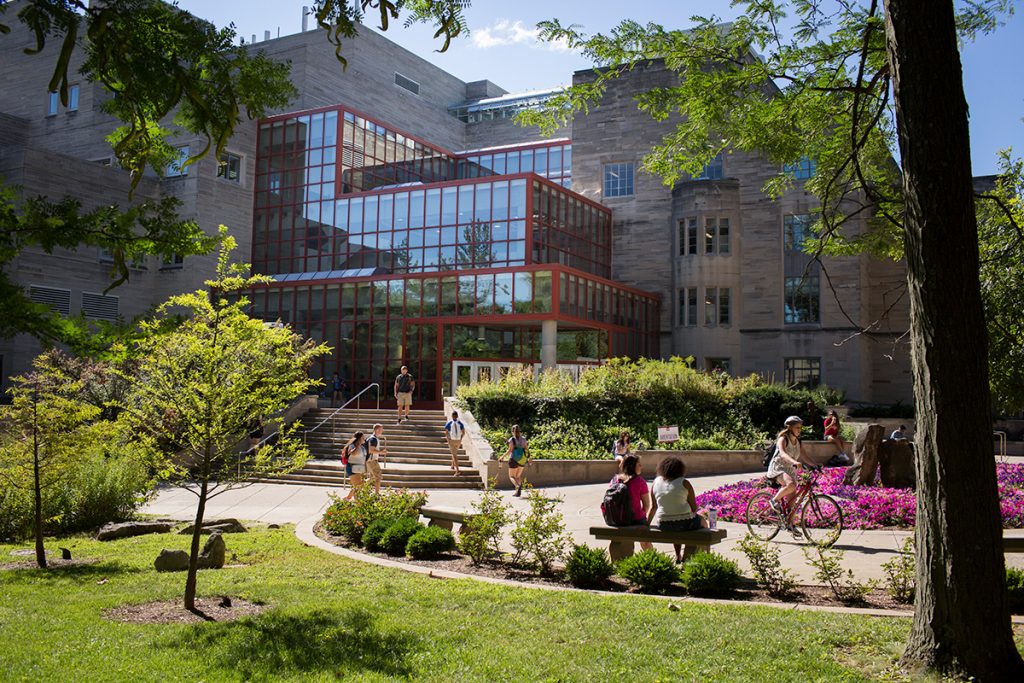 When Indiana University decided to assemble a committee to reevaluate the naming of buildings and landmarks on the Bloomington campus after the school's seventh president, David Starr Jordan, the institution started by calling the law schools.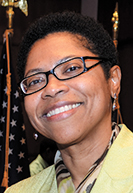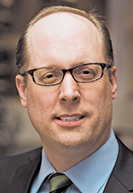 Indiana University Maurer School of Law Dean Austen Parrish and Indiana University Robert H. McKinney School of Law Dean Karen Bravo were tapped to co-chair the Jordan Committee. The appointment brought together not only two law school deans but also two former law school classmates. Parrish and Bravo were in the class of 1997 at Columbia Law School.
Together, the legal educators led a small but highly qualified group of scholars that consisted of Richard Gunderman, biomedical ethicist; James Madison, historian of the state of Indiana; Charlie Nelms, education professor and former IU administrator; and Linda Smith, an expert in cognitive science and developmental psychology. Their task was to review the life and work of Jordan then make recommendations of whether to remove or continue using his name.
As Parrish and Bravo explained, Jordan was a complex man. He was an innovator during his tenure as president of IU from 1885 to 1891, and a renowned scholar in the field of ichthyology, the study of fishes. But he was also a leader in the eugenics movement, which promoted a discriminatory set of beliefs and practices that purported to improve society and the genetics of the population through forced sterilizations and selective breeding.
The committee balanced the positives and negatives about Jordan and his legacy, Parrish said. That honest review is reflected in the group's recommendation to remember but not revere. While Jordan's name is being taken down, his portrait will continue to be displayed in the university's Presidents Hall. In addition, the committee advocated for Jordan's life to be used as an educational opportunity with exhibits, lectures and courses exploring this part of Jordan's history.
Both Parrish and Bravo emphasized the committee did not want the university to erase Jordan from its history.
"We don't want to forget," Bravo said. "If we do forget, we violate the mission of the institution, which is to educate."
At its Oct. 2 meeting, the IU Board of Trustees adopted the committee's recommendations. The Jordan name has been removed from Jordan Hall, Jordan Parking Garage and the Jordan River and replaced with the administrative names of the Biology Building, East Parking Garage and Campus River.
For the renaming of Jordan Avenue, IU President Michael McRobbie noted IU will have to work with the city of Bloomington. The university only has the authority to rename the northern portion of the street while the municipality has control of the southern portion.
McRobbie said keeping Jordan's name ran counter to the university's mission and values even though his leadership in eugenics did not begin until after he left Bloomington.
"It is also clear that continuing to use the Jordan name in honorific namings risks IU being viewed as mistakenly celebrating his advocacy of eugenics, a field that is entirely at odds with IU's longstanding belief in higher education as a means for personal growth and transformation," he said.
Fact finding, robust discussions
Indiana University is not alone in reconsidering the individuals it honors. A report from Yale University noted other institutions around the country, including Duke and the universities of Texas and Oregon, all grappled with buildings named for people who were white supremacists or members of the Ku Klux Klan.
Harvard Law School's official seal was retired in 2016 after it became a source of controversy. Featured on the emblem was the family crest of Isaac Royall, Jr., slave-owners who funded the first professorship of law at the school, according to The Harvard Crimson. Just last year, the law school appointed a working group to develop a new seal.
IU's review of the Jordan honorifics was motivated by a petition from the biology faculty, protesting the former president and eugenicist's name being on their building. Department chair Greg Demas did not respond to an inquiry seeking comment.
John Watson, professor of biology at IUPUI and member of the University Faculty Council, spoke at the Board of Trustees meeting and said, as a teacher and biology graduate of IU, he "was delighted" the Jordan name was being removed. He also thanked McRobbie along with Parrish and Bravo for their leadership.
"I think this is a momentous decision that was long in coming, and I appreciate all your work," Watson said.
Beginning its work in July, the Jordan Committee gathered the facts and did an investigation into Jordan, his tenure at IU and his activities in eugenics. Then the group analyzed its findings and made its recommendations.
"The idea was for us to do a deep, thorough, factual investigation, reviewing who he was so we could answer in a substantive way whether IU should honor him," Parrish said. He added that his and Bravo's legal training influenced the committee in that they used the university's naming policy as a guide for their work. "The policy gave us structure that allowed us to ask specific questions."
In between their weekly meetings, the committee members reviewed "thousands of pages," Bravo said. They read materials from the IU archives along with articles, books, and dissertations and the writings of Jordan himself. Also, they read correspondence from alumni and students.
In addition, they consulted experts who studied eugenics to get a better understand of the movement, and they spoke with student leaders and faculty members. Furthermore, they reviewed reports from other universities that had contemplated honorific namings on their campuses.
Both Parrish and Bravo praised the knowledge and commitment of the committee members. They enjoyed working with the other scholars, appreciated their cross-discipline approach and robust conversations in the subject matter.
"It was one of my most positive committee experiences," Bravo said.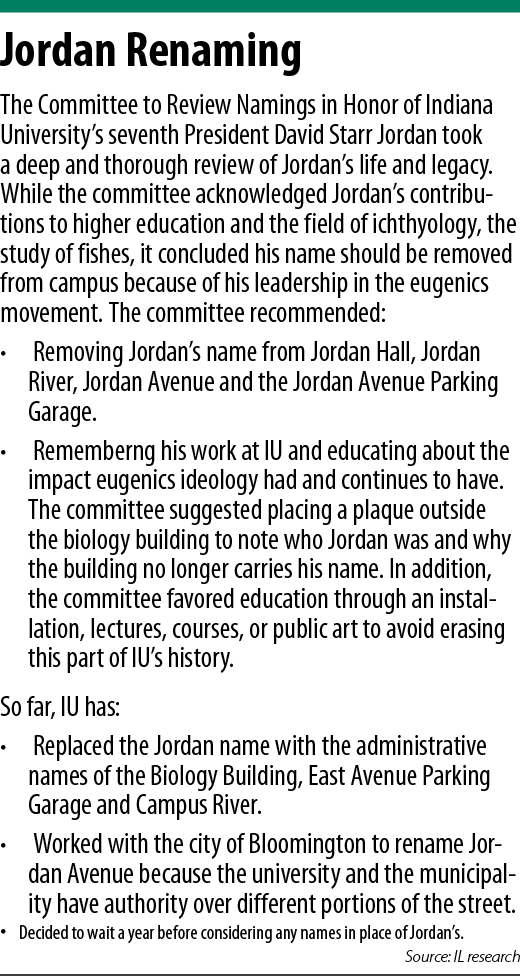 'Not a simple issue'
The committee's final report, issued Sept. 1, provided a very detailed and comprehensive review of Jordan, the law school deans said. Of upmost importance was giving a picture that clearly identified the good and bad.
Jordan's impact is still felt at IU today. He enabled students to elect some of their classes and he established a major subject system where juniors were required to choose a major area of study. In ichthyology, he is credited with discovering nearly a fifth of all fish known in his day.
However, he was also a leader in the eugenics movement, championing the idea of racial superiority and helping to establish the Human Betterment Foundation, which promoted sterilization legislation. His ideas and those of his fellow eugenicists inspired the Nazis.
Ultimately, the committee concluded Jordan's name should be removed because his leadership in eugenics did not align with IU's mission and commitment to diversity and inclusion.
In helping to present the report and recommendation to the Board of Trustees, Parrish acknowledged the committee was concerned about being seen as caving in to political correctness. But the group noted Jordan was not merely reflecting the ideas of the early 20th century but actively advocating ideas that have since been "thoroughly condemned."
"It just seems odd to believe that condemning something that has been so roundly discredited both as a scientific theory but also deeply found to be abhorrent to values starting in the 1940s, 1950s and 1960s could somehow be considered political correctness," Parrish told the trustees.
Patrick Shoulders, partner at Ziemer Stayman Weitzel Shoulders LLP in Evansville, was the lone trustee to vote against the recommendation for removal.
Speaking with the Indiana Lawyer after the meeting, Shoulders said he respected the "research and very serious consideration" the committee members gave to this subject. Still, he was concerned the university was picking and choosing who to honor by applying present-day standards to people from the past.
Removing a statute to a confederate general is an easy call, Shoulders said, because the purpose of erecting the monument was to intimidate and instill fear. But IU honoring Jordan is not so clear-cut. His rise in eugenics happened apart from his tenure in Bloomington and he was memorialized by the university because of his scholarly and scholastic work.
"This is not a simple issue," Shoulders said. "My gut tells me, if we apply today's values to any individual whose name is on the Bloomington campus, (that person) is just not going to pass the current test."
With Jordan's name removed, IU will take a breath. McRobbie said the university would wait a year before replacing the administrative names with one honoring individuals from the past. He said the moratorium would allow for "thoughtful consideration to be given to the development of an appropriate process to identify any recommendations as to possible new names for these sites."
As IU and other colleges and universities continue reconsidering honorific namings, Bravo offered the lessons learned from the Jordan Committee. She said review commissions should approach the task with an open mind, doing fact finding and keeping the mission of the institution at the forefront.•
Please enable JavaScript to view this content.