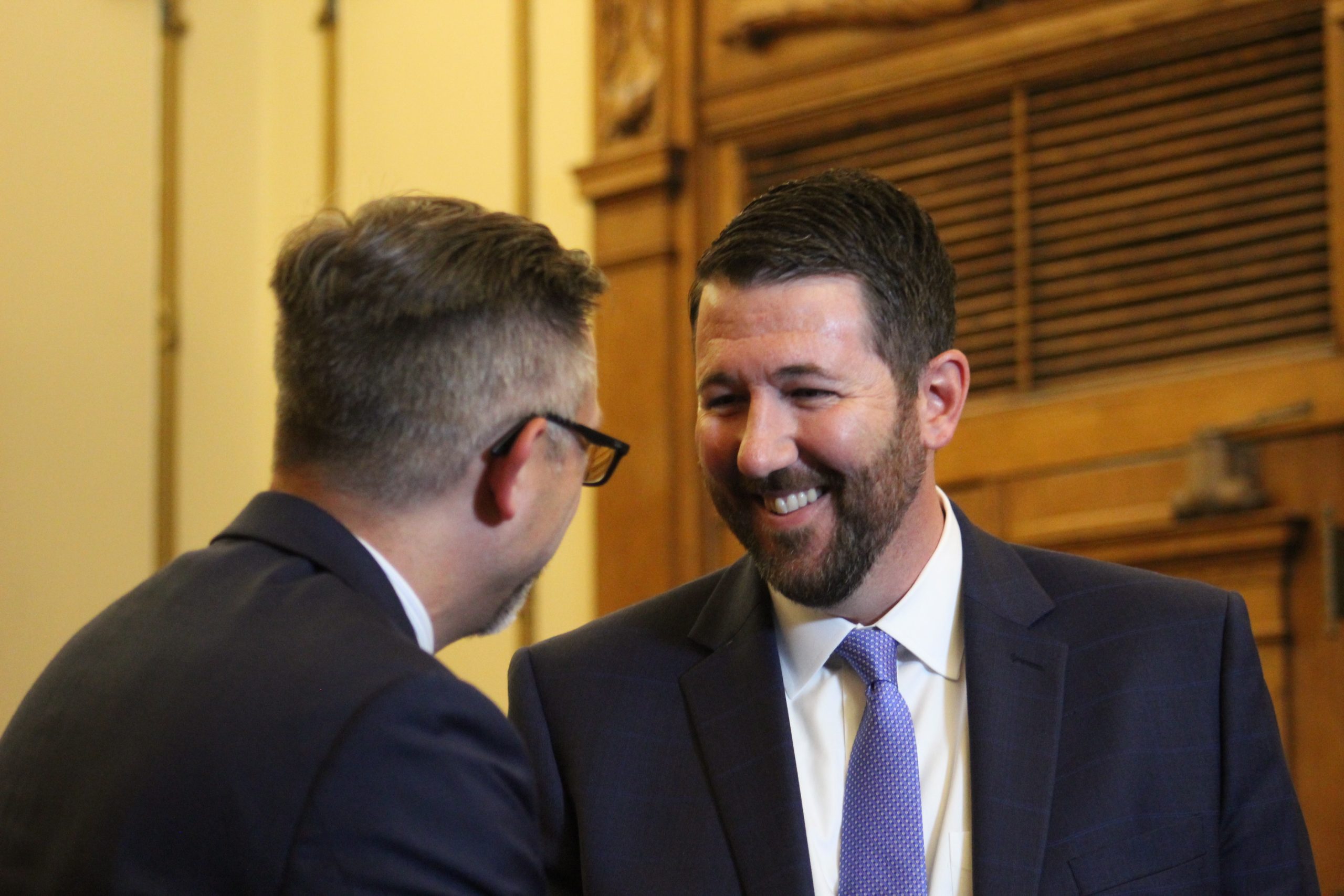 A man characterized as "compassionate" and "forward thinking" with "a brilliant legal mind" has been tapped to fill an upcoming vacancy on the Indiana Supreme Court.
Indiana Gov. Eric Holcomb announced Friday that Court of Appeals of Indiana Judge Derek R. Molter will join the state's highest bench as the 111th Indiana Supreme Court justice.
Holcomb revealed his selection of Molter to succeed longtime Justice Steven David just days before the governor's June 13 deadline to do so. David, who has more than 30 years of judicial experience, is retiring from the Indiana Supreme Court this fall after more than 12 years.
"Derek Molter is devoted to the cause of justice and maintaining the integrity of our justice system," Holcomb said. "He's proven during his lengthy legal career and his tenure on the Indiana Court of Appeals his dedication to the critical role the judiciary plays in our system of government and the future of our state."
Molter, who has yet to mark his one-year anniversary on the state's appellate bench, was selected from a trio of finalists, which also included Grant Superior Court Judge Dana J. Kenworthy and Justin P. Forkner, chief administrative officer of the Indiana Office of Judicial Administration.
Earlier this year, Molter sat in front of the seven-member Indiana Judicial Nominating Commission along with 19 other candidates vying for the open justice position.
"While I will miss working each day alongside my extraordinary colleagues on the Court of Appeals, I'm grateful for this opportunity to serve on the Supreme Court and honored to have been considered alongside two of Indiana's finest public servants, Judge Dana Kenworthy and Justin Forkner," Molter said to a crowded room that had assembled for the Supreme Court announcement.
When asked how his selection advances the need for greater diversity in Indiana's legal system, Holcomb said that the appointment was about who would best fulfill Justice David's legacy and lead the court into the future.
"I'm presented with three options," Holcomb said, referring to recommendations made by the judicial nominating commission. "To me, it's not about who it's not, it's about who it is."
Indiana is one of 20 states that has no Black, Latino, Asian American or Native American justices sitting on its Supreme Court, even though people of color make up 23% of the state's population, according to a Brennan Center for Justice report.
Additionally, Indiana has sustained its all-white Supreme Court even as the number of similarly situated courts has declined from 24 in 2019 to 23 in 2020 and 22 in 2021.
Holcomb said that there would be more opportunities to appoint diverse candidates to Indiana's judiciary in the near future. He pointed to the creation of two appellate court vacancies that will be left by Molter's departure, as well as an open spot left by retiring Judge Edward Najam.
During his time on the appellate court, Molter remained active as an officer in the Appellate Section of the Indiana State Bar, including leading an effort to organize an all-day continuing legal education seminar regarding state constitutional law.
Holcomb also tipped his hat to Molter for his recent partnership with appellate Judge Leanna Weissmann and the State Bar to organize a collection effort to provide necessary supplies to Afghan evacuees at Camp Atterbury.
The newly tapped justice, who hails from rural Newton County, joined the Court of Appeals of Indiana in October 2021. He was selected by Holcomb to fill an open spot on the appellate bench created by the retirement of Judge James Kirsch in September 2021.
Molter received his law degree from the Indiana University Maurer School of Law in 2007 and served as a judicial law clerk for now-Senior Judge Theresa Springmann of the U.S. District Court for the Northern District of Indiana.
After a stint at Arnold & Porter Kaye Scholer LLP in Washington, D.C., he returned to Indiana and joined Ice Miller in 2013.
Addressing her new colleague directly, Chief Justice Loretta Rush stated that Molter would become a face of justice in Indiana along with the five other justices on the state's court of last court.
"Time and time again, you just rise. And we expect you to do nothing but that," Rush said. "We are counting on you stepping up."
Indiana Attorney General Todd Rokita applauded Molter's appointment to the Supreme Court, calling it "exciting but not surprising."
"As a long-time friend, I have witnessed Derek's astute legal mind and pure intellect. I'm confident he will uphold our Constitution as the newest Justice on the Indiana Supreme Court," Rokita said in a statement. "Whether it's in the courtroom or in his community, he has a proven track record of honesty, integrity, and consistency."
Molter is Holcomb's second appointment to the Indiana Supreme Court, following the governor's selection of Justice Christopher Goff in 2017.
A date for Molter's robing ceremony will be determined by the Indiana Supreme Court.
Please enable JavaScript to view this content.