Attorney Jeff Claflin has been elected managing partner of Plews Shadley Racher & Braun, marking the first time a member of the firm's South Bend office will fill the top leadership position.
A graduate of Indiana University Robert H. McKinney School of Law, Claflin has been an attorney at Plews Shadley for more than three decades and has served as managing partner two previous times. In 2008, he moved from the firm's headquarters in Indianapolis to St. Joseph County to manage the firm's South Bend office.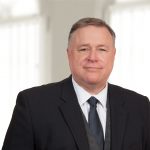 "It was my good fortune to join the firm as a law clerk in 1988, and managing the firm once again, though a significant responsibility, will be both a privilege and a pleasure," Claflin said in a statement. "The privilege and pleasure come mostly from the kind of people we have attracted and kept over our 35 years together."
In his practice, Claflin focuses primarily on insurance coverage cases, representing policyholders in complex disputes involving multiple cleanup sites and insurers. His practice also encompasses civil work including environmental law.
While serving as managing partner, Claflin will continue his work for clients.
Claflin succeeds Greg Gotwald, who served as managing partner in 2022. The other Plews Shadley partners who have been elected to serve on the firm's management committee in 2023 are George Plews, Chris Braun, Colin Connor, Jonathan Emenhiser and Thao Nguyen.
The new managing partner emphasized he will benefit from the collaborative culture at Plews Shadley.
"Moreover, I will not be managing the firm by myself," Claflin said. "We have an established and fine team of managers covering specific areas of responsibility, including personnel, finance, maintenance, and marketing. And the managing partner always has the robust support of the partners serving on our Management Committee.
"We're big on the team concept at PSRB, and managing the firm is no different," he continued. "This is why I can manage the larger firm from South Bend — that and having a car that gets very good mpg! I'm very much looking forward to 2023."
Please enable JavaScript to view this content.