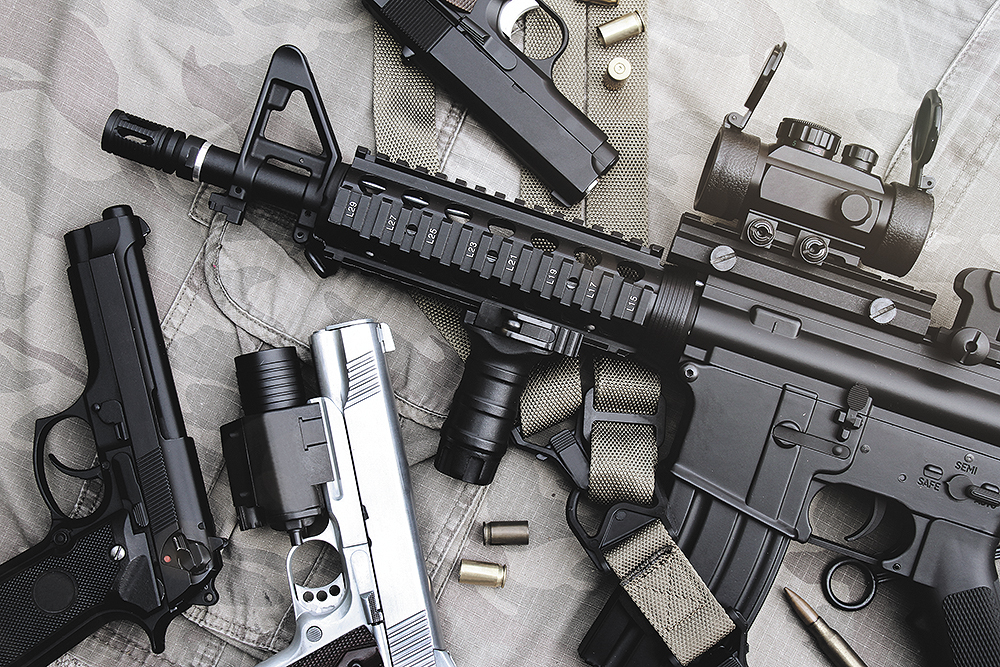 A Bargersville man will have another chance to convince a jury he wasn't trying to kill a police officer when he drunkenly fired a handgun in his apartment complex after the officer arrived on scene.
After a day of heavy drinking, Andrew McQuinn "smacked" his girlfriend, Crystal Scotten, in the face, grabbed her by the throat and threw her against a table inside their apartment. McQuinn also stole Scotten's handgun and, upon learning the police had been called, told her he was going to have a "shootout with the cops."
When Bargersville Police Department officer Klint Brown arrived on the scene, he saw McQuinn standing on the far side of the apartment complex's parking lot. Moments later, McQuinn fired six shots.
Brown heard the first few shots and saw muzzle flashes from the remainder. Fearing for his safety, the officer reversed his vehicle away from the scene.
Meanwhile, McQuinn put his hands up and laid down on the ground to be taken into custody.
Police later found the gun and six shell casings in the general area where McQuinn had been standing but no fired bullets or bullet holes in Brown's vehicle. Police also found no evidence of bullet strikes in the general area where Brown's vehicle was located when McQuinn fired the gun.
The state charged McQuinn with Level 1 felony attempted murder, Level 4 felony unlawful possession of a firearm by a serious violent felony, Level 6 felony domestic battery, Level 6 felony theft of a firearm and Class A misdemeanor carrying a handgun without a license.
At trial, Brown testified that, based on the muzzle flashes he observed during the shooting, McQuinn appeared to have fired the gun "directly" at him. Another witness similarly testified that the muzzle flashes "were pointing directly at the officer."
Additionally, two corrections officers who transported McQuinn to jail testified to statements he made shortly after his arrest. According to one officer, McQuinn said, "[W]e shoot at police around here. Attempted murder, level one," and another officer recalled him boasting, "[I] tried to kill a cop tonight, because that's what we do."
For his part, McQuinn testified that he did not shoot at Brown or intend to kill him. Rather, he said he was "overwhelmed with life" and fired the gun in the air "to escape everything."
The jury found McQuinn guilty on four of the five counts, after which McQuinn pleaded guilty to the fifth. The Johnson Superior Court entered convictions on all five counts and sentenced McQuinn to a total of 30 years in the Indiana Department of Correction.
But the Court of Appeals of Indiana reversed the attempted murder conviction after finding erroneous instruction occurred during the jury trial.
"In this case," Judge Leanna Weismann wrote, "the jury was instructed that '[d]ischarging a weapon in the direction of a victim can be substantial evidence from which the jury could infer intent to kill.' This instruction unduly emphasized the direction in which McQuinn fired the gun and encouraged the jury to give it considerable weight — all at the expense of conflicting evidence."
"… Because we are not completely confident the jury would have found McQuinn guilty had it been properly instructed, we must conclude that the challenged instruction prejudiced McQuinn's substantial rights," Weissmann wrote.
McQuinn also appealed his unlawful possession conviction, arguing the trial court erred in accepting his guilty plea on that charge because he never waived his right to jury trial.
Analyzing the exchange between McQuinn and the court, the COA found that "(n)owhere in this colloquy did McQuinn personally communicate a desire to waive his right to jury trial." Thus, the appellate panel reversed and remanded for a new trial on that charge, as well as the attempted murder charge.
Finally, judges affirmed McQuinn's conviction for carrying a handgun without a license, finding double jeopardy rules weren't violated.
The case is Andrew Phillip McQuinn v. State of Indiana, 21A-CR-1637.
Please enable JavaScript to view this content.