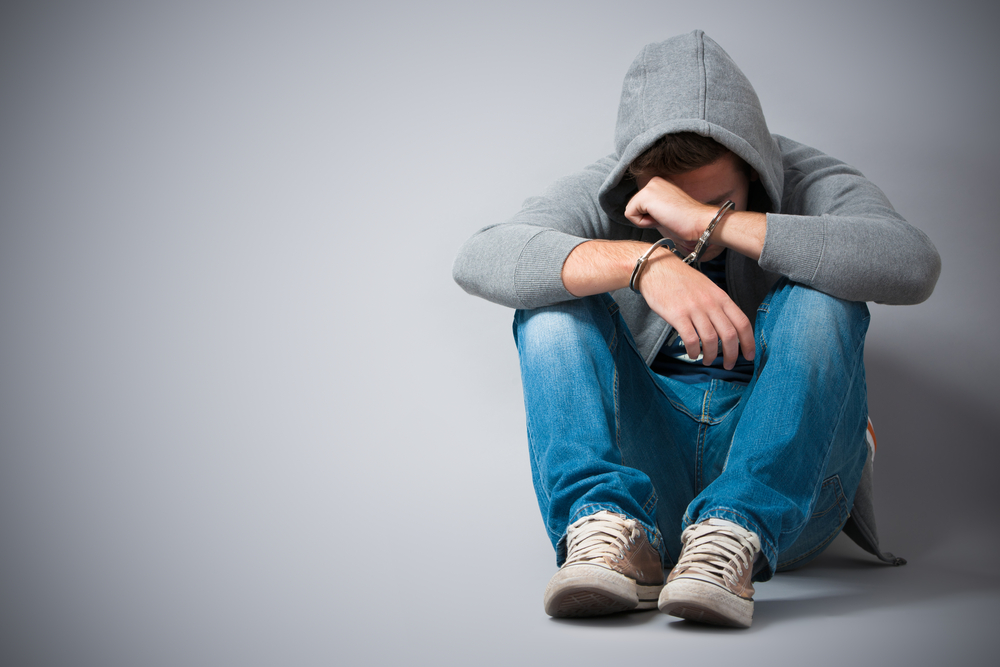 A minor who was found with drugs and a handgun after he ran from police has failed to convince an appellate panel that the evidence found on his person should be suppressed.
Early on the morning of May 27, 2021, Indianapolis Metropolitan Police officer Jon King was patrolling a known high-crime area in his marked vehicle when he was dispatched to a BP gas station on West Washington Street to investigate a disturbance involving two Black males and one white male.
When King arrived, the trio was no longer there, so he left to investigate a group he had just seen walking away, which consisted of two Black males, one white male and one white female.
As King approached the group, he noticed a "young Black male," who turned out to be D.M., hiding in the shadows between two buildings with his hands down his pants. Officer Dalton Anderson, who had also responded to the dispatch, likewise noticed D.M. "continually […] reaching towards the front of his body into his pants pockets, into his waistband," adding that D.M. "seemed to generally be trying to duck away from [the officers]."
After a vehicle and foot pursuit, Anderson tackled and handcuffed D.M. after warning him that he would be tased if he didn't stop. Anderson found a handgun in D.M.'s pant leg and a "multitude of clear plastic baggies with a white powdery crystal-like substance in them. All individually wrapped."
In July 2021, the state petitioned to have D.M. adjudicated as a juvenile delinquent for committing what would be Level 5 felony dealing in cocaine, Level 5 felony cocaine possession, Class A misdemeanor dangerous possession of a firearm and Class A misdemeanor carrying a handgun without a license if committed by an adult.
Following a suppression hearing, the juvenile court denied D.M.'s motion to suppress all evidence discovered following his seizure.
Then, after a factfinding hearing at which D.M. objected to the admission of all evidence gathered following his seizure, the juvenile court found all delinquency allegations to be true. The court also found D.M. had violated the terms of probation in another case and placed him on probation with a suspended commitment to the Department of Correction.
Before the Court of Appeals, D.M. challenged the admission of the evidence discovered on his person.
In a memorandum decision, judges found D.M.'s arguments unconvincing.
Specifically, on his Fourth Amendment claim that the officers lacked reasonable suspicion to detain him for investigatory purposes, judges had "little hesitation in concluding that Officers King and Anderson had a reasonable basis for detaining D.M."
The panel pointed to, among other facts, King and Anderson's observation that D.M. had his hands down the front of his pants, an action both knew from training and experience was consistent with a person attempting to conceal a firearm.
"The fact that D.M. appeared to be concealing a firearm and, as a young male, was likely a juvenile who could not legally possess one, supports a conclusion that there was reasonable suspicion that a crime was being committed," Chief Judge Cale Bradford wrote. "In summary, D.M.'s close proximity to a reported disturbance, the fact that he and his companions matched the descriptions of the participants in the disturbance, his presence in a high-crime area, his headlong flight at the sight of clearly identified police officers, and indications that he could be in illegal possession of a firearm all support the conclusion that Officers King and Anderson had ample reasonable suspicion for a Terry stop."
The appellate panel pointed to the same facts to reject D.M.'s Article 1, Section 11 state constitutional claims.
"Here, the degree of suspicion was high. D.M. matched the description of a person who had participated in a reported disturbance and was found in close proximity soon after the report," Bradford wrote. "When D.M. saw police, he fled at a run before the officers even had a chance to speak with him, continued to flee despite repeated demands to stop, and only stopped when threatened with a taser.
"Finally, the visibly-young D.M. appeared, before and throughout the pursuit, to be attempting to conceal contraband in his pants, in a manner frequently used by those attempting to conceal a handgun," the chief judge continued. "This factor tips the balance strongly in favor of reasonableness."
As for the other two factors under Litchfield v. State, 824 N.E.2d 356 (Ind. 2005), the COA found the degree of intrusion was moderate while law enforcement needs weighed in favor of an investigatory stop.
The case is D.M. v. State of Indiana, 22A-JV-428.
Please enable JavaScript to view this content.